A live performance of "Through Being Cool" on ABC's Fridays. It starts with Gerry Casale singing a sunday school tune into a vocoder (with pixellated visuals to match).
DEVO has announced a line of shoes. Do we want them, NOOOOOO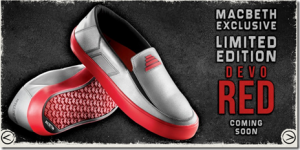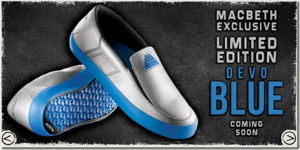 Visit the link below to learn more and get a free remix of "Don't Shoot" by the Polsycis.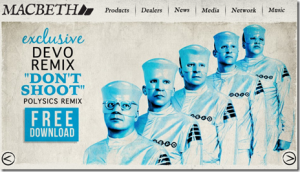 http://www.macbeth.com/studioprojects/DEVO
Shared by Mark
DEVO has a released a new interactive video for "What We Do". There are some marketing lessonsto be learned by watching DEVO work social media.
Jump over to Mashable to check the video out.
Instructions from their web site:
"SPUDS: The wait is over! Here's DEVO's new "What We Do" video! View it repeatedly, explore by moving your viewpoint, and see something new each time."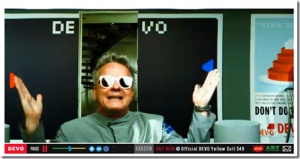 DEVO shifts back to material from the new album, with What We Do. The visuals of their new music are quite nice, and still gobsmacked of brutal honesty. Live @ The Warfield San Francisco Mar 18, 2011
Shared by tschak909
Just saw on DEVO's blog that DEVO has had to postpone the tour due to the fact that Bob Mothersbuagh is injured. From their site: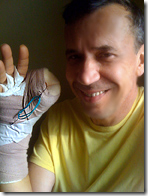 DEVO deeply regret that they have had to postpone all of their upcoming live dates for 2010 due to a serious hand injury sustained by guitarist Bob Mothersbaugh. A glass shard sliced Mothersbaugh's right thumb to the bone, severing a tendon. He underwent immediate emergency surgery and is expected to make a full recovery after proper care and therapy. Most of DEVO's upcoming November tour dates, including Solana Beach's Belly Up, , Los Angeles' Club Nokia, and San Francisco's Warfield Theater, will be rescheduled for next spring and the public will be informed once new dates have been confirmed. Mark Mothersbaugh and Gerald Casale will still attend Moogfest on October 29th, in Asheville, NC. As previously announced, DEVO have been awarded the first-ever Moog Innovation Award by Moog Music.

Insidetrack Episode 2
Uploaded by insidetrack2010. – Classic TV and last night's shows, online.
Mark discuss circuit bending and gear

Moog Music has announced that Devo will be the 2010 recipient of The Moog Innovation Award, to be presented to the band during MoogFest 2010 weekend, October 29-31 in Asheville, NC.
As part of this award, Moog Music will present Devo with a very special synthesizer, details of which will be revealed in the coming weeks.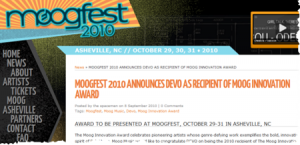 Past recipients of the previously titled Moog Award include Keith Emerson, Herb Deutsch, Gershon Kingsley, Jan Hammer and Bernie Worrell.
Moog Music had this to say about Devo and the award in a statement:
"MoogFest is about shunning limitations, opening your mind and rejoicing in what's next. MoogFest is about celebrating the marriage of technology and art, fearlessly embracing the future while respecting the genre-definers of the past. That's why we created the Moog Innovation Award, to celebrate artists that helped to catapult pop music into the future and commemorate those artists that boldly burst through established norms to pave the way forward. That's the spirit of Bob Moog and that's the essence of the Moog Innovation Award.
The first recipient of the Moog Innovation Award is DEVO and we feel that they are a perfect representation of innovative sound-sculpting and genre-defying electronic music. Like Bob Moog, DEVO enthusiastically charted their own course and thus dramatically affected pop culture because of it. Not to mention the fact that they used Moog instruments to create their inimitable sound. MoogFest and the Moog Innovation Award is the perfect way to pay homage to Bob Moog and his adopted hometown of Asheville, NC where he raised his kids, gave birth to some of his greatest inventions and where he re-established the company that bears his name and carries on his legacy, Moog Music." – Emmy Parker, Moog Music
Devo will play MoogFest 2010, a three-day festival celebrating the innovative vision of Bob Moog. MoogFest 2010 tickets are on sale now.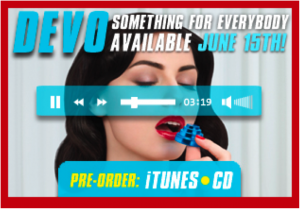 As I have blogged about already Devo are about to release their first new album in… forever, entitled "Something for Everyone".  Starting today, you can stream the album in its entirety on, of all places, ColbertNation.com. Just look for the ad on the right side of the page.  The album will be available to stream for a week, to build up hype for the band's appearance on the show on June 16th.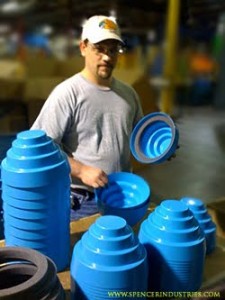 Tell me what you think, is it good enough – worth waiting for…..??

With their first album in 20 years "Something for Everybody" set for a June 14th release, Devo have announced that they will appear in the hit animated series Futurama's 100th episode special. The episode will see Devo campaign for mutant rights. Leela's parents are second-class, mutant citizens who live underground in the sewers, the members of Devo have mutated over the years, while vocalist Mark Mothersbaugh helps out with their campaign for equality.
Devo is going to release its first all new album in 20 years. The Energy Dome helmet is now blue. The new album titled Something for Everybody will be released June 15, 2010.
Nerds or what, whatch this video