36 years after their birth, Devo will be perform after a victory ceremony at the Olympic Winter Games in Vancouver on February 22, for a potential TV audience of three billion. They say they will play old favourites and new songs from the upcoming Warner album.
- We are really excited to have the opportunity to let everyone know that De-evolution is real!, Devo founder Jerry Cascale says.
Devo are planning festival gigs and a proper tour in North and South America, Europe, Japan, Australia.
Within short I will post a full review of last week's ElectriXmas party where among others; VNV Nation, Aestethic Perfection and Rotersand performed, so stay tuned. Till than myself and DEVO give you some Xmas spirit.
Cheers Ola
Devo is an American rock group formed in Akron, Ohio in 1973. They are best known for their 1980 hit "Whip It", which made it to #14 on the Billboard Hot 100 chart. Their style has been variously classified as punk, art rock and post-punk, but they are most often remembered for their late 1970s and early 1980s New Wave sound.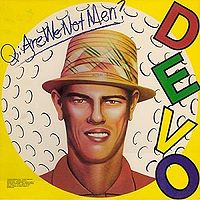 Devo plan, for the first time ever, to do a a one-off performance of their classic Brian Eno-produced 1978 album "Q: Are We Not Men? A: We Are Devo!" at the London Kentish Town Forum on May 6. Two days later, Devo will perform a greatest hits concert at the ATP Festival in Minehead.
[youtube=http://www.youtube.com/watch?v=Xbt30UnzRWw]
Synth music has a tendency to stick in the sub-cultures of the music scene, but once i a while you find some indications that things might ne changing, although I am still scepticle that it will ever be so. Remember the old synth pioneers Devo, well these guys arguably has done some work to put synth music on the map and recently saw this add where IT-giants Dell actually uses Devo for one of their commercials – although you have to watch the video for some time before you actually understands what the video is all about, LOL
DEVO wrote this song called "Watch Us Work It" and recorded it in Los Angeles, CA, and produced by Sweden's famous Teddy Bears. DELL heard it because Paul Malmstrom and Linus Karlsson at the Mother agency in NYC played it for them as a possibility for a song for their TV campaign featuring a newly developed, high-end laptop computer. DELL liked it, and now you can of course enjoy it here too. I do not claim to give you some brand, hot news directly out of the press, the video is about 6 months old, but still…
Enjoy!
[youtube=http://www.youtube.com/watch?v=xhtgw-tOj-o]
Want to know more about what is going on with Devo >>