The American Synthpop/Darkwave band Bella Lune has released a new music video for their song "The Dolly Pop Song", taken from their latest album "Synesthesia".
The band debuted the video recently at The Batcave in Scottsdale, AZ, an event included performances by the band and Jeremiah Saint of Regenerator among others.

Check out the new single from Dabehavior called Silent dawn.
Daybehavior – Silent Dawn (Single Edit) by Stereoklang Produktion
Silent Dawn, taken from our forthcoming third album Follow that Car! which will be released later this summer.
Silent Dawn is a suggestive, dreamy pop song, slow but yet with a catchy chorus. It's representative for our specific sound.
Read more about the band here: www.daybehavior.com
Stereoklang also has an interview with the band that you can find right here >>

Here's a real treat for you – a brand new single from our synth pop princess Frl Plastique and her band The Girl and the RobotFrl Plastique is more known as a member of the band Welle:Erdball.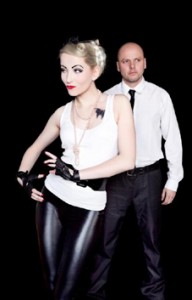 We made a short interview with Frl Plastique just before Xmas that you can watch here:
For more info:
Borderline, from The Girl & The Robot's cd single "Silence*Borderline".
Release date: 2011-05-20.
The single can be pre-ordered from:
http://www.amazon.de/Silence-Borderline-Double-Feature-Ep/dp/B004TINSPI/ref=s…
http://www.stormingthebase.com/details.asp?ProdID=40052790 (US/CAN)
http://www.musicnonstop.co.uk/product-view.php?productid=24462 (UK)
The idea for Homo Futura came back in 2003 by Hannes Malecki (Honey of Welle: Erdball), Frl. Plastique (Welle: Erdball, The Girl & The Robot) and F. Liechtenstein. In 2009 Kevin Gross joined who also is known from Konsequentfilm, ES and Xrossive.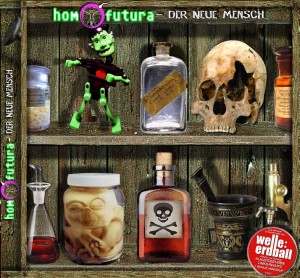 The project has since 2004 appeared on several compilation albums and played live in Scotland, Switzerland, Holland and Germany – including during the 2006 Wave Gotik Treffen. Homo Futura transforms the scene to Dr. Frankenstein's classic laboratory and working around the very different theatrical themes. The album "Der Neue Mensch" is a compilation album, when most of the songs played live long and been on several compilations.
Der Neue Mensch "is released May 23 via SPV / Synthetic Symphony.
http://www.youtube.com/watch?v=gLEoxsSa_kQ
From the album Nu, with Eddie & Marina
film photo – carlmagnus
production – Jasper Johnsson
Mr Jones Machine feat. Susie: De månbleka tingen
Live @Fabriken i Stockholm 2011-04-02

The new single and video from Parralox, enjoy
Details: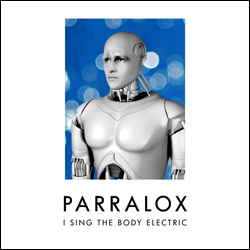 Released February 2010
Edited using Adobe Premiere Pro, After Effects & Photoshop.
Colour Correction by Magic Bullet Looks.
Filmed using the Canon EOS 5D Mark II
On location at Hanging Rock & 90 Mile Beach,
Victoria, Australia.
Click here to buy — http://itunes.apple.com/us/album/i-sing-the-body-electric/id424929984
http://tinyurl.com/plox08
Today the official new video from Mr Jones Machine was released. The full album will be out on March 30th.
"De Månbleka Tingen feat. Susie" is the first single (2011-03-16) taken from Mr Jones Machines upcoming album "Monokrom" (2011-03-30). On this single (Released as a limited edition 7″ Vinyl with the exclusive B-side "Elektricitet") they have recorded a duet with Susie Päivärinta from the 80:ies cult duo Lili & Susie. Order you copy of "Monokrom" here: http://progress-productions.com/PROCD030/
(c) 2011 Progress Productions // www.progress-productions.com
The video is directed by: Poptrack
Here is the latest Ladytron video, enjoy
Distributed in the US by WMG.
"Ace Of Hz" by Ladytron from The Best Of Ladytron 00-10, out March 29th. The Best Of Ladytron 00-10 reflects on a decade highlighted by 604 (2001), Light & Magic (2002), Witching Hour (2005) and Velocifero (2008) plus two new tracks; "Ace Of Hz" and "Little Black Angel." A two-disc deluxe version features an additional 16 tracks & 80-page photo booklet.
Preorder on iTunes: http://bit.ly/fG509c
Preorder on Amazon: http://amzn.to/f2xUfh
Links:
Facebook: http://www.facebook.com/ladytron
Twitter: http://twitter.com/LadytronMusic