Der Neue Mensch
The idea for Homo Futura came back in 2003 by Hannes Malecki (Honey of Welle: Erdball), Frl. Plastique (Welle: Erdball, The Girl & The Robot) and F. Liechtenstein. In 2009 Kevin Gross joined who also is known from Konsequentfilm, ES and Xrossive.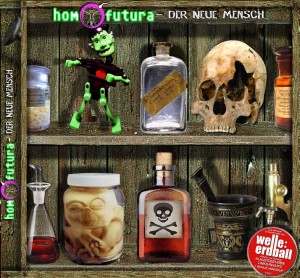 The project has since 2004 appeared on several compilation albums and played live in Scotland, Switzerland, Holland and Germany – including during the 2006 Wave Gotik Treffen. Homo Futura transforms the scene to Dr. Frankenstein's classic laboratory and working around the very different theatrical themes. The album "Der Neue Mensch" is a compilation album, when most of the songs played live long and been on several compilations.
Der Neue Mensch "is released May 23 via SPV / Synthetic Symphony.
Comments