A month ago Daybehavior released their new single and video for "Change". Now the band launches a video of the Italian version of the song, "Cambiare". You can watch the video below. At the moment Daybehavior are in the studio continuing the work on their 4th album, "Based on a True Story".
Video description:
Daybehavior will soon release their 4th album, "Based on a true story".
The first single released from the album is : Change/Cambiare. This is the Italian video with lyrics.
Watch the English video here:
https://youtu.be/WGS82sweGUg
Prodotto e diretto dai daybehavior
Styling: Pirjo Niemelä
Trucco e acconciature: Sofia Lewandrowski
Direttore della fotografia: Tommy Arell
Motion graphics e grafica 3D: Carl Hammar
(C) Graplur 2015
iTunes: https://itunes.apple.com/se/artist/da…
Google Play: https://play.google.com/store/search?…
Amazon: http://www.amazon.com/s/ref=nb_sb_nos…
https://www.facebook.com/DayBehavior
https://twitter.com/DaybehaviorBand
https://instagram.com/daybehavior_band
This is a fan video for the song Godspeed by the Swedish act daybehavior that we here at SBC interviewed about a year ago, you can read it here >>
Visit www.daybehavior.com for info and please support the band! Buy the album! The song "Godspeed" is taken from the album "Follow That Car!", released in september 2012
Biography:
It all started with the two friends Carl and Tommy who had both been making music in various constellations since the early eighties. In 1988 they met at a party and found out they shared similar musical references, particularly synthesizer-pop music from the early Eighties. In the summer of '93 they got together and seriously started to consider the possibilities of making music together. They decided in what way they wanted to work and a music project slowly took form at their own Graplur Studios. In the winter of '93 they started the search for a vocalist, and a little more than one year later, after having tried out more than 40 different vocalists, Paulinda entered the studio and the last piece of the Daybehavior puzzle fell into place. Half Italian, half Swedish Paulinda was able to add even more beauty to the Daybehavior sound, turning their music into something really special with her melodic voice, and her lyrics which she mainly writes in English, but sometimes in Italian. The first album was released by the indie-label North of No South (NONS) and was distributed and released in Europe, Australia and Japan.
Enjoy

Check out the new single from Dabehavior called Silent dawn.
Daybehavior – Silent Dawn (Single Edit) by Stereoklang Produktion
Silent Dawn, taken from our forthcoming third album Follow that Car! which will be released later this summer.
Silent Dawn is a suggestive, dreamy pop song, slow but yet with a catchy chorus. It's representative for our specific sound.
Read more about the band here: www.daybehavior.com
Stereoklang also has an interview with the band that you can find right here >>

Stereoklang got an exclusive talk with lead singer Paulinda Crescentini in the Swedish synthpop act Daybehavior, who recently announced their come back after almost 7 years in complete silence. With a new single out "It's a game" and a new album planned for release this winter, we had to have a chat about their music and future plans. And of course a bit of insights into the hardware and software being used in their studio, somewhere hidden in central Stockholm.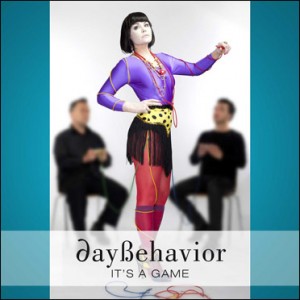 Daybehavior is a trio consisting of Paulinda, Carl and Tommy, and having lost one of the band members for a retreat to Thailand it was a nice surprise to us all when suddenly after 7 years there was a sign of reunion. Although all members have continued with music in one form or another during that long period, e.g. Carl is a full-time musician and producer, the drive to making music together again brought them back together and the music video "City Lights" was released earlier this year.
Paulinda tells me that the new album, that will contain 12 new songs, is the best that ever has come out of the band and one success factor is that they now are all closely involved in the song writing process. Carl is the producer master mind, Daybehavior produces everything themselves as for now at least, Tommy often starts off the process by sending a demo from Phuket containing a general sound structure, to which Paulinda will add melody and lyrics. Paulinda and Carl, both frequent Logic users, will add to the song and after a few bounces across the globe they are ready for studio recording at Carl's place.