Progress Productions has released a video interview with Mr. Jones machine (unfortunately for most of you in Swedish
However, for those of you who cannot enjoy the interview we have added at least a small video below featuring the band on stage:
Read our post on their new album here >>
Yet another 80's synthpop band returns to the stage with a new album
Blancmange, Neil Arthur and Stephen Luscombe, are actually back with brand new material. The single "Drive Me" is released in days and brand new album "Burn Blanc" lands in March followed by a UK tour where the band of writing booked eight dates in March. The closure takes place in London on 15 March.
Blancmange formed in 1979 in Middlesex and debuted years after the EP was "Irene and Mavis. " The big breakthrough came in 1982 with the hit single "Living On The Ceiling" which reached a seventh place in the British sales charts. First album "Happy Families" was released the same year.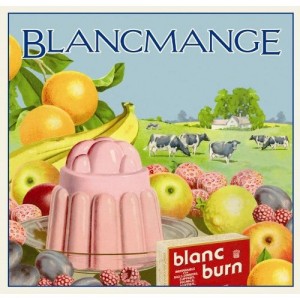 Official video of "homo~futura – Links-Rechts". Please watch in best quality!
Taken from the album "Der Neue Mensch" (release 20.05.2011 / SPV synthetic symphony).
homo~futura is an official Welle: Erdball side project!
www.homo-futura.de
www.welle-erdball.de
Thanks Frl Plastique for tipping us

Stereoklang got an exclusive interview with the legend in Swedish new wave, glam rock, and synth pop – Mr. Johan Kinde. The frontman behind the cult band Lustans Lakejer (in English it would be something like "the lackeys of lust"). LL has been around since the early 1980's and their music has always dealt with the passions in life, at least from a male perspective; women, champagne, love, dreams, passion, forbidden fruit, but at the same time with a glimpse in the eye and you can sometime sense that there is a backside to the life of a playboy. Johan and LL has made a long list of classical songs over the years and even had collaborations with some of the members in the UK cult band Japan (Mick Karn and Richard Barbieri). Stereoklang wanted to catch up with Johan now that LL has a new album out and they are ready to hit the road again.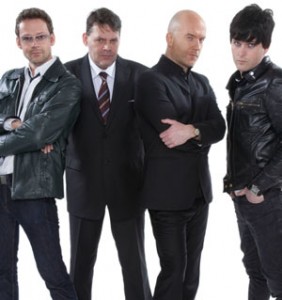 How has the new record been received and are you happy yourself with the result?
"Absolutely!!! The record has been receiving great reviews and has actually climbed to the highest position in the album charts relative to all previous LL albums. Now we are so eager to tour with the new album all across Sweden."
The album for those of you have not heard it yet, is to us an album that takes LL back to its roots, with the synthesizers more in the front, a more electronic touch, but still flirting with sounds found on more recent works like Åkersberga for example.
"In a sense you can say that we really had this ambition from the start, to write more hip songs that are more immediate and perhaps shorter, kind of more fit to be synthesizer based. We wanted them to be more up-tempo songs with more bass sounds. We even had a version of the album that was even more "synthish" – kind of like LL meets Depeche Mode. The Swedish synth pop act SYSTEM even made a remix of the song "Eld och vatten", it was almost as if Vince Clarke had been involved." More over having Jenny Silver singing a duet with Johan almost gives it kind of a "Fade to grey" – kind of feeling.
"As I see it the synthesizers actually won the war over the rockers. Just listen to today´s music scene where synths are more important then ever – Lady Gaga just to name one, even though the traditional "synth music" became more of a niche scene. I think this partly because they just became carbon copies of bands like Depeche Mode – for that reason I found it more interesting when the electro wave came about."
So what synthesizers can we find on the new album?
"It is a combination of hardware and software synths." Johan let us know that he is not very much of a synthesizer guy at all, even though he sometimes gets the lust of acquiring some of them. On the new album, however, you will find the KORG Polysix on almost all of the songs (played live in the recording sessions), coupled with some vintage modular synths kindly supplied by P. Levin from System. The fact that Johan plays most of the instruments himself on the album (not being a true keyboard guy), synthesizers and guitars, gives the album a more natural feeling and not too perfect, a live feeling kind of.
The lyrics has always been a central piece in the works of LL, so we asked Johan for the real story behind the lyrics
The life of a romantic – is probably the best description you can give to the works of Johan and LL, but are they true stories or just dreams? "Most of it is actually self-experienced. Often people say that in the early days it was dreams, but now it is self-experienced, but the truth is more that in the early days I did experience the things I was writing in my lyrics, but PERHAPS I dressed it in words that made it sound better than it was ☺.
On March 30th, Swedish Synthpop trio Mr Jones Machine will release their long-awaited third studio album "Monokrom". Jouni Ollila, Jarmo Ollila and Magnus Lindström have worked on the album for almost four years and once again the trio will stick to swedish lyrics. The new album is said to be more mature then ever and a much stronger side of the band.
Before this, on March 16th, the band will release – together with a very impressive video – a limited 7 inch vinyl of the track "De Månblekta Tingen", which is a duet between Jouni and the famous 80′s icon Susie Päivirinta from the cult duo Lili & Susie, known from the 80′s with hits like "Oh Mama!".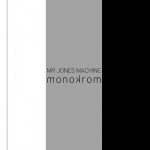 This track will be accompanied with the exclusive b-side "Elektricitet".
We got an exclusive interview with the probably most hyped synthpop act in Europe right now – Mirrors. Mirrors has recently finished their European tour together with OMD and Stereoklang caught up with the frontman in the band in their studio chatting about their music, gear, influences and their work on the new album. Below is one of their latest video releases.
You have been touring with OMD during the fall, how was it?
It was of course a very special thing for us, we have always been big fans of OMD and it was even more fun to discover that they were also fans of us. The fact that we now come to play in front of an audience made up entirely of people devoted to electronic music is a tremendous experience.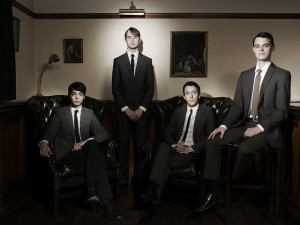 Mirrors lets me know that they also felt that the two bands really complemented each other on stage, rather then just that Mirrors were there to warm up the crowd. Mirrors adding perhaps a more saturated, heavy and modern sound to the equation.
You have received very positive reviews, what is the secret behind the success?
Apart from being happy by this for me obvious fact they gave me this explanation: For Mirrors it is all about combining great and cold electronic sounds, with a heart. If your soul is not present there will not be any great songs, a cliché perhaps, but you need to follow your heart. A lot of bands are "just" making futuristic music, Mirrors wants it to be warm as well – just like Kraftwerk. Of course the songs need to be well structured. Almost everything we do emanates from a traditional piano exercise, then you can get carried away when you do remixes
Your stage line up resembles another quartet based out of Germany, is that a coincidence?
– Not really ☺, although I need to say that the dress code is a coincidence. Kraftwerk is certainly a massive influence. However, in a sense Mirrors is more kind of a revolt to the massive indie-scene we have in the UK – and we are the anti-thesis of that.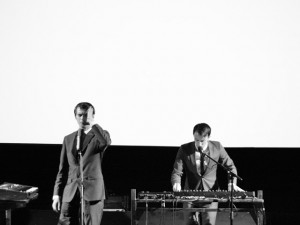 Can you tell me what synths you are using on stage, are you a pure hardware band or are there software synths hidden in your studio?
To begin with James is writing most of the material and what is being used differs, but in general you will always find a Juno 60, Moog Phatty (although they are dreaming of a Moog Voyager) and a Prophet in the mix. The Juno is used for pads and chords, the Moog for basses, and then we have some samplers like the MPC in there as well.
We asked them if the Linn drum sounds were genuine or samples, and although they could have lied to us, they said that they were samples. In general Mirrors rely very little on backing tracks. – If we can´t play it we loop it. We want to do everything live on stage. So if you spot an Apple on stage it will only be used for the visuals.
Read the full interview here >>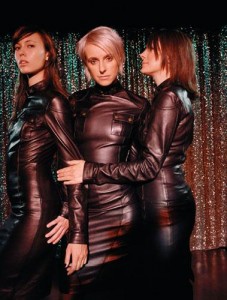 The British electropop trio Client announced via a press release just before Christmas that front woman Sarah Blackwood is leaving the band to focus on other projects. Kate Holmes  is reportedly already in the process of recruiting a replacement.
Sarah Blackwood broke through in Dubstar (along with Chris Wilkie) back in 1993 when she replaced original vocalist Steve Hillier, and then become part of the Client, together with Kate Holmes and Emily Man at the beginning of the 2000s.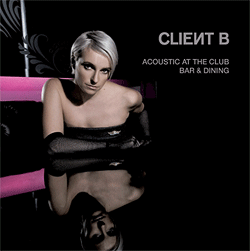 Client was the first band that was signed to Depeche Mode keyboardist Andy Fletcher's record label Toast Hawaii and have been following the self-titled debut album "Client" from 2003 released three full length albums – "City" (2004), "Heartland" (2007) and later "Command "from 2009.
Merry Christmas to all of you

Artist: Emmon
Song: Night bells calling
Music: Emma Emmon Nylén
Made by Emma Emmon Nylén and Tony Ahola
Photos by Tony Ahola
Editing by Emma Emmon Nylén and Tony Ahola
Special thanks to Niklas Kärreskog and Lisette Drangert
The song Night bells calling produced for the record Jul På Techno 2009 – 9 Swedish Christmas Anthems label: Clubstream Mix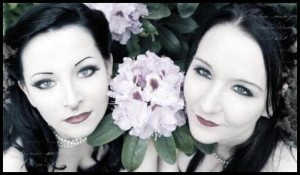 Most of you know Fräulein Plastique as one of two girls in the synthpop band Welle:Erdball, but Plastique (as we have reported on before) is also having another band on the side called The Girl and the Robot – we caught up with Fräulein Plastique at this weekends synth festival in Sweden and asked her what she has been up to and next steps in relation to her Robots and activities with Welle:
Stereoklang met up with Eddie and Marina directly after their live gig at ElectriXmas, with some quick questions on next steps, synths and more, enjoy
More on Page here as well: