Living on the Ceiling is a song by British synthpop band Blancmange. It was released as the band's 3rd single in 1982, taken from their debut album Happy Families. It became the band's first (and biggest) UK Top 40 hit, peaking at #7 on the UK Singles Chart and being certified Silver by the BPI for sales in excess of 200,000 copies. The single also reached #5 on the Australian Singles Chart. Blancmange performed the song on Top of the Pops, but for broadcast on the show as well as on BBC radio, the track was edited to replace the lyric "Up the bloody tree" with "Up the cuckoo tree".
Blancmange have announced that they'll be setting off on tour this November, playing a newly re-interpreted version of their 1982 debut Happy Families album in full.
One half of the duo, Neil Arthur, has re-recorded the album, re-titling it Happy Families too…, using current studio tools to give it a new spin, saying: "I just wanted to approach the songs using today's technology. Every time we perform it's a different interpretation. So rather than just dust off the old songs, I wanted to bring something fresh to the project and make it a contemporary reworking rather than an exact imitation."
Arthur will be touring with long-time associate and sound engineer Adam Fuest and guitarist David Rhodes (Arthur's fellow founding member Stephen Luscombe is unable to join owing to continuing health issues). A limited edition first run of the album will be available to buy exclusively from the merch stand, with deluxe and digital versions on the way following the tour.
Of the live shows, Arthur says: "The intention is to do something a bit like Roxy Music did with Brian Eno processing sounds live during a performance. It might be less predictable, it might even be a bit chaotic! But I like the excitement of that, the chance element – the feeling I'm moving forward creatively."
Have a look at the dates below and head to Blancmange's website for tickets:
NOVEMBER
Sun 3 – The Grand, Clitheroe
Mon 4 – Library, Darwen
Tue 5 – Library, Darwen
Wed 6 – Sound Control, Manchester
Fri 8 – Think Tank, Newcastle
Sat 9 – The Brook, Southampton
Sun 10 – Concorde 2, Brighton
Mon 11 – Robin, Wolverhampton
Tue 12 – Rescue Rooms, Nottingham
Wed 13 – Erics, Liverpool
Thu 14 – The Hop, Wakefield
Fri 15 – The Garage, London
Sat 16 – Ifor Bach, Cardiff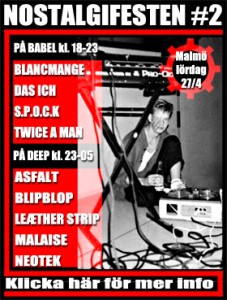 If you by any chance are in Malmö, Sweden this weekend don't miss the opportunity to see all these nice synthpop / new wave / EBM acts live at Neostalgia's birthday party on Saturday April 27th
@ BABEL:
————-
18:30 S.P.O.C.K
19:30 DAS ICH
20:40 TWICE A MAN
21:40 BLANCMANGE
@ DEEP:
————
23:30 MALAISE
00:30 LEAETHERSTRIP
01:30 NEOTEK
02:20 ASFALT
03:10 BLIPBLOP
Tickets can be purchased here:
https://secure.tickster.com/Intro.aspx?ERC=H93LCZ3LUZ46013
And for more information check out their Facebook page for all the details (most of it in Swedish unfortunately, but you may use Google translate to get all the details)
https://www.facebook.com/events/354812351298887/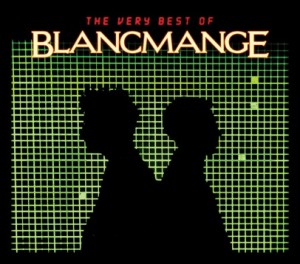 On July 23rd a "best of" album of the 80s group Blancmange will be released, although never any of my personal favorites a couple of good tracks came out of their basement

However should you be very keen on Blancmange and want to know more about them and the upcoming release, check out this nice article at the Electricity Club >>
Thankfully, some of those missing tracks by The Maiden Aunts of Techno have surfaced on 'The Very Best Of BLANCMANGE', a timely new 2CD collection compiled by Music Club Deluxe with input from Neil Arthur and Stephen Luscombe themselves. Music Club Deluxe, an arm of Edsel's parent group Demon, have made a concerted effort to work with Warners to source masters and negotiate around any contractual issues with the BBC to plug the essential gaps in BLANCMANGE's digital catalogue. While all the singles like 'God's Kitchen', 'Feel Me' 'Living On The Ceiling', 'Blind Vision', 'Don't Tell Me' and 'That's Love That it Is' are included, it is the rarities and selected album highlights (including most of 'Happy Families' and songs such as 'Murder' and 'All Things Are Nice') which make this collection.
Yet another 80's synthpop band returns to the stage with a new album
Blancmange, Neil Arthur and Stephen Luscombe, are actually back with brand new material. The single "Drive Me" is released in days and brand new album "Burn Blanc" lands in March followed by a UK tour where the band of writing booked eight dates in March. The closure takes place in London on 15 March.
Blancmange formed in 1979 in Middlesex and debuted years after the EP was "Irene and Mavis. " The big breakthrough came in 1982 with the hit single "Living On The Ceiling" which reached a seventh place in the British sales charts. First album "Happy Families" was released the same year.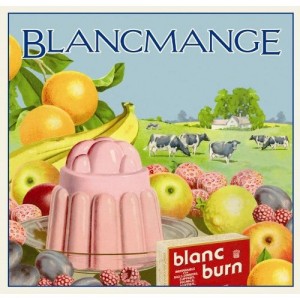 September 22 we will get a new collection by John Foxx from label Demon/Edsel. "Glimmer: The Best of John Foxx" will be a double-CD with material from his entire career including singles, album tracks, re-works of old Ultravox tracks, new remixes and his ambient "Cathedral Oceans" project. That project is also going to be re-released by the same label in 2009 and 2010.
And they don't stop there, classic synthpop duo Blancmange will have their albums "Happy Families", "Mange Tout" and "Believe You Me" released in new, fresh versions. The exact date is not set as of now, but it's clear that they will all include the 12" mixes and some B-sides. The band is also said to be working on new material.
John Foxx performing "Plaza" at Cargo in London with Louis Gordon on 08.10.07 as part of a performance of the entire Metamatic album including related tracks.
[youtube=http://www.youtube.com/watch?v=tsrrIzTGdfQ]
And of course and old Blancmange video:
Here is the last video from the Blancmange Video 45 VHS. This is Living on the Ceiling. Classic synthpop from a band that disappeared but now is back. Check out their stuff on MySpace. I wonder if they have their own website… should check on that.
[youtube=http://www.youtube.com/watch?v=L03PJeB38dI]