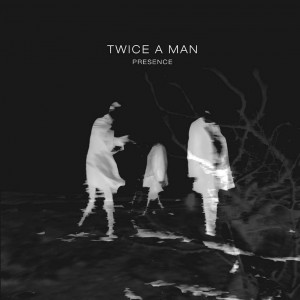 Legendary Swedish electronic pioneers Twice a Man return with their first pop album since "Icicles" (2010), featuring for the first time since 1986 Jocke Söderqvist back in the re-united line-up. Jocke Söderqvist had already rejoined his old band for a few club and festival gigs in 2014. The new album "Presence" will be out on vinyl & CD (order this limited edition release right now) and will also feature Karin My (Coph Nia, Hype, Carbon based Life Forms…) on 3 tracks.
Twice a Man hail from Gothenburg, Sweden and consist of Dan Söderqvist and Karl Gasleben (born Ingemar Ljungström). The duo was formed in 1978 as Cosmic Overdose. After changing their name to their current title in 1981, Twice a Man released their first album, "Music for Girls", in 1982. The act has collaborated with numerous musicians, mainly with Jocke Söderqvist (who now returns to the line-up), and has released numerous albums. Strangely enough the band is best known outside of Sweden for composing the soundtrack to the computer game "Kula World".
The group released their most recent album, "Icicles", in April 2010. Their most recent work is a 50 minute ambient CD, "Costume Area", which was released to coincide with the opening of a Charles Koroly exhibition at the Dansmuseet museum in Stockholm, for which they provided music and sound design.
Visually enhanced audio excerpts from the forthcoming album Presence, by Twice a man.
Three short videos will be posted here during the next couple of months, as we get closer to the album release. The second one – Sändning #2 – will be available 20150815. If you'd like to be notified when a new video is up, feel free to enter your e-mail address below and we will keep you in the loop. You will receive a total of three e-mails, no more – no less, as well as access to an exclusive pre order offer.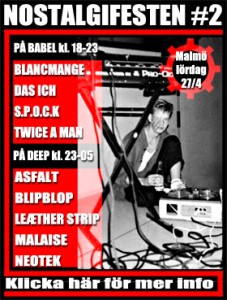 If you by any chance are in Malmö, Sweden this weekend don't miss the opportunity to see all these nice synthpop / new wave / EBM acts live at Neostalgia's birthday party on Saturday April 27th
@ BABEL:
————-
18:30 S.P.O.C.K
19:30 DAS ICH
20:40 TWICE A MAN
21:40 BLANCMANGE
@ DEEP:
————
23:30 MALAISE
00:30 LEAETHERSTRIP
01:30 NEOTEK
02:20 ASFALT
03:10 BLIPBLOP
Tickets can be purchased here:
https://secure.tickster.com/Intro.aspx?ERC=H93LCZ3LUZ46013
And for more information check out their Facebook page for all the details (most of it in Swedish unfortunately, but you may use Google translate to get all the details)
https://www.facebook.com/events/354812351298887/
A spectacularly gorgeous song about my favourite obsession demands an equally spectacularly gorgeous visual accompaniment.
The lyrics are loosely based on the poem "Clouds" by Percy Bysshe Shelley.
The female guest vocalist is Karin Dreijer Andersson, aka The Knife, aka Fever Ray.
The Swedish duo from Twice A Man has already been active since the late 80s. Having released an impressive number of albums the duo Dan Söderqvist – Karl Gasleben has been mainly active in composing music for exhibitions, performances and other work for film and television. "Icicles" takes some distance with the aforementioned and more conceptual releases although the sound of this album would perfectly fit to a new visual concept. There's a strong visual appeal emerging from this album.
The songs are quite moody and often very melancholic. The guitar parts are quite impressive for empowering a kind of psychedelic touch. Electronic and piano sounds are full of delicacy adding a very refined touch to the composition. The global atmospheric part of this album definitely brings an intriguing style. I can't compare "Icicles" to any other album, but I think it's not that strange to get The Northern Territories coming to mind. Both bands are from Sweden and they deal with a similar melancholic genre. Songs like "Everything Is Possible", "Tranquil Moonlit Lake", "Where Are You Now" and "Moon" are the most essential pieces from this release. The song "Where Are You Now" was originally written in 1991, but finally achieved in 2010. It sounds a bit unbelievable, but it tends to prove that a song can finally evolve like a red wine into a real 'grand cru'. "Icicles" sounds that melancholic and at the same time that refreshing in the wide fields of pop music!
(ED:8)ED.
Band: www.twiceaman.com / www.myspace.com/twiceaman
The old dolphines and whales sampling pioneers are due with a new album early next year. Their old album has always been a good source of inspiration. Their new album Clouds will be released on Jan 25th so make sure to check it out.
Clouds:
01: Opening     

02: Novemberness       

03: Solitude     

04: Mars Is Still Around           

05: Microhive  

06: Skylark      

07: Letters       

08: Clouds       

09: Conquerer 

10: When September Shined    

11: Shoe
This is the first release from Twice a Man since Johnny Friberg joined founders Dan Söderqvist and Karl Gasleben as a permanent member. He hasn't joined the band on stage yet though, but is responsible for a lot of the quite advanced rhythm programming. Shall be quite interesting to see what he can add.
Below one of my old favorites:
[youtube=http://www.youtube.com/watch?v=C_BAbWNUAGk]
C=iao