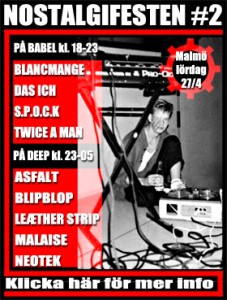 If you by any chance are in Malmö, Sweden this weekend don't miss the opportunity to see all these nice synthpop / new wave / EBM acts live at Neostalgia's birthday party on Saturday April 27th
@ BABEL:
————-
18:30 S.P.O.C.K
19:30 DAS ICH
20:40 TWICE A MAN
21:40 BLANCMANGE
@ DEEP:
————
23:30 MALAISE
00:30 LEAETHERSTRIP
01:30 NEOTEK
02:20 ASFALT
03:10 BLIPBLOP
Tickets can be purchased here:
https://secure.tickster.com/Intro.aspx?ERC=H93LCZ3LUZ46013
And for more information check out their Facebook page for all the details (most of it in Swedish unfortunately, but you may use Google translate to get all the details)
https://www.facebook.com/events/354812351298887/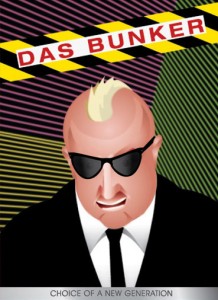 The reknown Los Angeles-based club Das Bunker will release a special compilation with bands from the Industrial scene covering 80′s songs.
The compilation, entitled "Choice Of A New Generation", includes Modcom, Leaether Strip, Combichrist, Assemblage 23 and System Syn to name a few. See full tracklist below.
Limited to 500 copies, the physical package will be delivered as a standard CD in a DVD box together with a Das Bunker USB dogtag. Release date is May 30th.
Tracklist:
01. Straftanz – Looking for Freedom
02. God Module – Round and Round
03. Northborne – No Sleep till Brooklyn
04. HexRx – Living on Video
05. FGFC820 – We Don't Need No World War III
06. Gentleman Junkie – When I Hear Music
07. Modcom feat. Leæther Strip – Native love
08. Sars feat. Amanda Jones – Two of Hearts
09. Combichrist – Gonna Make You Sweat (Everybody Dance Now)
10. Assemblage 23 – Don't Change
11. Continues – Perfume Garden
12. System Syn – A New England
13. SD6 – As The End Draws Near
14. iVardensphere – The Dogs of War
Leatherstrip in action, video is taken from their new album, enjoy
The song is from the "Dark Passages Motion Picture Soundtrack" by Leaether Strip. The album is out now
CD: http://www.alfa-matrix.com/shop_comme…
Digital: "Dark passages": http://getth.at/i3sqi
"Seasons Change – I Don't": http://getth.at/i9rqu
The video is directed by Cesar Cruz, who is also directing the movie "Dark Passages". www.outworldentertainment.com
Side-Line Music Awards are now ready, each year Side-Line nominates the best songs, bands and acts in the electro, synth, EBM etc space and now the final results are here, as voted by the Side-Line readers. And it seems Recoil got a fair share of the prices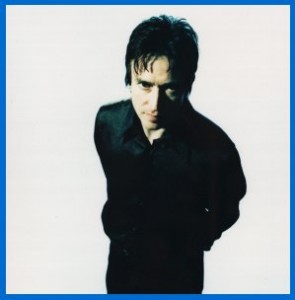 The results of the Side-Line Music Awards 2010 are in. Yes, it did take us a few days more than we had originally planned. But then again, we never imagined getting stuck in London and Brussels the past week due to the unexpected harsh winter conditions circling over Europe. We spent the last two days counting the votes and deleting the invalid ones. But before we give the results, we really want to thank all those readers who have cast their votes in the past two election rounds. You were among the 39,203 people (!!) to have cast a valid vote. That is an all-time record for Side-Line.
Best Band:
Combichrist (5,391)
Unter Null (4,985)
Front Line Assembly (3,818)
Front 242 (3,803)
Mesh (2,756)
Recoil (2,542)
Suicide Commando (2,459)
Hocico (2,327)
Depeche Mode (2,314)
Leaether Strip (2,201)
A-ha (2,227)
Kant Kino (1,837)
De/Vision (1,571)
Edge Of Dawn (589)
Diorama (383)
Best Album:
Recoil – "Selected" (10,442)
Front Line Assembly – "IED" (8,252)
Unter Null – "Moving On" (7,898)
OMD – "History Of Modern" (6,908)
Angelspit – "Larva Pupa Tank Coffin" (5,811)
Best Single:
Covenant – "Lightbringer" (10,330)
Combichrist – "Scarred" (8,983)
Rotersand – "Waiting To Be Born" (7,038)
In Strict Confidence – "Silver Bullets" (6,825)
I:Scintilla – "Prey On You" (6,027)
Best Label:
Mute (13,072)
Alfa Matrix (10,736)
Metropolis/Dependent (10,479)
Trisol (4,916)
Best Live Band:
Recoil (14,545)
Combichrist (9,107)
Depeche Mode (6,032)
Front Line Assembly (4,851)
Leaether Strip (4,668)