Zero TV is the swedish magazine Zeros web-tv channel – www.zeromagazine.nu
Although Swedish it provides a good overview of Sweden's fastest growing synth music / electronic music festival Electronic Summer
Ben Adams and Jez Webb took the time walking us through the Instrument Setups at the Hamburg Stadium before the Depeche Mode Gig on June 17th, 2013. Ben explained the use of the Virus Polar by Andy Fletcher and the Virus TI by Peter Gordeno. Jez showed us Martin Gore's guitar Setup.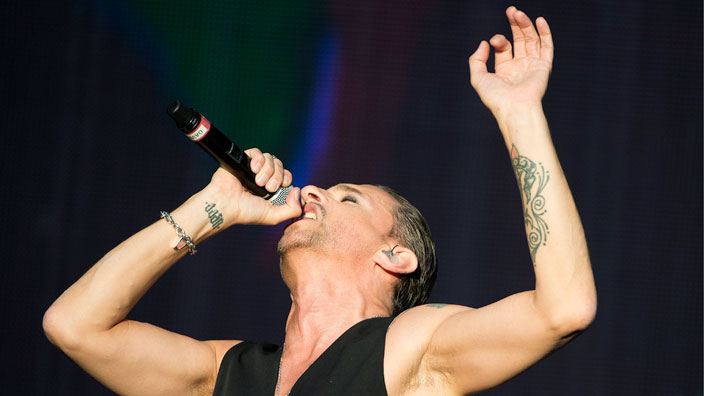 We had a guest writer watching DM's huge Delta Machine tour as the band made a stop at Parken in Copenhagen, DK.
P. Lindstrom, with a long track record as as synth connoisseur, gives us his personal thoughts, and the set list, of last week's main event in the Danish capital, enjoy:
I had low expectations on the Depeche Mode concert in Copenhagen somewhat due to the renown horrible acoustics of the arena Parken. But how wrong I was, Depeche Mode showed once again that they somehow can overcome even a major obstacle like Parken. Even after 33 years they are still one of the greatest band on the earth. The bland concrete arena and the terrible acoustics could not hold back the energetic Dave Gahan, who showed us once again how professional and totally committed they are.
A characteristic slow start with Angel and Walking in my shoes started of the concert and already in the beginning of the show did David take off his jacket hinting of what's to come.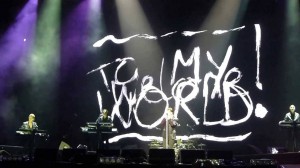 The concert was a perfect mix of new material, well blended with a lot of old classics. An audience of 42.000 totally agreed, with carefully picked songs and a complete roar was heard when Black celebration as song number 5 started, and that set the standard for the night.
The audience was totally consumed of the band's performance and joined David Gahan  singing in most of the songs making the evening unforgettable. Even the minimalistic stage show enhanced the performance, letting the band show that they still perform best just as they are. You only have to look at David Gahan and feel his energy to be spellbound.
Depeche Mode performed a kicking hard core version of Personal Jesus as well as a best ever version of Enjoy the silence – I hope we can look forward to a live album as well as a dvd of this tour.
The encore songs really made the evening complete, here they brought in the heavy machinery and made slowdown version of Halo just before they rip of a long sought after Just can't get enough. To round of the 134 minutes of marvel  they play a raw extended version of Never let me down again, and what could be better to finish of a perfect evening with the greatest band on earth.
Set list
1. Welcome to My World
2. Angel
3. Walking In My Shoes
4. Precious
5. Black Celebration
6. Policy of Truth
7. Should Be Higher
8. Barrel of a Gun
9. Higher Love
10. Judas
11. Heaven
12. Soothe My Soul
13. A Pain That I'm Used To
14. A Question of Time
15. Secret to the End
16. Enjoy the Silence
17. Personal Jesus
18. Goodbye
Encoure
19. Home
20. Halo
21. Just Can't Get Enough
22. I Feel You
23. Never Let Me Down Again
Jimmy Kimmel Live – Depeche Mode Performs "Soothe My Soul" on the Sony Outdoor Stage
Jimmy Kimmel Live's YouTube channel features clips and recaps of every episode from the late night TV show on ABC.
Subscribe for clips from the monologue, the interviews, and musical performances every day of the week. Watch your
favorites parts again, or catch-up on any episodes you may have missed.
Website: http://www.jimmykimmellive.com
Channel: http://www.youtube.com/jimmykimmellive
Subscribe: http://www.youtube.com/subscription_c…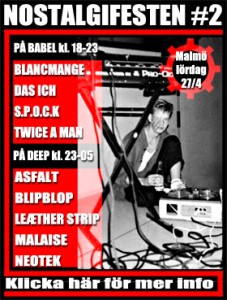 If you by any chance are in Malmö, Sweden this weekend don't miss the opportunity to see all these nice synthpop / new wave / EBM acts live at Neostalgia's birthday party on Saturday April 27th
@ BABEL:
————-
18:30 S.P.O.C.K
19:30 DAS ICH
20:40 TWICE A MAN
21:40 BLANCMANGE
@ DEEP:
————
23:30 MALAISE
00:30 LEAETHERSTRIP
01:30 NEOTEK
02:20 ASFALT
03:10 BLIPBLOP
Tickets can be purchased here:
https://secure.tickster.com/Intro.aspx?ERC=H93LCZ3LUZ46013
And for more information check out their Facebook page for all the details (most of it in Swedish unfortunately, but you may use Google translate to get all the details)
https://www.facebook.com/events/354812351298887/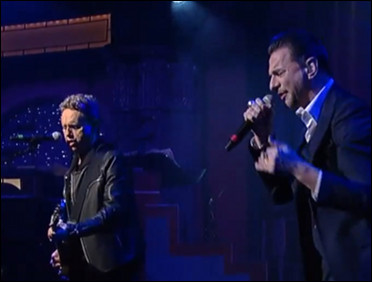 Yesterday evening Depeche Mode performed live on the David Letterman show. For those who missed it last night, you can see a high quality video that got upped a few moments ago right after the jump or in the video player of our mobile app. But more alluring to the fans is probably the fact that the full concert was upped on Soundcloud as well.
The Depeche Mode 'Live On Letterman' webcast aired last night was recorded at the Ed Sullivan Theater in New York and had the following track list:
Intro
Angel
Should Be Higher
Walking In My Shoes
Barrel Of A Gun
Heaven
Personal Jesus
Soft Touch/Raw Nerve
Soothe My Soul
Enjoy The Silence
For many this will be the first time they hear some more new material. Let us know what you think of it.
Note that the deluxe 2CD editions of the new Depeche Mode album are available now at dead cheap prices from Amazon DE ( http://fave.co/ZBjsmM ), Amazon UK ( http://fave.co/ZBjwTv ) and Amazon USA ( http://fave.co/X0hkRP ).
Held on October 28th, 2006. This is the full movie and some preparations of the day before. The goal of this meeting was to do an improvised electronic music concert like those of the Tangerine Dream in the seventies by some fans.
The Gasometer in Oberhausen is an unique location. The Oberhausen gasometer, the largest disc-type gas holder in Europe, is an industrial monument located in Oberhausen, Germany. It was constructed between 1927 and 1929. It has a long reverb because of its height 117.5 m (385 ft) and its diameter of 67.6 m (222 ft).
The three guys who performed this unique concert are:
Hajo Liese
Till Kopper
René van der Wouden
Kraftwerk's opening show at the Tate; incredible, say OMD
This article is taken right of the BBC website, we own no rights to the content, enjoy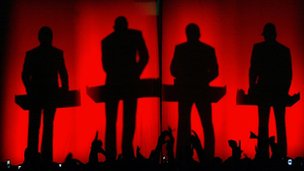 The first of eight shows by German electro pioneers Kraftwerk has taken place at London's Tate Modern. Among the 1,250-strong crowd were Andy McCluskey and Paul Humphreys, whose music with Orchestral Manoeuvres In The Dark has been heavily influenced by Kraftwerk. What did they make of the performance?
McCluskey described it as "the best multimedia arts project on the planet".
"It gets better and better. I saw them three-and-a-half-years ago at the Manchester Velodrome and now that the whole show is in 3D, with surround sound, it's incredible.
"It's amazing that 40 years into their career, they're still relevant.
"The whole remit of Kraftwerk, when they moved away from that early jazz krautrock roots, was that they were trying to get away from Anglo-American cliches. When I saw them in 1975 they had their names in neon lights and they had some projections.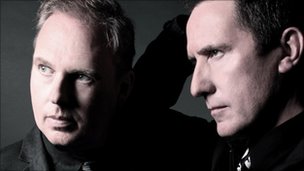 "They were already quite minimal but they were moving away from the cliches. This now, with the whole show in 3D, is taking it to the nth degree, 30 odd years later. It's a wonderful extra string on their bow.
 Orchestral Manoeuvres in the Dark were heavily inspired by Kraftwerk
"I have to admit… some of the songs reflect the fact that they are so distilled that it's hard to put [visuals] to them, but for two hours the whole show was incredible."
Fellow OMD member Paul Humphreys added: " To move from concert halls into museums is the perfect move for them, because even from the very beginning they were performance art, except they were playing in concert halls."
"They have changed a couple of things," noted McCluskey.
"It's noticeable that Radioactivity has now become an anti-radioactivity song. And Ralf is now singing in Japanese. We thought they'd changed some of the words to Man Machine – made it slightly more sinister and negative.
"Because the music is so highly conceptual they are able to mutate and twist it. They're not going to play the exact same song with the same riff and the same lyrics, they can vary it and it's quite an interesting concept," he said.
"For us it was incredible to hear both comet melodies live. This is what's incredible about this series of concerts. They are going to play tracks that they have never played live before. The Autobahn album – trimmed down – is not very long, so the rest of it was essentially their highlights, their greatest hits."
Humphreys added: "They are one of the most important bands for popular music.
"People say the Beatles were the most important band to change popular music but I think Kraftwerk were. Their DNA has permeated the blood of bands since then. There's parts of Kraftwerk in all the popular music today."
Original article can be found here >>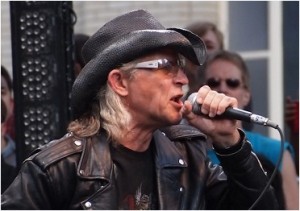 30 years ago, Men Without Hats told the world "You can dance if you want to". The world listened. Since then, the Canadian electronic rock new wave group has continued to create pop music. In February, they embark on their first European tour in over 20 years, performing all their classic hits including "The Safety Dance", "I Got The Message", "Pop Goes The World", "I Like", "Living In China", plus songs from their new studio album "Love In The Age Of War".
The European tour starts Friday 1st February at the London's Islington o2 Academy (only UK show), followed by dates across Germany, Austria, Denmark, and Sweden. Led by front man, lead singer and songwriter Ivan Doroschuk, in 2011, MWH performed a breakout show at SXSW, followed by an extensive 2012 North American tour alongside the B52s and Human League.
Produced by Dave 'Rave' Ogilvie (Skinny Puppy, Marilyn Manson), "Love In The Age of War" marks MWH's their first studio album in 10 years, and includes ten original songs. Since forming in the late 70′s, the band has released six studio albums. (Via SL)
Right before Christmas a new and extremely rare electronic music album has hit the shelves.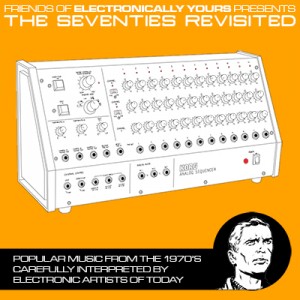 It is a secret group on Facebook called Electronically Yours that has released an album featuring classic 70′s songs and remixed to fit an electronic audience of the 21st century. And it is not an anonymous bunch of musicians on this album – among the secret members you will find Joakim Montelius (Covenant) under his alter ego Tectonic Knights, Eddie Bengtsson with PAGE, Diskodiktator, compute and Steelberry Clones, to name but a few.
Now you can watch them live – this is Electronically Yours as they made their first performance at ElectriXmas in Malmoe, Sweden on December 15th 2012.
On stage in the video: PAGE, independent state, compute and yours truly Steelberry Clones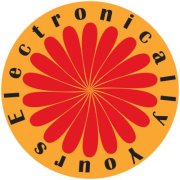 More info here:
http://www.facebook.com/FansOfEY?ref=ts&fref=ts