Event: Oxygéne Live (as it was known then at Theatre Marigny). For the tour in 2008 it was known as Oxygene in Concert, or to some, Oxygene: 30th Anniversary tour.
When: 12th-26th December 2007. This broadcast was recorded on the last show on the 26th December 2007 and was first shown on EXQI in April 2008.
Where: Theatre Marigny, Paris, France
Other Info:
On September 19th 2007, Jarre re-recorded his Oxygene album for it's 30th Anniversary with special 3D cameras at the Alfacam studios, Lint, Belgium, and was released on his DVD Oxygene: New Master Recording. The audience consisted of a very small number of invites only. After this, Jean Michel decided to perform a series of 10 concerts at the Theatre Marigny in Paris, France, of which each show held a maximum capacity of 1,000 seats per show.
Tracklisting:
1: Prelude
2: Oxygene Part 1
3: Oxygene Part 2
4: Oxygene Part 3
5: Variation 1
6: Oxygene Part 4
7: Variation 2
8: Oxygene Part 5
9: Variation 3
10: Oxygene Part 6
11: Variation 4
12: Oxygene 12
Musicians:
* Jean Michel Jarre
* Francis Rimbert
* Dominque Perrier
* Claude Sammard
2014-03-07 The Mobile Homes Multicam Full Concert Debaser Medis
1, Let this be forever
2, Afraid
3, Nothing But Something
4, Guide Me
5, Ill
6, I´m phoning a friend Feat. Isabell Erkendahl
7, (WEG) A little Black Dress
8, Disappointment
9, Between decay and strong will
10, I´m feeling better
11, Hoping for rain
12, If you want me to
13, Nostalgia
14, If there´s any justice
15, Love to be loved Feat. Familjen
16, (Familjen) Det var jag
17, E.C Feat Sapporo 72,Wolfgang Flür,Kent
18, (Statemachine) Something Better
19, Nothing but Something
20, Close
21, I know I will die Feat Christer Sandelin
Kraftwerk
From the Rockpalast Archive
Mixed Media Show
Soest, Germany
Winter 1970
0. Intro
1. Stratovarius
2. Ruckzuck
3. Heavy Metal Kids
4. Improvisation 1
Performa is delighted to present "Music For 16 Futurist Noise Intoners," an evening-length concert of original scores and newly commissioned compositions for the intonarumori, or "noise-intoners" As part of its celebration of the 100th anniversary of Italian Futurism, the Performa 09 biennial, in collaboration with the Experimental Media and Performing Arts Center (EMPAC) and SFMOMA, has invited Luciano Chessa to direct a reconstruction project to produce accurate replicas the legendary instruments (8 noise families of 1-3 instruments each, in various registers) that Russolo built in Milan in the summer of 1913. As the first instruments capable of creating and manipulating noises through entirely mechanical processes, the intonarumori can be considered to be the original analog synthesizer, and the ancestors to the latest electronic synthesizers used today.
With Blixa Bargeld, John Butcher, Luciano Chessa, Joan La Barbara, Nick Hallett, Pauline Oliveros, Mike Patton, Anat Pick, Elliott Sharp, Ulrich Krieger, Jennifer Walshe with Tony Conrad, Ghostigital with Skuli Sverrison, Finboggi Petursson, and Casper Electronics.
Chessa will present the first modern live performances of two early Futurist pieces—the legendary fragment from Russolo's spooky "Risveglio di una città" (1913), and "La pioggia nel pineto antidannunziana," a newly-discovered 1916 piece for intonarumori and "Words in Freedom" by Futurist playwright and poet Paolo Buzzi–as well as "L'acoustique ivrese", his brand new composition for 16 intonarumori and voice on a poem also by Buzzi. An incredible group of musicians and composers from the experimental music world—including Einstuerzende Neubauten frontman and Nick Cave collaborator Blixa Bargeld, avant-garde saxophonist John Butcher, Deep Listening pioneer Pauline Oliveros, Faith No More and Mr. Bungle vocalist Mike Patton, sound and text-based performer Anat Pick, avant-garde musician Elliott Sharp, and composer and vocalist Jennifer Walshe collaborating with composer and film/video artist Tony Conrad, among others—have been commissioned by Performa to create and perform brand new compositions for the instruments.
A Performa Commission with SFMOMA and EMPAC. Produced and presented by Performa. Curated by Luciano Chessa with Esa Nickle. Thanks to AIR, Art International Radio and the Clocktower Gallery for rehearsal spaces
Zero TV is the swedish magazine Zeros web-tv channel – www.zeromagazine.nu
Although Swedish it provides a good overview of Sweden's fastest growing synth music / electronic music festival Electronic Summer
Ben Adams and Jez Webb took the time walking us through the Instrument Setups at the Hamburg Stadium before the Depeche Mode Gig on June 17th, 2013. Ben explained the use of the Virus Polar by Andy Fletcher and the Virus TI by Peter Gordeno. Jez showed us Martin Gore's guitar Setup.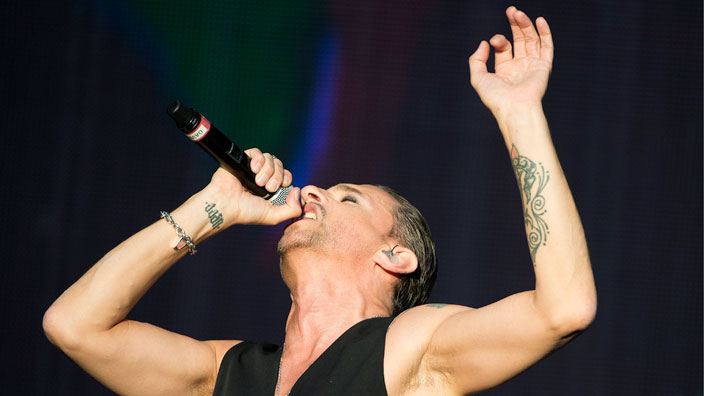 We had a guest writer watching DM's huge Delta Machine tour as the band made a stop at Parken in Copenhagen, DK.
P. Lindstrom, with a long track record as as synth connoisseur, gives us his personal thoughts, and the set list, of last week's main event in the Danish capital, enjoy:
I had low expectations on the Depeche Mode concert in Copenhagen somewhat due to the renown horrible acoustics of the arena Parken. But how wrong I was, Depeche Mode showed once again that they somehow can overcome even a major obstacle like Parken. Even after 33 years they are still one of the greatest band on the earth. The bland concrete arena and the terrible acoustics could not hold back the energetic Dave Gahan, who showed us once again how professional and totally committed they are.
A characteristic slow start with Angel and Walking in my shoes started of the concert and already in the beginning of the show did David take off his jacket hinting of what's to come.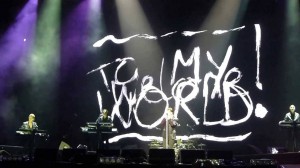 The concert was a perfect mix of new material, well blended with a lot of old classics. An audience of 42.000 totally agreed, with carefully picked songs and a complete roar was heard when Black celebration as song number 5 started, and that set the standard for the night.
The audience was totally consumed of the band's performance and joined David Gahan  singing in most of the songs making the evening unforgettable. Even the minimalistic stage show enhanced the performance, letting the band show that they still perform best just as they are. You only have to look at David Gahan and feel his energy to be spellbound.
Depeche Mode performed a kicking hard core version of Personal Jesus as well as a best ever version of Enjoy the silence – I hope we can look forward to a live album as well as a dvd of this tour.
The encore songs really made the evening complete, here they brought in the heavy machinery and made slowdown version of Halo just before they rip of a long sought after Just can't get enough. To round of the 134 minutes of marvel  they play a raw extended version of Never let me down again, and what could be better to finish of a perfect evening with the greatest band on earth.
Set list
1. Welcome to My World
2. Angel
3. Walking In My Shoes
4. Precious
5. Black Celebration
6. Policy of Truth
7. Should Be Higher
8. Barrel of a Gun
9. Higher Love
10. Judas
11. Heaven
12. Soothe My Soul
13. A Pain That I'm Used To
14. A Question of Time
15. Secret to the End
16. Enjoy the Silence
17. Personal Jesus
18. Goodbye
Encoure
19. Home
20. Halo
21. Just Can't Get Enough
22. I Feel You
23. Never Let Me Down Again
Jimmy Kimmel Live – Depeche Mode Performs "Soothe My Soul" on the Sony Outdoor Stage
Jimmy Kimmel Live's YouTube channel features clips and recaps of every episode from the late night TV show on ABC.
Subscribe for clips from the monologue, the interviews, and musical performances every day of the week. Watch your
favorites parts again, or catch-up on any episodes you may have missed.
Website: http://www.jimmykimmellive.com
Channel: http://www.youtube.com/jimmykimmellive
Subscribe: http://www.youtube.com/subscription_c…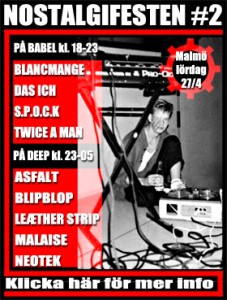 If you by any chance are in Malmö, Sweden this weekend don't miss the opportunity to see all these nice synthpop / new wave / EBM acts live at Neostalgia's birthday party on Saturday April 27th
@ BABEL:
————-
18:30 S.P.O.C.K
19:30 DAS ICH
20:40 TWICE A MAN
21:40 BLANCMANGE
@ DEEP:
————
23:30 MALAISE
00:30 LEAETHERSTRIP
01:30 NEOTEK
02:20 ASFALT
03:10 BLIPBLOP
Tickets can be purchased here:
https://secure.tickster.com/Intro.aspx?ERC=H93LCZ3LUZ46013
And for more information check out their Facebook page for all the details (most of it in Swedish unfortunately, but you may use Google translate to get all the details)
https://www.facebook.com/events/354812351298887/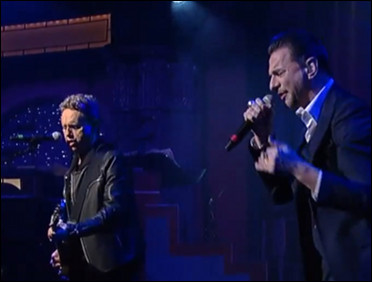 Yesterday evening Depeche Mode performed live on the David Letterman show. For those who missed it last night, you can see a high quality video that got upped a few moments ago right after the jump or in the video player of our mobile app. But more alluring to the fans is probably the fact that the full concert was upped on Soundcloud as well.
The Depeche Mode 'Live On Letterman' webcast aired last night was recorded at the Ed Sullivan Theater in New York and had the following track list:
Intro
Angel
Should Be Higher
Walking In My Shoes
Barrel Of A Gun
Heaven
Personal Jesus
Soft Touch/Raw Nerve
Soothe My Soul
Enjoy The Silence
For many this will be the first time they hear some more new material. Let us know what you think of it.
Note that the deluxe 2CD editions of the new Depeche Mode album are available now at dead cheap prices from Amazon DE ( http://fave.co/ZBjsmM ), Amazon UK ( http://fave.co/ZBjwTv ) and Amazon USA ( http://fave.co/X0hkRP ).