Depeche Mode – Delta Machine – Concert review Copenhagen 2013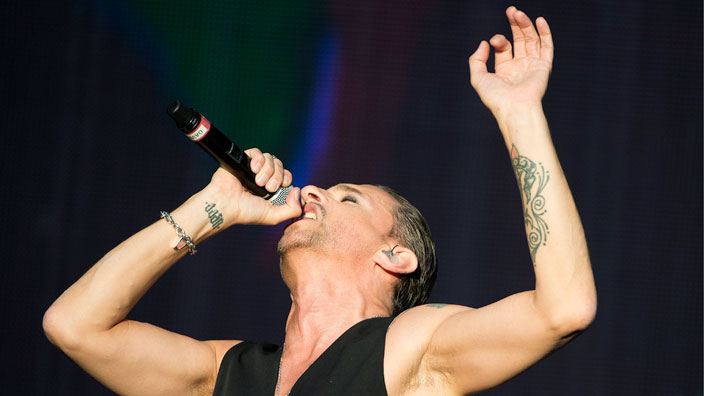 We had a guest writer watching DM's huge Delta Machine tour as the band made a stop at Parken in Copenhagen, DK.
P. Lindstrom, with a long track record as as synth connoisseur, gives us his personal thoughts, and the set list, of last week's main event in the Danish capital, enjoy:
I had low expectations on the Depeche Mode concert in Copenhagen somewhat due to the renown horrible acoustics of the arena Parken. But how wrong I was, Depeche Mode showed once again that they somehow can overcome even a major obstacle like Parken. Even after 33 years they are still one of the greatest band on the earth. The bland concrete arena and the terrible acoustics could not hold back the energetic Dave Gahan, who showed us once again how professional and totally committed they are.
A characteristic slow start with Angel and Walking in my shoes started of the concert and already in the beginning of the show did David take off his jacket hinting of what's to come.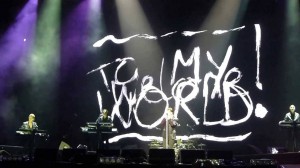 The concert was a perfect mix of new material, well blended with a lot of old classics. An audience of 42.000 totally agreed, with carefully picked songs and a complete roar was heard when Black celebration as song number 5 started, and that set the standard for the night.
The audience was totally consumed of the band's performance and joined David Gahan  singing in most of the songs making the evening unforgettable. Even the minimalistic stage show enhanced the performance, letting the band show that they still perform best just as they are. You only have to look at David Gahan and feel his energy to be spellbound.
Depeche Mode performed a kicking hard core version of Personal Jesus as well as a best ever version of Enjoy the silence – I hope we can look forward to a live album as well as a dvd of this tour.
The encore songs really made the evening complete, here they brought in the heavy machinery and made slowdown version of Halo just before they rip of a long sought after Just can't get enough. To round of the 134 minutes of marvel  they play a raw extended version of Never let me down again, and what could be better to finish of a perfect evening with the greatest band on earth.
Set list
1. Welcome to My World
2. Angel
3. Walking In My Shoes
4. Precious
5. Black Celebration
6. Policy of Truth
7. Should Be Higher
8. Barrel of a Gun
9. Higher Love
10. Judas
11. Heaven
12. Soothe My Soul
13. A Pain That I'm Used To
14. A Question of Time
15. Secret to the End
16. Enjoy the Silence
17. Personal Jesus
18. Goodbye
Encoure
19. Home
20. Halo
21. Just Can't Get Enough
22. I Feel You
23. Never Let Me Down Again
Comments