June 16, 2013 · Posted in
Uncategorized
·
Comments Off

on Depeche Mode – Delta Machine – Concert review Copenhagen 2013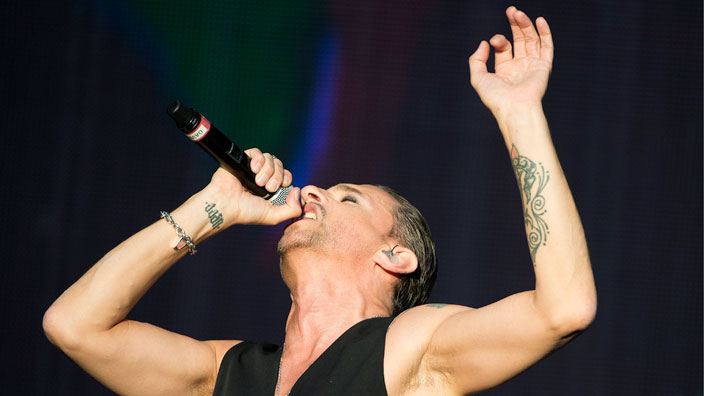 We had a guest writer watching DM's huge Delta Machine tour as the band made a stop at Parken in Copenhagen, DK.
P. Lindstrom, with a long track record as as synth connoisseur, gives us his personal thoughts, and the set list, of last week's main event in the Danish capital, enjoy:
I had low expectations on the Depeche Mode concert in Copenhagen somewhat due to the renown horrible acoustics of the arena Parken. But how wrong I was, Depeche Mode showed once again that they somehow can overcome even a major obstacle like Parken. Even after 33 years they are still one of the greatest band on the earth. The bland concrete arena and the terrible acoustics could not hold back the energetic Dave Gahan, who showed us once again how professional and totally committed they are.
A characteristic slow start with Angel and Walking in my shoes started of the concert and already in the beginning of the show did David take off his jacket hinting of what's to come.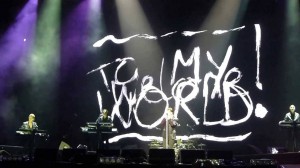 The concert was a perfect mix of new material, well blended with a lot of old classics. An audience of 42.000 totally agreed, with carefully picked songs and a complete roar was heard when Black celebration as song number 5 started, and that set the standard for the night.
The audience was totally consumed of the band's performance and joined David Gahan  singing in most of the songs making the evening unforgettable. Even the minimalistic stage show enhanced the performance, letting the band show that they still perform best just as they are. You only have to look at David Gahan and feel his energy to be spellbound.
Depeche Mode performed a kicking hard core version of Personal Jesus as well as a best ever version of Enjoy the silence – I hope we can look forward to a live album as well as a dvd of this tour.
The encore songs really made the evening complete, here they brought in the heavy machinery and made slowdown version of Halo just before they rip of a long sought after Just can't get enough. To round of the 134 minutes of marvel  they play a raw extended version of Never let me down again, and what could be better to finish of a perfect evening with the greatest band on earth.
Set list
1. Welcome to My World
2. Angel
3. Walking In My Shoes
4. Precious
5. Black Celebration
6. Policy of Truth
7. Should Be Higher
8. Barrel of a Gun
9. Higher Love
10. Judas
11. Heaven
12. Soothe My Soul
13. A Pain That I'm Used To
14. A Question of Time
15. Secret to the End
16. Enjoy the Silence
17. Personal Jesus
18. Goodbye
Encoure
19. Home
20. Halo
21. Just Can't Get Enough
22. I Feel You
23. Never Let Me Down Again
November 12, 2010 · Posted in
Uncategorized
·
Comments Off

on Nice review of the KORG iMS20 for iPad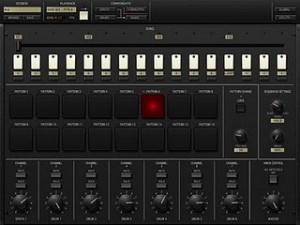 ipaddj has provided us with a review of the recently launched iMS20, check it out and see if you agree:
Anyone who has used the Korg Legacy plug-in will know what they are in for and the fact that you can grab patch cables and route them using the touchscreen is almost mind-melting. Like a childhood fantasy come true.

The huge sound of the MS-20 is totally there and I couldn't stop making Daft Punk patches for the first few hours using the beast.

Korg just released an iPad version of their classic MS-20 analog synth. It is amazing. The only thing is, I don't know what I am going to use it for…

The Overview
The virtual hardware included in the iMS-20 consists of an analog monosynth (the MS-20), an analog sequencer, a drum machine based on MS-20 patches, a drum step sequencer, a song sequencer a virtual keyboard, two virtual kaoss (x-y controller) pads and a mixer.  I guess the word I would use to describe this setup is cool. It all looks and acts like you have a classic monosynth sitting in front of you. However, I wouldn't exactly describe this as utilitarian. Just as with the iElectribe and even Rebirth (which was also just released as a dedicated iPad app) sometimes the decision to emulate analog hardware in an electronic, touchscreen, software environment is questionable. For example, the analog sequencer is totally cool, but it would have been much more conducive to songwriting and workflow to use a real multi-touch based sequencer. I understand that Korg is trying to keep it real, so to speak, but I want something that I can use more than something that is just totally cool.
September 2, 2010 · Posted in
Uncategorized
·
Comments Off

on REVIEW: Filter Research 2 from Nucleus Soundlab
Nucleus Soundlab is in my mind a solid provider of highly crafted refills for the Propellerhead Reason suite. With refills like Pantheon I and II and Synthetic Kits in their portfolio, as well as with my experience with their predecessor Filter Research I, I was pretty intrigued to see how it had evolved.
To start of I would like to remind you that FR 1 and 2 are not by any means your traditional refill with predefined loops, pads, keys, bass and lead sounds – it is actually quite empty of any sounds, instead you are provided with the tools to uniquely tailor your sounds with effects hardly imaginable for the "standard" Reason user. Basically what Nucleus are doing is that they are cramming every inch out of the Reason rack to give you an amazing toolbox of high quality sequenced effects with inbuilt patterns.
Something that triggered me the most and is probably one of the main reasons I would strongly recommend this refill is the way Nucleus has been able to add delays that are far richer than what most skilled Reason users what be able to produce themselves as well as the envelope-followed distortion, and spectral processors.
In my work I have come across a number of excellent VSTs focused on adding that specific touch to your music, let it be reverbs, filters, delays, distortion devices etc, and pretty much optimized towards that one objective. With FR 2 you will definitely get a short cut to adding that extra dimension to your music and with the added MIDI support you are free to experiment. I can say that FR 2 is a strength indicator of Nucleus, but equally well an indicator of Reason as a key software in your music production. I am really looking forward to see what Nucleus will come up with for Reason 5.
Details:
Filter Research 2 features
200+ Combinators included.
PDF manual describing each Combinator.
New more detailed manual format.
5 Epic Combinators – including video documentation.
All Combinators created from scratch.
Each Combinator has all 4 rotaries/buttons uniquely assigned.
Requires Reason 4+ either standalone or together with Record.
Filter Research 2 is available to purchase as a download for $59 USD. For 30 days, Nucleus SoundLab customers and newsletter subscribers can purchase for only $49 USD.
More information: Nucleus SoundLab / Filter Research 2
July 9, 2010 · Posted in
Uncategorized
·
Comments Off

on Brett Domino offers perspective on the Roland's Lucina AX-09
In this  review, The Brett Domino Trio's Brett Domino offers his unique perspective on the Roland's Lucina AX-09 keytar strap-on shoulder synthesizer. Brett Domino reviews Roland's Lucina AX-09 keytar exclusively for MusicRadar, taking inspiration from Herbie Hancock and Gerry Rafferty along the way.
Enjoy
March 12, 2010 · Posted in
Electronic Music
·
Comments Off

on Das Boot 2010 – review
Unfortunately I did not have the chance to attend this year´s Das Boot festival, but Moving Hands Magazine has made a good review of the event:

Leæther Strip

Project-X

Dupont

Covenant
Das Boot 2010
2010th edition of the festival held on a cruise ship sailing from Stockholm
So Das Boot missed the year of 2009, but only a few months later than the 2009 Das Boot was supposed to be, the 2010 Das Boot cruise was held and this time over a weekend so most people didn't have to take any time off from job or school.
The newer and bigger boat makes the whole cruise seem a bit smaller with all the spaces and different dancefloors and stages but all in all I think it's a big improvement from the retired MS Festival who now sails between Stockholm and Riga. The food/wine/beer buffet is bigger and better. The Tax Free is bigger and better. There are more bars. The main stage area is also really nice with a big floor for the people who wants to shake their bottoms and a lot of sofas for the lazy crowd, the sound was also really good and loud at this stage which is a quite important improvement.
The evening started up with the legendary danish Leæther Strip which is Mr Claus Larsen's one man project and has been for 21 years. It was fun to finally experience Leæther Strip but the main stage felt too big for him as he is just one guy with a synth/laptop and I think it would have worked much better on the smaller stage. He did his job though and delivered.
Now to the smaller stage and Dupont who had to begin their show before even Leæther Strip had ended his show in the other end of the boat which made the crowd quite tiny before everyone finally made their way from the Starlight Bar (main stage) to Moonlight Bar (the smaller stage). Dupont did a very cozy gig and as most people where friends it was a very relaxed and fun gig. Mr Johan Damm who is an old member of Dupont joined up on stage and became a part of the classic song "Behave".
Then it was time for Covenant to do their thing on the main stage and they did it as always. Nice gig and a very large crowd made it a nice memory for sure. Covenant have played on Das Boot before and last time they did it was on the old boat and on a much smaller stage so it was great seeing them on a stage that fitted them.
No rest for the wicked, so it was heading back to the smaller of stages and witness Swedish Project-X make havoc and scream themselves to a frenzy. First time I have seen this act and I was impressed. A good finish to this night, at least for me as the music continued all the night through to the next day in the Zenith Disco where I myself never leave for some reason. You must understand, the these cruise ships are very confusing with all the bars and restaurants and shops and what not. Just finding your cabin can be a pain in the ass.
The last day of the cruise there where just one live act and that was the Swedish mad guys of Slagsmålsklubben (Fight Club) who plays a very frenetic kind of old computer games inspired electronic music. The guys had partied all night and where still partying on stage but did a good job nevertheless and gave us quite a few funny little anecdotes between the songs.
It is a very different experience to go on a Das Boot-cruise. It's like being on a festival except for the dirt and that you have your own cozy cabin to retire to. As always Das Boot was a success in my book, now just let us hope it was a success for the guys behind it too and that we soon can go and get crazy on another cruise.
March 8, 2010 · Posted in
Electronic Music
·
Comments Off

on SID and chip lovers – look this way
Reason Refill review
Last week I published a post on the new release from Soundcells. It was the bitBumber Reason Refill, a new SID, bit, chip, you name it, refill that I was intrigued to try out myself.
After listening in on hundreds of different refills for Reason it is quite seldom that I find something that feels totally new and fresh, but I am inclined to change my mind on this one. Sure other refills have been published in this space before but rarely with this amount of breadth. There are not just the traditional CMB files and NNXT files that you have become accustomed to but also a several new live performance CMBs that allows you to actually be very creative on stage. I really enjoyed bringing these up during some live jamming in the studio, and to spice things up there are a several really nice Dr.Rex loops also included – and not just endless variations of the same loop  in different pitches and sounds but actually quite a nice mixture of experimental, bass and pure chip sounds – I like

Several of the files has been nicely upgraded from the original using arpeggiators and effects, that either can be activated with automation or set to play as CMB loops. That deep bass sounds paired with either smooth SID strings or whacky FX type sounds.
Soundcells has also added a nice SID/bit section dedicated to  Thor, where I must say that they have been able to squeeze quite a lot of those orginal sounds of that synth, but with a twist.
I would recommend this Refill to any composer who wants to get a kick start in making bit tunes or simply spice up a trance, electro song with some of those nostalgic sounds of old computer games. Remeber though that the refill is more on the playfull side of bit music than for any of hard core SID fanatics with the pure objective of recreating everything as faithfull as possible- but I would recommend you to either purchase, download or build your own SID workstation, that are plenty available out there.
"bitBUMPER deluxe" Contents
:
– 360+ combinators (130 (!) new ones since version 2) containing keys, pads, basses, leadsounds, FX, drums, bleeps, noises and percussion.
– 40 scream patches helping you to lofi your sound.
– 30 RPG-8 controlled rex loop patches, great for live gigs!
– 400 unique low bit samples.
– 160 NNXT patches, 126 rexloops.
– Great for music in all styles!
A web address to link to for more info and "bitBUMPER deluxe" only MP3s:
December 25, 2009 · Posted in
Electronic Music
·
Comments Off

on Pantheon II – probably the best Reason refill in 2009
I have had the great opportunity to review the Pantheon II Reason Refill during the past week and I must conclude that the Pantheon II is probably the best refill released during 2009. I had high hopes of already when I downloaded the Demo refill, which contained some 15  or so exciting CMBs.
And after have been playing around with the full Refill, containing more than 10 times as many high quality CMBs, and from my perspective bonus material in the shape of straight forward sounds for the now almost ancient Subtractor, but also for Malström and Thor, I can only conclude that this is worth investing in. Perhaps some might argue that it is somewhat small in size, but trust me – they are nicely handcrafted little gems.
The Refill is mainly, I would say, suited if you are in to making electro, electronica,g litch or ambient music styles, but I am sure you will be able to spice up your dance/tecno tracks as well with several of the CMBs included. What I am most impressed with is the clarity and the mix of sounds, often you come across nice lead synth sounds and ARPs that you want to make use of, but you often have to make some tweaking to them to make them morecrystal  clear, this you do not have to worry about here. Another things that feels refreshing is the Pantheon IIs take on pads. Normally you will find these utterly boaring ambient electro/Tanering Dreams type pads (well you will find a couple of them here as well), but PantheonII broadens the spectrum and has produced some more complex pads that are fit for any modern type ambient track.
Downsides are few; you could of course always want more, but I am personally not very keen on CMBs saved in autorun format, since I seldom need the CMB to dictate how and when I want to have it play, which means you need to go in and remove this little feature, if I want autorun stuff I go to REX files.
The bonus section is pretty standard at least if you look at the Subtractor and Malström stuff but adds value if you want to play around with the sounds in more detail or simply work in the matrix to produce fat bass beats. 244 Thor patches is another thing, here Nucleus shows that they know how to treat a powerful synth, I have just begun to explore these sounds in detail, but so far – Nice

Conclusively: My favorite refill launched in 2009 and I already have inspiration coming for 3-4 new songs that you might here from me during 2010. Download it here >>
What Nucleus says about it:
Nucleus SoundLab proudly releases Pantheon II, the next in their series of ultimate Thor Refills for Propellerhead Reason 4. Pantheon II carries on the the fine lineage set by the original, with a massive new variety of intricately constructed patches ready to inspire you. Once again, these patches inner workings are revealed with refined and detailed PDF documentation.
Imagine a Refill without compromise. Instead of patches consisting of a single good idea, you'll find patches that contain several great ideas, tweaked to absolute perfection. As is now the Nucleus SoundLab standard, these patches are totally unique and fully mapped – ready to start or jump-start your new track. You won't have a problem finding a suitable patch either – not only are all Combinators categorized intelligently across diverse categories, but all Thor patches are as well!
The original Pantheon brought detailed and informative patch documentation to mainstream Reason Refills. Now with Pantheon II, that concept has been further refined and fine-tuned. PDF bookmarks now make finding the exact patch you are looking for simple. Further, the new documentation is more concise and takes up less pages, while offering even more useful information about the performance, inspiration and design behind every patch!
Pantheon II doesn't seek to retread old ground. If you already own Pantheon I, you'll find virtually no sonic overlap. Instead, new directions are explored: Malstrom/Thor hybrid synthesizers are featured; hardware-inspired monophonic beasts are uncovered; the Thor Step Sequencer is harnessed and taken to the next level; massive atmospheric washes using wavetable and FM techniques are explored; and RPG8 creates both classic dance arpeggios and exotic and delicate physically-modeled algorithmic patterns.
Details:
173 fresh and unique Combinators.
244 Thor patches.
30 Subtractor and Malstrom patches.
8 .rps demo songs.
All Combinator and Thor rotaries/buttons uniquely mapped.
All Combinator and Thor patches categorized intelligently.
PDF Design documentation for each patch, detailing important aspects of its design, inspiration and performance.
Listen to what Pantheon II offers by downloading the videos and MP3 demos on the right panel. In addition, a Demo Refill is available for free download. Every single MP3 demo is also packed inside the full Refill in .rps format, allowing you to examine their sequencing and sound design construction in detail.
Cheers Ola
May 20, 2009 · Posted in
Electronic Music
·
Comments Off

on Reason Refill review: Synthetic Kits by Nucleus Soundlab
Time for a new review, this time I have had the opportunity to review the recently released Synthetic Kits refill from Nucleus Soundlab.
This is what Nucleus says about the refill: Synthetic Kits uses Thor, Malstrom and Subtractor to go beyond the tired, old x0x electronic drum sounds. Instead of retreading that synthesis ground, Synthetic Kits continues on to create kits based on FM synthesis, formants, granular and more! These kits will work extremely well in a variety of genres – EBM, trance, filmscore, ambient and even pop.
And I must say that this is a refill well worth investing in, the Combinator kits included are very tight, new thinking and good sounding. If you are making electro, synthpop, ambient or electronic music you will definitely find several Combinator patches that will fit nicely into your songs and add that extra spice. The only thing that disturbs me a little is that most of the patches are auto-triggered, which means that they more or less acts like a rex-file – in essence a little hands-on is needed if you want them to follow your specific needs.
The Combinator patches are as mentioned well designed and I especially enjoy the handling of the bass in the patches. It is quite easy to add specific FX sounds and beats, but adding a well tailored bass that so easily fits with electronic compositions is what makes this refill very attractive. There are also specific sounds for Malström and Subtractor in the refill, but it is the Combinator patches you pay for.
Something that is very useful is that these kits are composed out of pure Reason synths, and you are able to tweak them into totally new sounds in any way you like based on the fact that there are fully-mapped Combinator and Thor knobs. I have done some extensive experimenting with the patches and they are working properly all the way.

Rating: ☻☻☻☻☺
If the refill had been bigger it would have received five smilies.
News from Nucleus:
Pure Synthesis Refill Bundle Released + Demo Links
Nucleus SoundLab is proud to announce the Pure Synthesis Refill Bundle. Pure Synthesis contains not a single sample, but instead pushes advanced synthesis in the Reason environment to the absolute limit! Read on for more info on each individual Refill included in the bundle.
Demo links:
Synthetic KIts Demo
Pantheon Demo
Filter Research Demo
MusicRadar has made a lsiting of the 100 greatest drum beats of all time and even if I did not have the time to go through all 10 pages of them I am dissapointed to see that only one decent entry placed itself amon the top 20. On place 16 one will find New Order's Blue Monday, shame on you. Perhaps one should do one of its own showing the true power of electronic drum beats

"With a little help from drumming legends Chad Smith, Peter Erskine, Joey Jordison and Thomas Lang, our friends at Rhythm magazine have nodded approvingly along to every drum beat in existence to bring us the top 100.
From 1930's Gene Krupa to Pharrell Williams via John Bonham's old-school skin bashing to an Oberheim DMX drum machine – no stone, however heavy, has been left unturned…"
November 11, 2008 · Posted in
Electronic Music
·
Comments Off

on Promote your music: Lebatman review

Lebatman
Listen here >> the-cars-heartbeat-city-lebatman-remix
Web site/MySpace : http://www.myspace.com/stdtkind
Contact info: 

snooobby@hotmail.it

	    
Music production tool/s: Not mentioned 
First of all i would like to apologize to Lebatman for me taking so long in getting this review up on the site, thanks for your patience and persistence.
Lebatman makes very promising material which hoovers somewhere between electro, experimental and trance/house music, also implying not so much vocals – although there are good ambitions to get it in there as well.
The song included in this review is only one out of many that Lebatman has so kindly offered me to listen to, but feel free to hear a lot more of his work on his myspace page. But I think this song very nicely cover his general style and approach to music creation. It would be very nice to know more about what tools he is using since some of the effects he puts into his songs are very good. I partcularly like the way he manages to occupy the whole sound spectrum and create nice reverbs and room feelings. However, what I would like him to do more at least on this track is to make the few vocals that are in there stand out more – at present they are drowning in the mix (might be intentional, but I think it would be better to have it more in the front).
Overall I think Lebatman has a lot to offer and I especially like his use of interesting sounds and rythms, but I would like him to put more focus on the vocals and to flavorize the song more, because if you are not into heavy dancing at a all night gigs you tend expect more variations during the song in order not to get bored.
Worth listening to?     Absolutely
☻☻☻☺☺