Do you want to share your electronic music with our readers, then this is your chance. We have added a SoundCloud player where we on a regular basis will upload your songs for the benefit of our readers/listeners.
Check it out in the right hand column below our sponsors >>>>
We have added a Dropbox beneath the player so that you can easily send us your material.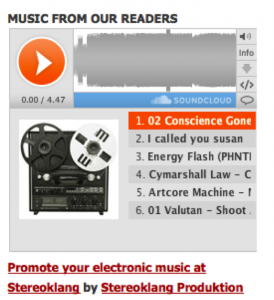 Android users might find this a rather interesting offering. Mobile entertainment startup mSpot has debuted its free music cloud service. mSpot's service allows you to sync your entire music collection across Android phones and PCs/Macs to the public. Launched into private beta in May, it streams music to your browser and Android phone. The application will manage your music for you, making automatic updates whenever changes occur in your library, and on across different connected devices, again, quite similar to what a cloud storing service like Dropbox does (sign up now via this link and you get an extra 250 MB of bonus space). Other features include the ability to see lyrics of songs and to make a ringtone out of any song.
Well these guys share all you need to know !!! or not…..
An awesome video "Band vs Promoter". It's a video generated by text-to-video system http://www.xtranormal.com/. If you've ever been a gigging musician, this might sound familiar.
Enjoy!
YouTube has introduced a new program for musicians – the YouTube Partner Program (YPP) for musicians, aka Musicians Wanted.
We're inviting thousands of artists who made the trek to Texas — and the rest of you accomplished musicians at home — to apply today. If accepted, you'll join stars like ukulele songstress Julia Nunes, singer-songwriter David Choi and many others who, as partners, are able to make some money from their YouTube videos.
YouTube enlisted viral video musicians Pomplamoose, above, to introduce the new program.
They've also signed up OK Go as one of the first YPP for Musicians partners.
"YouTube has always been a great match for OK Go," says OK Go's Damian Kulash. "We can connect directly with our fans. When we heard about Musicians Wanted, it was a no-brainer: it sounds great for us."
Currently US-Only
Unfortunately for 95% of the world's population, the program is currently only available in the US. YouTube says that "There are plans to roll out the program more widely in the future."
Visit: Musicians Wanted

Far Go Traders
Listen here >> http://www.myspace.com/thelale
Web site/MySpace : http://www.planetariumrecords.com/plane_arium/023.html
Contact info: 

ljigotina@gmail.com)

	    
Music production tool/s: Not mentioned 
This time we have the band Far Go Traders up for review. To be honest I have not listened to all their songs on their website, but I went thru two or three of them, and based on this I would describe it a experimental electronica – with emphasis on experimental.
And how does it sound? Well at first I was very intrigued by their soundscapes and the images that they managed to paint with small electronic sounds and sampled noices etc, that by the way was very professionally done – no complaints there. However after a couple of minutes into each song I tend to get a bit bored (might be me, but than again) and the main reason for this  is that I lack the common thread thru the songs – the thing that keeps it together as one entity.
Experimental music can be extremely beautiful, just look at guys like Brian Eno, but in order for it to be beautiful one need to put something that carries the story thru the song and I feel that this is kind of missing in these songs. A lot of experimental artists solves this with vocals, voiced samples, choirs etc, but that is kind of taking the easy way around it and I do believe that Far Go Traders have the capacity and musical skills to master this without these tricks.
The music is well balanced and the sounds are very nice and the mastering I have nothing to complain about so if you just can master the red line across the songs (espacially when songs to suddenly take a completely different directions) you are right on the track towards a balck belt in experimental music.
Worth listening to?     Yes
☻☻☻☺☺

Lebatman
Listen here >> the-cars-heartbeat-city-lebatman-remix
Web site/MySpace : http://www.myspace.com/stdtkind
Contact info: 

snooobby@hotmail.it

	    
Music production tool/s: Not mentioned 
First of all i would like to apologize to Lebatman for me taking so long in getting this review up on the site, thanks for your patience and persistence.
Lebatman makes very promising material which hoovers somewhere between electro, experimental and trance/house music, also implying not so much vocals – although there are good ambitions to get it in there as well.
The song included in this review is only one out of many that Lebatman has so kindly offered me to listen to, but feel free to hear a lot more of his work on his myspace page. But I think this song very nicely cover his general style and approach to music creation. It would be very nice to know more about what tools he is using since some of the effects he puts into his songs are very good. I partcularly like the way he manages to occupy the whole sound spectrum and create nice reverbs and room feelings. However, what I would like him to do more at least on this track is to make the few vocals that are in there stand out more – at present they are drowning in the mix (might be intentional, but I think it would be better to have it more in the front).
Overall I think Lebatman has a lot to offer and I especially like his use of interesting sounds and rythms, but I would like him to put more focus on the vocals and to flavorize the song more, because if you are not into heavy dancing at a all night gigs you tend expect more variations during the song in order not to get bored.
Worth listening to?     Absolutely
☻☻☻☺☺

Jeuce
Listen here >> 01-young-touch    03-the-flashlight-and-the-fall-rework
Web site/MySpace : www.myspace.com/jeuceuk
Contact info: jeuce@hotmail.co.uk	    
Music production tool/s: Not mentioned
Well this makes me soooo happy, this clearly is a band that knows what they are doing – in my words a serious live act that I would not have anything against watching. Really really nice going and if I were a label I wouldn´t hesitate on signing you guys.
However, this is of course a review section as well, and as such we are forced to be fairly critical as well – providing, hopefully, some useful feedback. The main thing I tend to get somewhat disturbed about is the somewaht overloaded music image you provide at times, especially so in Young touch, not that it isn't sounds that fit in, but they tend to give you a cascade of sounds at once. I would trim down the sound effects here and there, so not to clutter the overall experience which is great.
From an electro perspective I would be very intrigued to see what would happen if you exchanged, to what I think is a live drum set, some of the drum beats, with some more electro heavy basses – just to give it a second twist or perhaps have someone make an electro remix of the tracks.
From a vocals perspective I believe this is definately the best vocals performance I have heard so far in this promote section, and I have listened to quite a few by now. Only minor thing would be that the vocals at times tend to take over the entire listening space.
Worth listening to?     DEFINATELY
In there own words:
We write, record and produce all of our own material – as well as playing live and DJ'ing (Jeuce Joyriders) around Southeast England for the past year or so. Weve just finished our move up to Leeds and trying to get as many shows booked as possible.
A short breakdown of our past endeavors consists of:
– Two official E.P releases on our own label, Get Sound Sexy Records (roughly 3750 sold worldwide)
– Official remix work (either Released or pre production) with Hadouken! (Declaration Of War – Atlantic), Shit Disco (I Know Kung Fu – Fierce Panda), The Whip, Devils Gun, The Raid, Fluid Lines, Goose, Trash Fashion., Charli xox…
– Supported such bands/DJ's as Dan Le Sac & Scroobius Pip, Kid Acne, Graham Gold, Kate Nash, Trash Fashion, The Super Mario Brothers, Diverted etc
☻☻☻☻☺

Underwires
Listen here >> inyourroomagain
Web site/MySpace : http://www.underwires.net / http://www.myspace.com/underwiresmusic
Contact info: aurelien@underwires.net


	    


Music production tool/s: 

Max/MSP, Live and Logic.
Underwires song I would resemble with a lo-fi electro version of Beck, and I must say I like it a lot. It is a very slick production with very cool metallic sounds that dominates this song, paired with minimal beats. The only thing that disturbes me a little (listening very carefully) to the build up of the song is that there are very nice bass pads or similar that tends to go too much back in the production – you can barely hear them and they are definately worth listening to. I would suggest using a mastering suite to see if it is possible to reveal more of those bass bads in the final mix.
OK so that was music wise – very good work and I sure want to here more of this, but (and there is almost always a but) and that goes for the song. I like the Beck'ish voice you have but I think (at least in this song) that you sound too much like you're all in pain, and surely Beck does that too, but I would prefer trying to go a bit more on high tones than the low ones especially in the refrain/chorus section, perhaps also add some effects to it; i.e. reverb or similar, but that's me and my subjective point of view.
Conclusion, a positive experience although I would work more on the vocals going forward, which unfortunately is the toughest part (and I can only speak for myself here – I've had the same problem for years, hehe
☻☻☻☺☺

PaulDavidKearvell
Listen here >> ons-and-offs
Web site/MySpace : http://www.pauldavidkearvell.com/mymusic.htm
Contact info: paul.kearvell@gmail.com
	    
Music production tool/s: Ableton live and Reason
PaulDavidKearvell makes instrumental lo-fi electro lounge music. And I believe it is important to judge it based on this because (and don´t take this wrong way) it is a montone music experience.
I believe Paul does his job quite well and the mastering feels pretty OK, however I do get a bit disturbed by the all too monotone drums that does not change one bit across the entire song and that starts to irritate me when I have passed 50% of the song and all the delicate effects put in cannot cover that.
I would probably also experiement with more interesting pads that would perhaps enrich the overall impressions or alternatively some delicate samples that just would flavor the background somewhat.
However, all in all I like how Paul has skillfully chosen sounds that fit together nicely and from a production perspective their is not much to complain about.
Just a quick note there are lots of nice songs on Paul's homepage that are of good quality, so make sure to listen to him there as well before taking this one tune as the truth of all his music production
Looking forward to your next track
☻☻☻☺☺