Nice review of the KORG iMS20 for iPad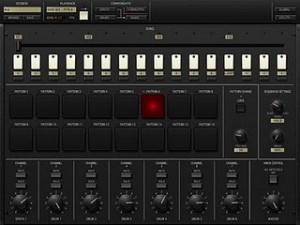 ipaddj has provided us with a review of the recently launched iMS20, check it out and see if you agree:
Anyone who has used the Korg Legacy plug-in will know what they are in for and the fact that you can grab patch cables and route them using the touchscreen is almost mind-melting. Like a childhood fantasy come true.

The huge sound of the MS-20 is totally there and I couldn't stop making Daft Punk patches for the first few hours using the beast.

Korg just released an iPad version of their classic MS-20 analog synth. It is amazing. The only thing is, I don't know what I am going to use it for…

The Overview
The virtual hardware included in the iMS-20 consists of an analog monosynth (the MS-20), an analog sequencer, a drum machine based on MS-20 patches, a drum step sequencer, a song sequencer a virtual keyboard, two virtual kaoss (x-y controller) pads and a mixer.  I guess the word I would use to describe this setup is cool. It all looks and acts like you have a classic monosynth sitting in front of you. However, I wouldn't exactly describe this as utilitarian. Just as with the iElectribe and even Rebirth (which was also just released as a dedicated iPad app) sometimes the decision to emulate analog hardware in an electronic, touchscreen, software environment is questionable. For example, the analog sequencer is totally cool, but it would have been much more conducive to songwriting and workflow to use a real multi-touch based sequencer. I understand that Korg is trying to keep it real, so to speak, but I want something that I can use more than something that is just totally cool.
Comments