Chip64 is a new synth Rack Extension for Reason. Chip64 emulates audio chip synthesis from early video game systems. This is a preview video. If you'd like to beta test, send an email to reinfo@ochenk.com with your Propellerhead ID.
Art Rocks Athens: How Art Made Music In Georgia From 1975-85
https://www.kickstarter.com/projects/…
Fred's vocals by DECTalk Express which is also used by Stephen Hawking. Cindy and Kate's vocals utilized two HP Scanjet 3C flatbed scanners. The robot guitar, keyboard, snare and bass drum all are controlled with a couple of PIC16F84A microcontrollers.
special thanks goes out to:
Chris Rasmussen who offered to fly me and my robot band down to Athens, Georgia for the Art Rocks Athens Festival. Sadly due to my work schedule I could not make it. What he didn't know I was already secretly working on my next video so I offered to promote this great venue.
http://www.artrocksathens.com/
Pastor Snoopi Botten has provided great on-line material with respect to programming the DECTalk speech synthesizer.http://theflameofhope.co/DECTALK.html
Special thanks goes out to Greg Howley and without his help this project would of never seen the light of day.
http://www.skaface.ca/main.html
Powerful blend of sweet retro 8bit/SID/chip tune sounds in up-beat electro bass song flavored with Asian vibes. RETRObit meshes the retro sounds in chip music with the modern electronica and techno world of today
http://www.alyjameslab.com
HD audio https://soundcloud.com/alyjameslab/se…
SUPER PSG VST IS OUT NOW! Full SPECS in the free user manual (on the website).
SPSG is not simply an ultra accurate SN76489 emulator, it adds many extended features to squeeze to most of the sound chip and a huge user friendly GUI! It is a fantastic synth suitable for chip music and SEGA nostalgic pleasure and also a powerful 8-bit tool for modern music production.
"It is a fantastic synth suitable for chip music and SEGA nostalgic pleasure and also a powerful 8-bit tool for modern music production. The SN76489 PSG was the natural buddy of YM2612 FM chip on the Sega Megadrive console but it was the principal and only sound chip of the legendary Sega Master System. I grew up playing some great games on the Master System too. So, I thought it also deserves the same kind of attention and accuracy I did with the FMDrive VSTi. You may think, the SN76489 chip is basically square waves & noise… but there is more…clever programming tricks can unlock some awesome potential!"
Instructions at http://littlebits.cc/projects/light-u…
Be the life of the party or create your own with this light-up jacket!
littleBits makes an open source library of electronic modules that snap together with magnets for prototyping, learning, and fun. Find out more at littleBits.cc
Kompositkrut rocks with a C64, details below:
Yo I remade the Monkey Island after a request. And I made a little demo or something to watch wile listening.
The song is composed in the native c64 tracker SID Wizzard 1.4 (by Hermit)
http://csdb.dk/release/?id=115599
The visuals are coded by me and I used Kick Assembler (by Camelot), Notepad++ and Charpad (by subchrist) for the gfx. The program visualisates the 3 voice on the SID
http://csdb.dk/release/?id=89532
http://csdb.dk/release/?id=101863
Yea and I crunched my program with BongoCruncher by Samar Productions
http://csdb.dk/release/?id=115758
Sorry for the poor video quality I recorded it via my Video capturing device, I will make my self a s-video cable. That might give me some higher video quality.
I will uppload the SID and the prg to CSDB after I done some adjustments

ChipBeat // Junomurder // (Trier, August 2013)
SNES ROM invite for Blip Tokyo 2012. Tested on real hardware.
http://tokyo.blipfestival.org
Try the ROM in your favorite emulator : It looks/sounds much better in there I promise!
https://dl.dropbox.com/u/21912138/BlipFestivalTokyo2012.sfc
"Spent more time than I'd like to admit getting this thing going! Lots of video tricks – the SNES hardware is pretty sweet (HDMA) but mode7 is tough! I have a pretty good development setup now."
GREETS TO 68KREW! – AGA – TMB – NO CARRIER – CTRIX – MONODEER – 2 PLAYER PRODUCTIONS – SOUNDBYTES CREW – HEXAWE – BLEO – HERRPROF – HEOSPHOROS – LIKELUKE – PT!H! – 8STATIC – KRIS KEYSER – EMI – MATTHECHT – DUSTMOP – ROCHESTER CHIP – ABRASIVE – FUNKYSAUCE – SECNARF – DAURAGON – LUMAR – DOOLS – KRUGS – ANIMAL-STYLE – CHEAPSHOT
PixiTracker 1BIT is a simple and fun tool to quickly create musical sketches, chip tunes and experiments with TRUE 1-BIT SOUND (like on old microcomputers).
No musical knowledge required!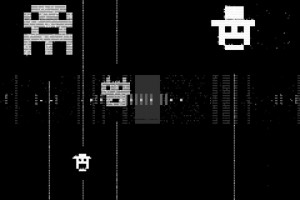 [ Key features ]
• true 1-bit sound: only 1 and 0 in the final mix;
• pattern based sequencer (tracker);
• max number of tracks: 12; max number of steps: 64;
• MIDI keyboard support;
• several packs with unique sounds;
• mic/line-in sound recording;
• Wi-Fi export/import;
• export to WAV;
• audio copy/paste;
• iTunes File Sharing;
• warm pixel interface!