Instructions at http://littlebits.cc/projects/light-u…
Be the life of the party or create your own with this light-up jacket!
littleBits makes an open source library of electronic modules that snap together with magnets for prototyping, learning, and fun. Find out more at littleBits.cc
Kompositkrut rocks with a C64, details below:
Yo I remade the Monkey Island after a request. And I made a little demo or something to watch wile listening.
The song is composed in the native c64 tracker SID Wizzard 1.4 (by Hermit)
http://csdb.dk/release/?id=115599
The visuals are coded by me and I used Kick Assembler (by Camelot), Notepad++ and Charpad (by subchrist) for the gfx. The program visualisates the 3 voice on the SID
http://csdb.dk/release/?id=89532
http://csdb.dk/release/?id=101863
Yea and I crunched my program with BongoCruncher by Samar Productions
http://csdb.dk/release/?id=115758
Sorry for the poor video quality I recorded it via my Video capturing device, I will make my self a s-video cable. That might give me some higher video quality.
I will uppload the SID and the prg to CSDB after I done some adjustments

ChipBeat // Junomurder // (Trier, August 2013)
SNES ROM invite for Blip Tokyo 2012. Tested on real hardware.
http://tokyo.blipfestival.org
Try the ROM in your favorite emulator : It looks/sounds much better in there I promise!
https://dl.dropbox.com/u/21912138/BlipFestivalTokyo2012.sfc
"Spent more time than I'd like to admit getting this thing going! Lots of video tricks – the SNES hardware is pretty sweet (HDMA) but mode7 is tough! I have a pretty good development setup now."
GREETS TO 68KREW! – AGA – TMB – NO CARRIER – CTRIX – MONODEER – 2 PLAYER PRODUCTIONS – SOUNDBYTES CREW – HEXAWE – BLEO – HERRPROF – HEOSPHOROS – LIKELUKE – PT!H! – 8STATIC – KRIS KEYSER – EMI – MATTHECHT – DUSTMOP – ROCHESTER CHIP – ABRASIVE – FUNKYSAUCE – SECNARF – DAURAGON – LUMAR – DOOLS – KRUGS – ANIMAL-STYLE – CHEAPSHOT
PixiTracker 1BIT is a simple and fun tool to quickly create musical sketches, chip tunes and experiments with TRUE 1-BIT SOUND (like on old microcomputers).
No musical knowledge required!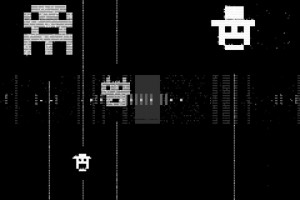 [ Key features ]
• true 1-bit sound: only 1 and 0 in the final mix;
• pattern based sequencer (tracker);
• max number of tracks: 12; max number of steps: 64;
• MIDI keyboard support;
• several packs with unique sounds;
• mic/line-in sound recording;
• Wi-Fi export/import;
• export to WAV;
• audio copy/paste;
• iTunes File Sharing;
• warm pixel interface!
ChipBeat "Juno/Ann Flowers" — no Samples used, only Hardware ! Roland Alpha Juno 2 – Waldorf Blofeld – Drumstation (Trier August 2012)
This is a special version of the PixiTracker designed for TRUE 1-BIT SOUND like on old microcomputers.
Android version: https://play.google.com/store/apps/details?id=nightradio.pixitracker1bit
iOS version coming soon…
Homepage: http://www.warmplace.ru/soft/pixitracker
Want to make a donation? http://www.warmplace.ru/donate
Background info from the author:
I have never tried making a song with glitching effects. Althought there isn't a lot of that in this, so far, I am going to try to incorporate much of that effect within this song (considering that's what makes this music part of the "Glitch Electronic" genre. I long the result so far. But let me know what you think in the comments :3
–DOWNLOAD LINK (For song and desktop wallpaper) BELOW–
Glitch Chip (WIP):
http://bit.ly/MhVt18
Desktop Diablo Wallpaper (Direct Download):
http://bit.ly/LwOL8F