The DigiEnsemble Berlin Physically Premieres the Aria "Großer Herr, oh starker König" from Bach's Cristmas Oratorio in the Berlin Cathedral on the 16th Dec 2012.
Keep track on our
website http://digiensemble.com/
German website http://digiensemble.de
http://facebook.com/DigiEnsemble
http://twitter.com/digiensemble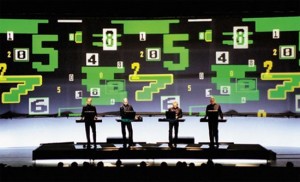 Following on from Laibach's incredible Retro Monumental Avant-Garde performance in the Tate Modern Turbine Hall earlier this year, we are thrilled and excited to announce that Kraftwerk are to play the venue between February 4th and 16th 2013. The band will be performing an album every night as part of the KRAFTWERK – THE CATALOGUE 1 2 3 4 5 6 7 8 series, previously seen in New York and Dusseldorf.
Chris Dercon, director of the Tate Modern, said: "As a former power station, Tate Modern's Turbine Hall is an ideal venue for Kraftwerk's explorations of technology, energy and rhythm. Bringing together music, video and performance, these events will be true gesamtkunstwerk – a total work of art."
Tickets – priced at £60 per show – go on sale next Wednesday, December 12 at 7:30 am. You will be able to buy them exclusively here.
FEBRUARY 2013
Wed 6 – Autobahn (1974)
Thu 7 – Radio-Activity (1975)
Fri 8 – Trans Europe Express (1977)
Sat 9 – The Man-Machine (1978)
Mon 11 – Computer World (1981)
Tue 12 – Techno Pop (1986)
Wed 13 – The Mix (1991)
Thu 14 – Tour de France (2003)

ElectriXmas is an annual event focusing on electronic music, within electronic pop, EBM, electro etc. As with previous years five bands will perform live on stage and this years line up promises a full powered event, here's is what the ElectriXmas crew has to say about it:
Well, it's been a tough choice to select the final artist for this years electriXmas. We've had weeks of discussions, negotiations and a lot of stress, but finally we're pleased to be able to bring a long awaited band to the stage…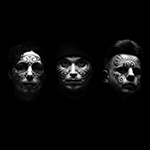 We give you… [:SITD:] !!
So now, the complete lineup is:
ICON OF COIL (no)
[:SITD:] (de)
AESTHETIC PERFECTION (us)
JÄGER 90 (de)
HENRIC DE LA COUR (se)
+ surprise guests ELECTRONICALLY YOURS  (se)
From a < S T E E L B E R R Y   C L O N E S > perspective we recommend you to keep a close eye on the surprise act going forward

Electronically Yours
Eddie Bengtsson (Page, S.P.O.C.K, Sista Mannen På Jorden) oiled a wooden deck and had a vision. He invited friends and acquaintances from among the ranks of Swedens synth artists to help him realize it. By taking the best tunes from the 70′s to the present day and redefining them electronically they hope to make our small planet a better place … Do not miss Electronically Yours Live at electriXmas!
Don't forget to Check out the Artists page for more info on the artists. Tickets can be bought directly from the website, but hurry, electriXmas has been completely sold out the last 3 years in a row, so don't wait too long!
We'll be back in the next few days with info regarding the schedule and dj's for the night. As usual, keep up to date here or on any of the following:
- Facebook group: www.facebook.com/groups/electrixmas
- Facebook page: www.facebook.com/electriXmasfestival
- Twitter: twitter.com/electriXmas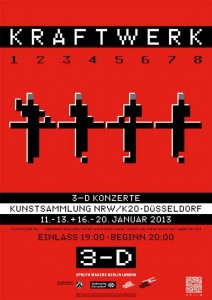 Kraftwerk will be playing live for the first time in over 20 years back in their hometown of Düsseldorf in Germany. Spread over 8 nights, the pioneers of electronic music will play their entire oeuvre. Krafwterk which was founded in 1970 by Ralf Hütter and Florian Schneider already did a similar event in the Museum of Modern Art in New York in April 2012. Just like in New York, every evening, a full album (but also other work from their catalog), will be played.
Radioactivity – Kraftwerk 1 2 3 4 5 6 7 8 Retrospective #1 Autobahn at the MOMA NYC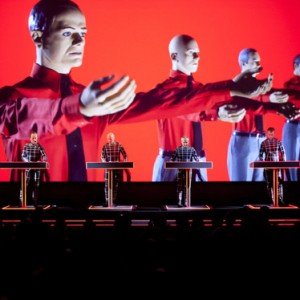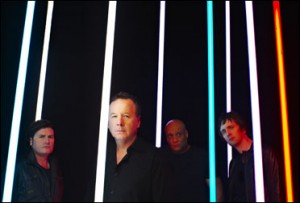 Perhaps slightly more modest announcement than the one from Depeche Mode yesterday, but if you are keen on Simple minds this one might be for you (one might only hope that Greatest Hits means beyond there recent five or six crappy albums, and that they might reach back to their electronic roots):
Simple Minds will be performing their greatest hits live next year on a huge 28 date tour of the UK. Tickets have partially gone on sale right here.
Simple Minds will be releasing their greatest hits collection "Celebrate" in March to coincide with the tour. The compilation will include 2 new tracks.
Simple Minds "Greatest Hits Tour":
March 2013
Music video by Depeche Mode performing In-Studio Collage 2012. (C) 2012 Venusnote Ltd.
Tour dates:
Tuesday morning synth music, enjoy
Welle:Erdball Live in Glauchau, Alte Spinnerei!
John Foxx & The Maths – He's a liquid – Live performance
"Mole Vanvitelliana – Ancona 28.07.2012 Acusmatiq 7.0 . Concerto molto bello, un Foxx veramente in forma!!"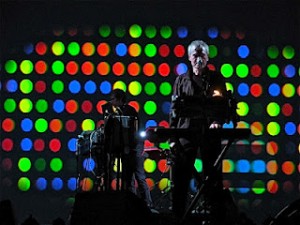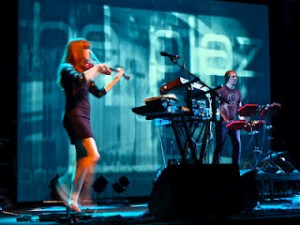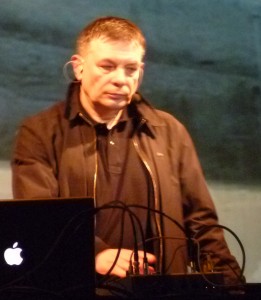 If you happen to be in Malmö tonight you have the opportunity to see Karl Bartos multimedia "Live Cinema" show. I attended this show in Stockholm the other night and had a great time. A lot of remixed Kraftwerk classics together with Karl Bartos solo work in a good mix. Mathias Black joins Karl on stage performing robot voices which adds to the live performance. Mr Bartos continues to develop his art combining music and visuals into a very powerful package making the message and experience strong as any commercial advertisement. Conceptual art in pop format!
An old classic returns – Thomas Dolby is at it again
Thomas Dolby invites you to his Time Capsule Tour in New Orleans @ Tipitina's Uptown on March 17, 2012.
Links: