Still remember when I saw Kraftwerk live for the first time (ages ago) – today I would probably go see them again, although one might debate if it really is Kraftwerk you are watching since it is only one of the four original members in the current/today´s line up. Anyhow below are the details: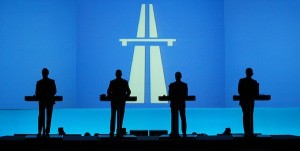 Kraftwerk will give a series of eight performances, each devoted to one of its albums, as part of a Museum of Modern Art retrospective of the electronic music pioneers in April, museum officials said. The performances during "Kraftwerk-Retrospective 1 2 3 4 5 6 7 8," on consecutive evenings starting April 10, will not only feature tracks from one of Kraftwerk's albums, but also other original compositions intended to showcase the group's influence on contemporary culture. Projected images, including 3-D ones, will accompany the music. The albums will be performed in chronological order, one each night, starting with "Autobahn" from 1974 and working up through "Tour de France" from 2003.
For more info: kraftwerk.com
http://youtu.be/6M5ZNETaNrk
Kraftwerk Autobahn rare original video
Watch out for our live report from the event
Here are some of the bands you can expect to hear from:
Hocico Bite me! HD official video 2011
http://youtu.be/5gx9-u700Ao
Tyske Ludder – Tempelberg – MeraLuna 2011
Code 64 – Progenitor
S.P.O.C.K – Never Trust a Klingon
Necro Facility – Live in Moscow 2011
See you live at ElectriXmas tomorrow

Code64 is the latest edition

Should be a nice evening I would say
"Finally, we're happy to announce the last band to join this years electriXmas lineup – Code 64!
The swedish/norwegian electropop trio Code 64, exploded back into the scene with their highly successful album "Trialogue" in 2010 after a long break from the spotlight. We're really looking forward to see what they bring to the stage!"
So, the complete lineup now looks like this:
HOCICO (mx)
S.P.O.C.K. (se)
TYSKE LUDDER (de)
CODE 64 (se)
NECRO FACILITY (se)
Check out the Artists page for more info.
As well as this we've got this years DJ's booked in with an all-Swedish attendance!
DJ Faleryne (Synhcave, Freakshow, Göteborg)
DJ Elektroskull via Solar Drifwood (Stockholm)
DJ P-machine (Neostalgia, Malmö)
DJ sand (Klubb [re]form, Malmö)
Get more info on the DJ's here.
And lastly…
So… there's nothing left to do now but to get ready to party !!

http://youtu.be/ebMlcxMoDUQ
Jean Michel Jarre Live 2011 Electronic Music Concert Europe Synthesizer Laser Harp Lights Video
This world premiere performance dives into an uncharted realm of human expression, as the conscious and subconscious minds of the performers become the very fabric of creation. Imagination becomes tangible, while hopes and fears are brought to life through EEG brainwave scanning technology. This performance was made possible with generous support from the Yahoo! Boost Award. The MiND ensemble (Music in Neural Dimensions) is a new-media performance group that utilizes custom interfaces to explore the mind-machine-music connection.
The traditional paradigm of creativity and art has been as following: there is an artist, a thought process, and fixed medium which reflects those thoughts, leading to the realization of the artist's expressive vision. Neurofeedback radically shifts this paradigm. Now there is an artist, a thought process, and a dynamic medium that actively interfaces with the very thought processes of the artist himself, a form of expression that drastically reshapes the way we conceive of the creative process. This presents a unique design problem: how can we optimize interaction within a completely intangible instrument? The ensemble hopes to make strides towards a deeper level of understanding of this question, and a significant contribution to both the scientific and artistic communities in the form of software tools and reference material.
The MiND ensemble promotes a richly creative personal awareness in which the mind is the medium.
This video highlights the collaboration between the artists and the audience
Check it out
For those who want to see how it all came about – check this video out
Here is a short video I made of the stage created in Jean Michel Jarre's Monaco's concert, a few hours before the incredible show watched live by more than 85 000 people, and online by more than a billion !!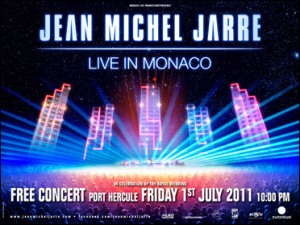 On July 1st at 22:00 CET the French, Lyon based, Television station will broadcast the Monaco concert by Jean Michel Jarre live via TV, computer, cell phone, iPhone or iPad. Note that for the iOS users, you need to get the Euronews LIVE applications which are available from the AppStore for iPhone and iPad (get them right here).
Especially for the 2 hour show Jean Michel Jarre has designed a special light show which he will perform on a 200-metre-long stage (attendees will need binoculars). The show – filmed by 18 HD cameras – will include HD video effects, lasers and pyrotechnics.
The concert will be covered in a worldwide exclusive live broadcast on the international news channel and via Ustream.tv on euronews.net; The event is part of the exceptional coverage of the royal wedding week in Monaco of Prince Albert II of Monaco to Miss Charlene Wittstock on Saturday, 2 July.
The biggest names in Japanese pop music gather for this once-in-a-lifetime concert spanning genres and generations. Electro-pop pioneers YMO return for their first L.A. show since 1979, plus a Cibo Matto reunion, rare U.S. appearances by Buffalo Daughter and DJ Towa Tei, traditional kabuki dance, taiko drumming, visuals, and more!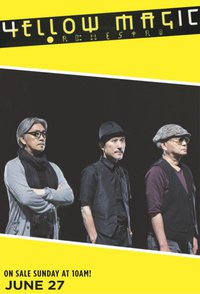 Time
Sunday, June 26 · 7:00pm – 10:00pm
Location
Hollywood Bowl
2301 North Highland Avenue
Hollywood, CA
The DigiEnsemble Berlin is an experimental study group founded and led by Matthias Krebs that follows a systematic approach to playing on mobile devices (iphone, ipad & co). Regular meetings are held for group practice as well as discussion and refinement of the approach.
If you would like to join us for the ensemble or would like to have more first hand information, please contact us at [info(at) digiensemble.de]