We start of the live reporting from the Swedish electronic music fest ElectriXmas, that took place this weekend, with an exclusive interview with Necro Facility.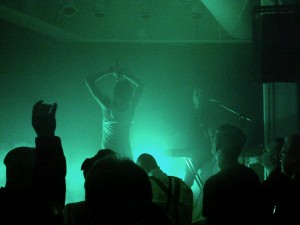 Necro Facility consists of Oscar Holter, who writes the music and plays all the instruments, the vocalist Henrik Bäckström, who also writes all the lyrics and finally Cristopher Hedström a session player. The band started in 2001 when both Oscar and Henrik were in the Swedish "Högstadie", 14 and 15 years old. They released their first demo in february 2001. They released 2 more demos before getting signed to Progress productions. They released their debut "The black paintings" in 2005.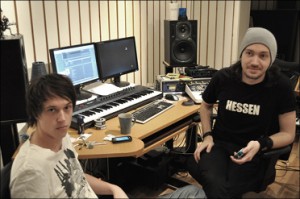 Make sure to follow our coming reports from ElectriXmas over the course of the next few days, including acts like Tyske Ludder and Hocico
We do apologies for the bad sound on the live on stage performance parts in this video
Find out more about ElectriXmas by clicking the logo below: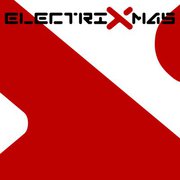 Watch out for our live report from the event
Here are some of the bands you can expect to hear from:
Hocico Bite me! HD official video 2011
http://youtu.be/5gx9-u700Ao
Tyske Ludder – Tempelberg – MeraLuna 2011
Code 64 – Progenitor
S.P.O.C.K – Never Trust a Klingon
Necro Facility – Live in Moscow 2011
See you live at ElectriXmas tomorrow

Code64 is the latest edition

Should be a nice evening I would say
"Finally, we're happy to announce the last band to join this years electriXmas lineup – Code 64!
The swedish/norwegian electropop trio Code 64, exploded back into the scene with their highly successful album "Trialogue" in 2010 after a long break from the spotlight. We're really looking forward to see what they bring to the stage!"
So, the complete lineup now looks like this:
HOCICO (mx)
S.P.O.C.K. (se)
TYSKE LUDDER (de)
CODE 64 (se)
NECRO FACILITY (se)
Check out the Artists page for more info.
As well as this we've got this years DJ's booked in with an all-Swedish attendance!
DJ Faleryne (Synhcave, Freakshow, Göteborg)
DJ Elektroskull via Solar Drifwood (Stockholm)
DJ P-machine (Neostalgia, Malmö)
DJ sand (Klubb [re]form, Malmö)
Get more info on the DJ's here.
And lastly…
So… there's nothing left to do now but to get ready to party !!

So three out of five bands has been confirmed for Swedens best synth, electro, EBM, industrial and Dark alternative Xmas party, two more will be revealed before it kicks off.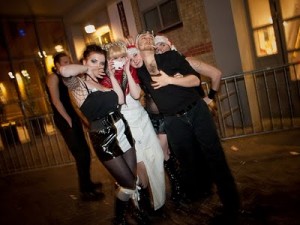 We've already got the first 3 bands booked and we think you're going to like them!
HOCICO (mx)
TYSKE LUDDER (de)
NECRO FACILITY (se)
Check out the Artists page for more info.
2 more bands are waiting to be booked to complete the lineup as well as DJ's to keep the dance floor moving. Check back here or register on our Facebook group to get the latest info as it happens!
Tickets are on sale now and as usual we're offering a special "early-bird" discount! This is limited to the first 50 tickets, so you're going to have to be quick!
Check out the Tickets page for more info and to buy your ticket!
The bands in action:
Hocico
Tyske Ludder
Necro Facility
Necro Facility "Cuts" filmed at Musikens Hus in Göteborg/Sweden 2011.05.20. Music added from the CD "Wintermute".
http://www.progress-productions.com // http://facebook.com/ProgressPro
Music/Video mix by Stefan Aronsson
Necro Facility – Do you feel the same (Henrik Bäckström Remix) by ProgressProductions
Exclusive version of Necro Facility "Do You Feel The Same" remixed by the lead vocalist Henrik Bäckström. A Brilliant clubsmasher….. Previously Unreleased …. until today!!! Enjoy…….
And don´t forget to order the new album "Wintermute"… Released 11 May in Scandinavia and 13th May in Rest Of Europe. (June in North America and July in Russia).
To celebrate the release of the "Wintermute" album by Necro Facility, Progress have decided to release an exclusive version of the track "Do You Feel The Same".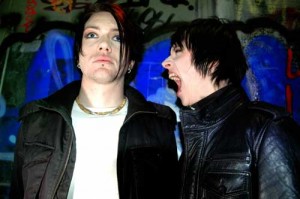 Here's a teaser from the upcoming album from Necro Facility, enjoy
Necro Facility-Cuts by ProgressProductions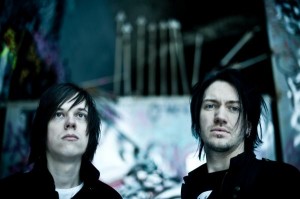 All the details regarding the third studio album from Necro Facility are finished.
The album comes in two versions. As usual it is the regular edition, but also a strictly limited edition of 200 copies featuring the bonus cd "The Lost Tapes" signed by the band.
With this new album, the band takes their sound to a completely new level. Listen to two full tracks from the album below and make up your own mind.
"Wintermute" will be released on May 11th, 2011 through Progress Productions.
Tracklist:
01. You Want It
02. Explode
03. Cuts
04. Do You Feel The Same
05. Fall Apart
06. Waiting For The Snow
07. Ignite
08. Skrik
09. Supposed
10. All That You Take
Bonus cd "The Lost Tapes"
01. Bashed Display
02. Closure
03. Congestion
04. Furunculous Fuse Garniture
05. Grind
06. Nursed (PLaydo Remix)
07. Reversed
08. Turmoil
09. Tuxedo (Tentacle Remix)
10. Waste
Necro Facility recently finished the recordings for their upcoming third studio album "Wintermute".In this interview Henrik Bäckström and Oscar Holter talks about the new album that is scheduled to be released the next couple of months.
Necro Facility released the debut album "The Black Paintings" back in 2005. Two years later, in March 2007, they released the follow-up "The Room". Last year they returned in a collaboration together with Covenant and their single "Lightbringer".
Swedish Progress Productions are preparing for a  flying start in 2011!
In addition to previously announced full length album from System and Covenant, also new material from Mr. Jones Machine and Necro Facility are on its way. Titans are also expected to come with full-length album later this year. Progress Productions made a very strong 2010, including Code 64, Spark!, Kopf Kat and Kite.
Here are the releases:
PROCD028 System "Circle Of Infinite Radius" CD/2CD – january
PROCD029 Covenant "Modern Ruin" 2CD LIMITED EDITION – january
PRO702 Mr Jones Machine "Månbleka Tingen/Elektricitet"

Necro Facility "Wintermute" CD/2CD
Mr Jones Machine "Monokrom" CD/2CD