Hocico, Tyske Ludder and Necro Facility joins this years version of ElectriXmas
So three out of five bands has been confirmed for Swedens best synth, electro, EBM, industrial and Dark alternative Xmas party, two more will be revealed before it kicks off.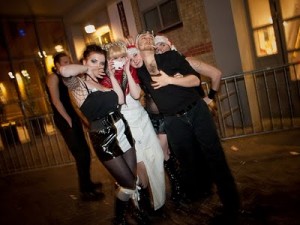 We've already got the first 3 bands booked and we think you're going to like them!
HOCICO (mx)
TYSKE LUDDER (de)
NECRO FACILITY (se)
Check out the Artists page for more info.
2 more bands are waiting to be booked to complete the lineup as well as DJ's to keep the dance floor moving. Check back here or register on our Facebook group to get the latest info as it happens!
Tickets are on sale now and as usual we're offering a special "early-bird" discount! This is limited to the first 50 tickets, so you're going to have to be quick!
Check out the Tickets page for more info and to buy your ticket!
The bands in action:
Hocico
Tyske Ludder
Necro Facility
Comments