We continue our reporting from this year's electronic music event in Sweden – ElectriXmas. This time Steelberry Clones had an interview with Hocico, the agrressive industrial electronic act from Mexico (although they live in Germany today). Backstage we asked the lead singer of Hocico everything ranging from the new album, how it is to play in Russia and their take on iOS synth apps.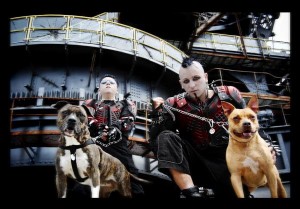 The duo was officially formed in 1993 by Erik Garcia a.k.a Erk Aicrag (lyrics and vocals) and Oscar Mayorga a.k.a. Racso Agroyam (Programming), but both cousins had been experimenting with electronic music, mixing industrial and EBM, since they were fifteen years old. Their music can be described as electro-industrial. Erk Aircrag and Racso Agroyam incited to express their feelings through technology. Given the influence of varying currents of electronic music (mainly Skinny Puppy) they began their trajectory in 1989 in a project called "Niñera Degenerada". Their lyrics are both in Spanish as well as English. The Spanish word hocico means snout, and is used in Mexico as a dis-respective way to describe someone's comments coming out of their mouth.
Racso Agroyam has a side project called Dulce Liquido.
Erk Aicrag has a side project called Rabia Sorda.
Bite me! Video clip produced by "Crazy Clip TV", Album "Tiempos De Furia" Out Of Line Music 2011
Find out more about ElectriXmas by clicking the logo below: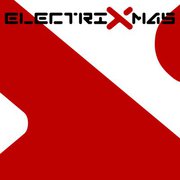 Watch out for our live report from the event
Here are some of the bands you can expect to hear from:
Hocico Bite me! HD official video 2011
http://youtu.be/5gx9-u700Ao
Tyske Ludder – Tempelberg – MeraLuna 2011
Code 64 – Progenitor
S.P.O.C.K – Never Trust a Klingon
Necro Facility – Live in Moscow 2011
See you live at ElectriXmas tomorrow

Code64 is the latest edition

Should be a nice evening I would say
"Finally, we're happy to announce the last band to join this years electriXmas lineup – Code 64!
The swedish/norwegian electropop trio Code 64, exploded back into the scene with their highly successful album "Trialogue" in 2010 after a long break from the spotlight. We're really looking forward to see what they bring to the stage!"
So, the complete lineup now looks like this:
HOCICO (mx)
S.P.O.C.K. (se)
TYSKE LUDDER (de)
CODE 64 (se)
NECRO FACILITY (se)
Check out the Artists page for more info.
As well as this we've got this years DJ's booked in with an all-Swedish attendance!
DJ Faleryne (Synhcave, Freakshow, Göteborg)
DJ Elektroskull via Solar Drifwood (Stockholm)
DJ P-machine (Neostalgia, Malmö)
DJ sand (Klubb [re]form, Malmö)
Get more info on the DJ's here.
And lastly…
So… there's nothing left to do now but to get ready to party !!

So three out of five bands has been confirmed for Swedens best synth, electro, EBM, industrial and Dark alternative Xmas party, two more will be revealed before it kicks off.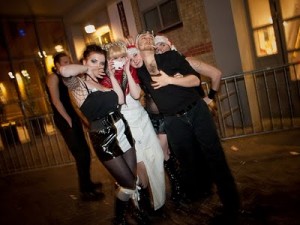 We've already got the first 3 bands booked and we think you're going to like them!
HOCICO (mx)
TYSKE LUDDER (de)
NECRO FACILITY (se)
Check out the Artists page for more info.
2 more bands are waiting to be booked to complete the lineup as well as DJ's to keep the dance floor moving. Check back here or register on our Facebook group to get the latest info as it happens!
Tickets are on sale now and as usual we're offering a special "early-bird" discount! This is limited to the first 50 tickets, so you're going to have to be quick!
Check out the Tickets page for more info and to buy your ticket!
The bands in action:
Hocico
Tyske Ludder
Necro Facility
Side-Line Music Awards are now ready, each year Side-Line nominates the best songs, bands and acts in the electro, synth, EBM etc space and now the final results are here, as voted by the Side-Line readers. And it seems Recoil got a fair share of the prices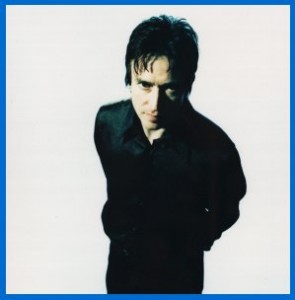 The results of the Side-Line Music Awards 2010 are in. Yes, it did take us a few days more than we had originally planned. But then again, we never imagined getting stuck in London and Brussels the past week due to the unexpected harsh winter conditions circling over Europe. We spent the last two days counting the votes and deleting the invalid ones. But before we give the results, we really want to thank all those readers who have cast their votes in the past two election rounds. You were among the 39,203 people (!!) to have cast a valid vote. That is an all-time record for Side-Line.
Best Band:
Combichrist (5,391)
Unter Null (4,985)
Front Line Assembly (3,818)
Front 242 (3,803)
Mesh (2,756)
Recoil (2,542)
Suicide Commando (2,459)
Hocico (2,327)
Depeche Mode (2,314)
Leaether Strip (2,201)
A-ha (2,227)
Kant Kino (1,837)
De/Vision (1,571)
Edge Of Dawn (589)
Diorama (383)
Best Album:
Recoil – "Selected" (10,442)
Front Line Assembly – "IED" (8,252)
Unter Null – "Moving On" (7,898)
OMD – "History Of Modern" (6,908)
Angelspit – "Larva Pupa Tank Coffin" (5,811)
Best Single:
Covenant – "Lightbringer" (10,330)
Combichrist – "Scarred" (8,983)
Rotersand – "Waiting To Be Born" (7,038)
In Strict Confidence – "Silver Bullets" (6,825)
I:Scintilla – "Prey On You" (6,027)
Best Label:
Mute (13,072)
Alfa Matrix (10,736)
Metropolis/Dependent (10,479)
Trisol (4,916)
Best Live Band:
Recoil (14,545)
Combichrist (9,107)
Depeche Mode (6,032)
Front Line Assembly (4,851)
Leaether Strip (4,668)