Tyske Ludder präsentieren ihre neue Single "Meskalin". Das Album "Evolution" erscheint im Herbst Vier Jahre nach "Diaspora" erscheint nun am 31.07.2015 mit der Single "Meskalin" der Vorbote zum im Herbst anstehenden Album "Evolution" (Golden Core / ZYX).
Neben der Original-Version bietet die Single außerdem noch Remixe von GRENDEL und NORTHBORNE!
Tyske Ludder's new digital single "MESKALIN" on iTunes & Amazon.
Googlish:
Tyske ludder present their new single "mescaline". The album "Evolution" published in autumn Four years after the "Diaspora" will appear on 31.07.2015 with the single "mescaline" the harbinger of the forthcoming autumn album "Evolution" (Golden Core / ZYX).
In addition to the original version of the single also features remixes of Grendel and Northborne!
Tyske ludder's new digital single "mescaline" on iTunes & Amazon.
Music video for Painful Like performed by Austra.
Buy Painful Like at iTunes – http://smarturl.it/PainfulLike
Buy Olympia at iTunes – http://smarturl.it/Olympia
Buy Olympia at Domino – http://www.dominorecordco.com/olympia
Directed By: Exploding Motor Car
Camera: Adama Makarenko, Sylvain Chaussée
Production Design: Winston Hacking
Editor: Brett Long
Puppeteer+Puppet Build: Brett Long
Production Assistant: Max Parr, Amanda Wyman
Stunt Doubles: Martin MacPherson, Tony Wallace, Winston Hacking
Produced By: Winston Hacking
Animation: Brett Long
Skaters: Daniel Lefebre, Aaron Wheat, Taylor Ritchie
Chef: Yukiko Hara
Colourist: Evan DeRushie
'Drew', from the forthcoming album "Tales of Us" (out 9th Sept UK / 10th Sept US).
Having trouble viewing the video ? See it here: http://vimeo.com/70190035
Pre-order "Tales Of Us": iTunes: http://smarturl.it/talesofusitunes
Direct: (including the exclusive Deluxe Box set): http://goldfrapp.sandbaghq.com
CD: http://smarturl.it/talesofusCD
LP: http://smarturl.it/talesofusLP
Trailer and all films are co created by Alison Goldfrapp & Lisa Gunning.
Trailer and all films written, directed & edited by Lisa Gunning.
Produced by Stephanie Zari. Cinematography by Brian Strange.
Information:
Mit der limiterten EP "Bambule" präsentieren Tyske Ludder einen Vorgeschmack auf das kommende Album. Eine markante Stimme, treibende Beats, schwebende Synthflächen und coole Ideen verleihen der EP den Schuß Charakter, den ein ordentliches Electro-Release heutzutage braucht. Tyske Ludder! Noch Fragen? Erscheint im exklusiven nummerierten Digifile, streng limitiert auf 1000 Exemplare (keine Nachpressung)!
Tracklist:
01. Bambule (Mexican Edit), 02. U-Boot (Dive into Fear Edit), 03. Bambule (EvvilKing-Mix by Steril), 04. Bambule (Harmbule-Mix by Harm Joy), 05. Bambule (Tikka Masala Remix by Implant), 06. Bambule (Feindflug Rmx)
Watch out for our live report from the event
Here are some of the bands you can expect to hear from:
Hocico Bite me! HD official video 2011
http://youtu.be/5gx9-u700Ao
Tyske Ludder – Tempelberg – MeraLuna 2011
Code 64 – Progenitor
S.P.O.C.K – Never Trust a Klingon
Necro Facility – Live in Moscow 2011
See you live at ElectriXmas tomorrow

Code64 is the latest edition

Should be a nice evening I would say
"Finally, we're happy to announce the last band to join this years electriXmas lineup – Code 64!
The swedish/norwegian electropop trio Code 64, exploded back into the scene with their highly successful album "Trialogue" in 2010 after a long break from the spotlight. We're really looking forward to see what they bring to the stage!"
So, the complete lineup now looks like this:
HOCICO (mx)
S.P.O.C.K. (se)
TYSKE LUDDER (de)
CODE 64 (se)
NECRO FACILITY (se)
Check out the Artists page for more info.
As well as this we've got this years DJ's booked in with an all-Swedish attendance!
DJ Faleryne (Synhcave, Freakshow, Göteborg)
DJ Elektroskull via Solar Drifwood (Stockholm)
DJ P-machine (Neostalgia, Malmö)
DJ sand (Klubb [re]form, Malmö)
Get more info on the DJ's here.
And lastly…
So… there's nothing left to do now but to get ready to party !!

So three out of five bands has been confirmed for Swedens best synth, electro, EBM, industrial and Dark alternative Xmas party, two more will be revealed before it kicks off.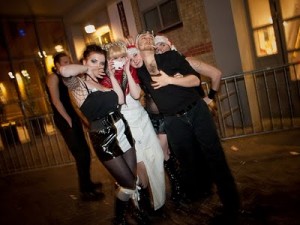 We've already got the first 3 bands booked and we think you're going to like them!
HOCICO (mx)
TYSKE LUDDER (de)
NECRO FACILITY (se)
Check out the Artists page for more info.
2 more bands are waiting to be booked to complete the lineup as well as DJ's to keep the dance floor moving. Check back here or register on our Facebook group to get the latest info as it happens!
Tickets are on sale now and as usual we're offering a special "early-bird" discount! This is limited to the first 50 tickets, so you're going to have to be quick!
Check out the Tickets page for more info and to buy your ticket!
The bands in action:
Hocico
Tyske Ludder
Necro Facility