Enter the raffle NOW: http://bit.ly/U4RiQp
Here is your chance to walk away with a brand new Moog Voyager signed by the coolest artists who performed at Moogfest 2012. With artists such as Thomas Dolby, Les Claypool, Orbital, Nas, Miike Snow, Santigold, Squarepusher, GZA, Black Moth Super Rainbow… and historical artists such as Morton Subotnick and Herb Deutsch, this is an incredibly unique and valuable collectors item. It's also the gold standard in modern analog synths! Watch the video to find out more.
Raffle ends November 30, 2012 at 11:59 PM, or when 700 tickets have been purchased. Enter now, while you can… you don't want to miss this opportunity!
Electronic music pioneer, Thomas Dolby, sat down with Party Ben of Slacker Radio before his set at Moogfest 2012. Thomas Dolby (1958) is an English musician and producer. Best known for his 1982 hit "She Blinded Me with Science", and 1984 single "Hyperactive!" he has also worked extensively in production and as a session musician.
Music video by Thomas Dolby performing She Blinded Me With Science (2009 Digital Remaster).
For more music and interviews from the festival, visit www.slacker.com/moogfest.
Michigan based, Ghostly International co-founder and Moogfest alumni Matthew Dear visited the Moog Sound Lab where he completely deconstructed and then recreated the song "Earthforms" from his 2012 LP "Beams"
Matthew Dear sings through an MF-104Z Analog Delay for a slapback effect.
Greg Paulus plays Trumpet through an MF-104Z Analog Delay using long delay time to harken long repeating echoes of each trumpet line
Samer Ghadry is playing the Moog Guitar through an MF-104Z Analog Delay, utilizing the Controlled Sustain mode, which allows him to sustain single strings while the strings he's not playing are totally muted
Ian Chang drives the song using trap-kat drum pads triggering 3 Minimoog Voyager Rack Mount Editions. Ian uses the Envelope Gate switch to sustain continuous sound during parts of the song.
Danny Scales, rounds out Earthforms with his bass guitar.
See more of the Moog Sound Lab series at: http://www.moogmusic.com/sight-and-sound/sound_lab/
Learn more about Matthew Dear at: http://www.matthewdear.com/
• The song "Mulu the Rainforest" from Thomas Dolby's classic album "The Flat Earth".
• Shot and Directed by Chad Johnson in August 2012
• © Lost Toy People / Chad Johnson 2012
• Shot with a GoPro attached to the XP2 quadcopter: ‪‪http://xproheli.com/affiliate/25/quadcopter/xp2-rc-aerial-video-quadcopter‬‬
• This video was shot in the Rockefeller Forest in the Giant Redwoods of Northern California.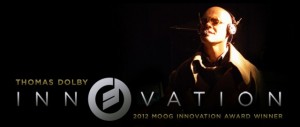 We are also happy to share that Thomas Dolby has won the Moog Innovation Award award this year. Past winners were DEVO in 2010 and Brian Eno in 2011.
Dolby is a self made man, synth pioneer, and mad scientist.  Like Bob Moog, Thomas Dolby's quest for knowledge and desire to sculpt the world around him led him to the world of electronics, where he designed his own synths, founded his own software company, and charged head long through the world of pop music and into America's consciousness.  To say he was blinded by science would be doing him a disservice, for science has been his guiding light, and technology his namesake.  For expanding the sonic boundaries of the new wave movement and for fearlessly embracing the future, Moog is proud to present Thomas Dolby with a custom Minimoog Voyager XL, in honor of being the 2012 Moog Innovation Award winner.
Bob Moog's legacy lives on in the rock stars and panelists at Moogfest 2011. Find out why Bob's extraordinary legacy deserves to be carried forward.
Featuring: Moby, Wayne Coyne, Diego Stocco, Eric Persing, Bryan Bell, Dick Hyman, Terry Riley, David Borden, Joel Cummins, Alan Vega and Torley.
Code64 is the latest edition

Should be a nice evening I would say
"Finally, we're happy to announce the last band to join this years electriXmas lineup – Code 64!
The swedish/norwegian electropop trio Code 64, exploded back into the scene with their highly successful album "Trialogue" in 2010 after a long break from the spotlight. We're really looking forward to see what they bring to the stage!"
So, the complete lineup now looks like this:
HOCICO (mx)
S.P.O.C.K. (se)
TYSKE LUDDER (de)
CODE 64 (se)
NECRO FACILITY (se)
Check out the Artists page for more info.
As well as this we've got this years DJ's booked in with an all-Swedish attendance!
DJ Faleryne (Synhcave, Freakshow, Göteborg)
DJ Elektroskull via Solar Drifwood (Stockholm)
DJ P-machine (Neostalgia, Malmö)
DJ sand (Klubb [re]form, Malmö)
Get more info on the DJ's here.
And lastly…
So… there's nothing left to do now but to get ready to party !!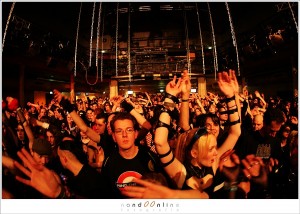 Next week Oslo will host the two-days festival ElektroStat. ElektroStat is Norway's largest festival dedicated to underground electronic music and this year's event will be held over two days, 7th and 8th October, at the Månefisken venue. It's a festival that you have to have visited as a Scandinavian, and considering the extremely cheap Ryanair tickets, it's one that everyone could easily check out anyhow.
Headlining on day 1 is Suicide Commando while day 2 will see Recoil playing some kind of hometown gig. Side-Line will be present and will bring you live highlights via Twitter using the #elektrostat hashtag.
Tickets for the ElektroStat festival can be purchased right here. Day tickets are NOK 390 / Tw-days ticket are NOK 590, roughly 39 and 59 EURO. Age limit is 18+. Be aware, ID will be checked at entrance.
ElektroStat utilises four rooms with many different live acts and DJs. Here's the line-up for this year's event:Klubbscenen 7. oktober
19:45 Unitary (S)
21:15 X-Ploding Head Syndrome (N)
23:00 Supermale (N)

Hovedscenen 7. oktober

19:00 Servoskudd (N)
20:30 Loveplanet (N)
22:15 Vision Talk (S)
23:45 Suicide Commando (BE)

Klubbscenen 8. oktober

19:45 Tomorrow We Move To Hawaii (N)
21:15 Agrezzior (S)
23:00 Nachtmar (AT)

Hovedscenen 8. oktober

19:00 Murder Mystery (N)
20:30 Hearts of Black Science (S)
22:15 Ultra Sheriff (N)
23:45 Recoil (UK)
More info at www.elektrostat.com .
…and here is the complete line up: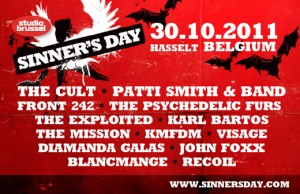 On Sunday 30 October 2011 Hasselt (BE) will host the best of new wave, EBM, electro, synthpop, post punk, darkwave and industrial. For this 3rd edition the festival will work with 2 stages in the main hall of the Ethias Arena so that visitors no longer need to choose between 2 different halls.

Here's a round-up of the bands playing:
FRONT 242 (BE) – Undeniable the biggest electronic band that Belgium ever was able to export before, during and after (and not thanks to) the New Beat era. Signed nowadays with the Belgian electro label Alfa Matrix they are set for a few more surprises in the next months. The influential Belgian band will celebrate its 30th birthday at Sinner's Day. Happy birthday guys!
THE CULT (UK) – The band became cult itself by melting Led Zeppelin's hard rock with The Doors' mystique and The Cure's dark new wave. If there's one The Cult song that you all know, it's the anthem and million seller "She Sells Sanctuary" which was recorded for the band's second album "Love" (1985). This will be a unique opportunity to see the band live.
THE PSYCHEDELIC FURS (UK) – The Psychedelic Furs were top of the bill in the Club during Sinner's Day 2010. It was their first concert in Belgium since 25 years. They are back now for the main stage bringing a mix between punk and pop.
THE EXPLOITED (UK) – Punk and New Wave, the pair has gone together for years. Since 1980 The Exploited has been the image 'par excellence' of the punk movement with "Punk's Not Dead" being their first legendary album. 11 guitar players, 10 bass players and 8 drummers, we'll see singer Wattie Buchan showing that the band has still enough guts after 31 odd years.
JOHN FOXX AND THE MATHS (UK) – John Foxx was the original singer of Ultravox and was the very first British artist to actually make a complete synthesizer album. Foxx was also the guy who penned "Underpass". Enough said? Well, he also was responsible of Gareth Jones joining up with Mute records.
RECOIL (UK) – Recoil is the project of Alan Wilder, the former musical director, sound sculptor, producer, magician (…) of Depeche Mode. Wilder was also one of the first musicians to work with samples. Live he creates a universe of sounds which you hoped you'd have heard before. Expect the necessary Depeche Mode hints during the live show. This is one of the last shows Recoil will probably bring for a very long time, so make sure to be there.
BLANCMANGE (UK) – Contemporaries of Depeche Mode, Soft Cell, The The and more (they were all featured on the Some Bizarre CD compilation with rare to find tracks or versions), Blancmange brings catchy synthpop presented by their first big worldhit "Living On The Ceiling". In the rest of Europe they scored massively with the brilliant track "Don't Tell Me".
DIAMANDA GALAS (USA) – We thought we had missed our last chance to see her live at work, but behold, there's always Sinner's Day to make us happy. The American diva with Greek roots has an amazing voice, period. Her 3,5 octaves cut through you like a knife. From vocal terror to endearing blues and back. We couldn't have described it better. For the connaisseurs, she also sang vocals on various Recoil tracks. A must see if you are more an eclectic music fan.
KMFDM (GER) – Teutonic sounds will come from KMFDM, better know as Kein Mehrheid Fuer Die Mitleid (or as 'Kill Mother Fucking Depeche Mode'). The band was founded by Sascha Konietzko in 1984. Konietzko literally lives and breathes industrial.
THE MISSION (UK) – Here's another Side-Line favorite (really Wayne!). The band singlehanded helped give gothic a face (Andrew Elderitch being too numb) and got massive MTV airtime with "Deliverance" or yet the beautiful "Butterfly on a wheel". On Sinner's Day they will celebrates their 25th anniversary. The gig will be the only concert in Belgium this year.
KARL BARTOS (GER) – Kraftwerk is half dead, long live Karl Bartos. Expect bleeps and beeps that lay in the line of what he used to do with Kraftwerk. We are very much looking forward to see this Einzelgaenger at work.
VISAGE (UK) – Visage is the brainchild of the remarkable Steve Strange, who not only graced the tabloids for the brilliant tunes he crafted but also for his very chaotic life style. His major hit "Fade To Grey" is still being played worldwide. Let's see what he can deliver us live in 2011.
PATTI SMITH (USA) – This American lady is labeled as 'the ultimate queen of new wave'. Debby Harry was better looking so is said – well tastes differ – but Smith surely was more vigorous. Her most famous songs are "Gloria", "Because The Night", "Dancing Barefoot" and "People Have The Power".
Doors open at 12AM, and the first show will start at 1PM. The last band will end at around 1AM, followed by after party. Tickets are only 58 euro in presale, so head for www.sinnersday.com to get hold of yours!
Moogfest 2011 Artist Additions:
TV On The Radio
Special Disco Version featuring James Murphy & Pat Mahoney
Flying Lotus
Childish Gambino
Beats Antique
Yacht
St. Vincent
Zomby
The Drums
SBTRKT
Eoto
Savoy
Araabmuzik
John Maus
Cloudland Canyon
Grimes
Fareed Haque and Mathgames
Mimi Goese & Ben Neill
Baths
Active Child
Moon Duo
Warm Ghost
Fine Peduncle
For the full lineup visit www.moogfest.com
Time again on the 19th – 22nd of October, 2011
The Amsterdam Dance Event (ADE) is the leading electronic music conference and the world's biggest club festival for electronic music. The  event offers a unique blend of daytime conferences, including interactive workshops, technical demonstrations and in-depth round-table discussions, alongside a nighttime music festival which takes place in 44 venues around the city. The annual event attracts 2,500 business professionals and 112,000 festival visitors from all around the globe.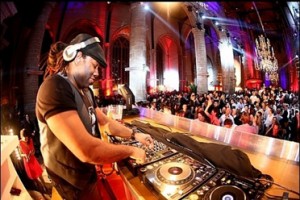 Over the last 15 years, the ADE has grown from a three-day event largely focussed on Dance Music into a platform for every imaginable kind of electronic music spread over four days. Kicking off with Wednesday's Music & Bits conferences covering technological innovations in both hardware and software, ADE also now includes the Golden Gnome (Gouden Kabouter) Awards, and ADE Next on Saturday where aspiring musicians and producers are able to meet the professionals and get expert opinions on their work from some of the world's most popular and in-demand artists, DJs and producers. The nighttime line-up features the very biggest DJ and artist names on the planet alongside a selection of the best upcoming talent performing in the 44 clubs and venues that make Amsterdam one of the best clubbing cities in the world.