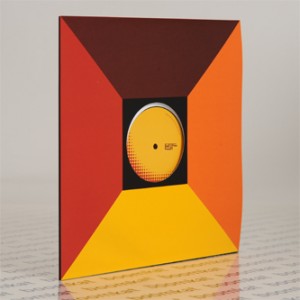 Visage are set to release their 5th and final studio album on the 6th November 2015. The new album will be entitled "Demons to Diamonds" a name chosen by the family of the late Steve Strange. The album artwork has been done by Boy George and will feature the studio songs that Steve Strange was working on with Visage prior to his death in February 2015.
The album is launched to coincide with the inaugural 'Steve Strange' New Romantic music festival in Porthcawl, Wales on October 31st. All royalties from the album will be donated to the newly formed 'Steve Strange Statue' fund "which will establish a permanent and lasting memorial to Steve Strange and his musical, style and fashion legacies" so the band says.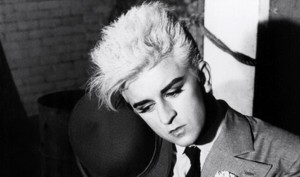 The albums holds material Steve Strange and Visage began working in spring 2014. It is the follow up album to the 2013 "Hearts and Knives" album. Over 15 songs were written during that time and the band had recorded just over half when Steve died on February 12th 2015. The band completed the album later on. The album features contributions by Mick Macneil (Simple Minds) and Didier 'Space' Marouani ("Magic Fly"). The album also features a cover version of the David Bowie song "Loving The Alien".
A limited edition vinyl only single containing a extended remix of "Lost in Static" and a brand new track is available now from Control Room Recordings.
Kent vs Visage remix.. Mixed by the Danish DJ named Morten Trøst ( Trust )
Brinn pengar brinn
Jag lovar du betyder nånting
Du orkar ta dig igenom det här
Du räcker till, så var den du är
Brinn pengar brinn
Jag vet att du är värd någonting
Du är hoppet i ett IQ-fritt land
Du är drömmarna jag drömmer ibland
Visst känns det som att kärleken väntar
Visst känns det som att kärleken väntar
Brinn hjärtat brinn
Du vet du kan förändra allting
Det blåser genom staden i natt
Hör du sanningen, den lät som ett skratt
Brinn hjärtat brinn
Vår fiende är rädd om sitt skinn
Det räcker med en gnista ett bloss
Dom skulle vilja vara som oss
Visst känns det som att kärleken väntar
Visst känns det som att kärleken väntar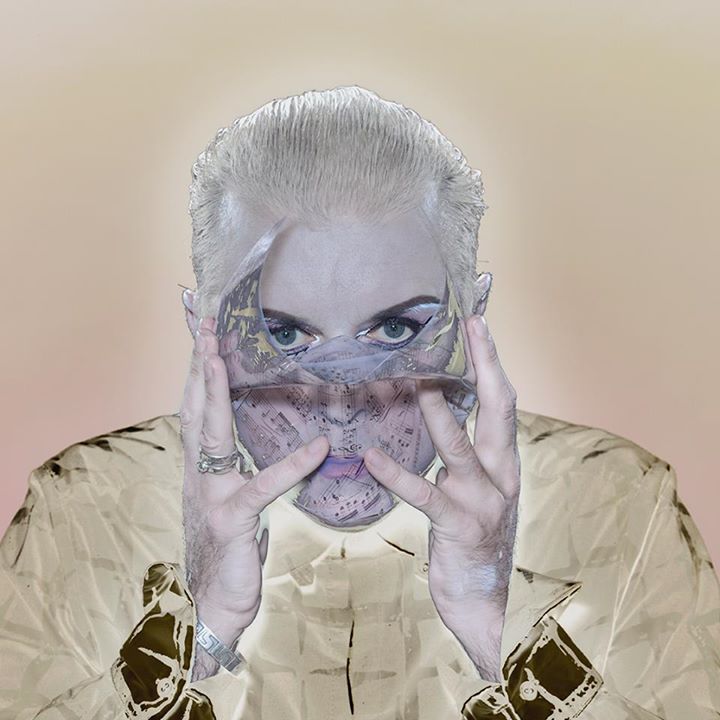 The official statement on the Visage Facebook Page reads:
"We are extremely saddened to announce that Steve Strange died at 11.15 local time on Thursday 12th February, in Sharm El Sheik International Hospital, Egypt. Steve died in his sleep, of Heart Failure. Steve's family, band members and friends are all distraught at this sudden news of his untimely death. Steve's family request privacy at this extremely difficult time."
Steve Strange was a pivotal figure in the new romantic movement, fronting Visage, a band who perhaps more than any other embodied the spirit of the Blitz kids. He famously appeared in David Bowie's 'Ashes To Ashes' video, and had recently revived the Visage name for a new album and some live appearances.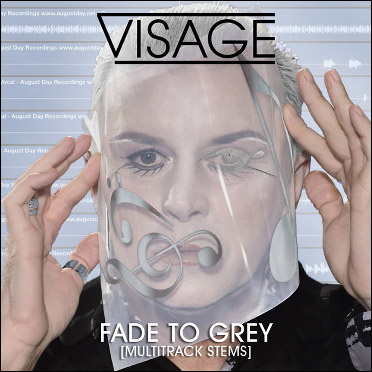 Visage in conjunction with August Day recordings have been sending us a copy of the the individual component recordings(stems) from the multi-track recordings of "Fade To Grey", one of the biggest songs of the 1980s. "Fade To Grey" went to number one in over 15 countries, sold millions of copies and became one of the template tracks to the New Romantics and the synthesizer sound of the decade and beyond.
The stems are being released to coincide with the newly recorded orchestral version of "Fade To Grey" and the 12 song orchestral album "Orchestral" which features the Visage hits re-recorded with orchestral arrangements.
The Visage "Orchestral" album will be released December 8th 2014.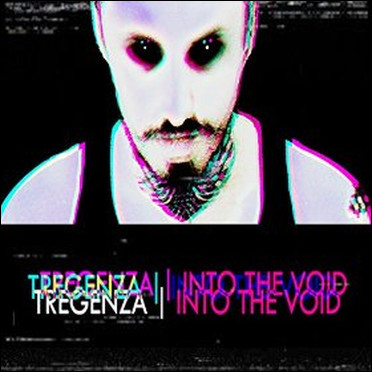 After 3 years of work, Tregenza (former singer/songwriter of Goteki and guitarist for Visage) has released his first solo album "Into The Void". The new album is a fusion of his various experiences – electro from Goteki, new romantic from Visageand orchestral/cinematic sounds from his work for video games (including 'Aliens Vs Predator' and the 'Crysis & Timesplitters' series). Tregenza will be touring the album in the new year. It's available now on iTunes and Amazon MP3
, and free for a limited time from http://tregenza.bandcamp.com .
New Romantic act Visage returns with a new album "Hearts And Knives" due for release in May 2013. The first single taken from the album will be "Shameless Fashion".

The new material was written by Steve Strange, Robin Simon, Ben Woods, Nigel Summers, John Bryan, & Rich Mowatt.
It's not the first time that Visage tries to launch a comeback but in the past Steve Strange's weird and unpredictable behavior (thieving, being drunk onstage, miming and having his vocals sung by his backing vocalists) made sure that the project got back in the refrigerator over and over again despite the hard work of musicians who surrounded him.
Visage began in 1978 when Steve Strange and Blitz Club partner-in-crime Rusty Egan joined forces with Midge Ure to create a futuristic, synthesizer-led group where style and fashion were matched by experimental but accessible music. The group was soon augmented with members of Magazine and Billy Currie. They recorded their first single "Tar" with Martin Rushent at his Genetic Studio in 1978. Their breakthrough track "Fade To Grey" became a European hit and reached number 1 in 8 countries in 1980.
Perhaps one of the best unknown covers of Kraftwerk's 1977 classic Europe Endless by Italian maestro Laso67. https://www.youtube.com/user/laso67
Steve Strange parody – Some scenes from Visage's videos re-en-visage-d, very clever. "Imitation is the greatest form of flattery" (even when it's 'dressed up') – remade scenes have come from Visage/Fade to Grey …Visage/Visage……any more spotted let me know
Hardrock Striker – Underpass. – john foxx cover
After almost three decades Visage returns with a new album and here is the brand new video – Shameless Fashion
A Video introduction to Visage, The Blitz Club (the cauldron of 1980s style and fashion) and the new Visage album and line up. More info on www.visage.cc
Founding fathers of the New Romantics and pioneers of the 80s sound Visage, return with a new album "Hearts And Knives" May 2013. Visage began in 1978 when Steve Strange and Blitz Club partner-in-crime Rusty Egan joined forces with Midge Ure to create a futuristic, synthesizer-led group where style and fashion were matched by experimental but accessible music. The group was soon Magazine and Billy Currie. They recorded their first single Tar with Martin Rushent at his Genetic Studio in 1978 (shortly to become the birthplace of the Human League Dare album). Their breakthrough track "Fade To Grey" became a European hit and reached number 1 in 8 countries in 1980. As the public face of the band Steve Strange shot to stardom throughout Europe and beyond.
Steve Strange has been through his own share of highs and lows in the past 29 years. His emergence as a fashion and style icon of the 80s and beyond is one of the many highs. Steve had always believed that Visage had not yet reached its endpoint. Slowly the circumstances and pieces started falling into place to enable a new album to come to fruition. Firstly Steve reconnected with Steve Barnacle (a Visage band member from the 1984 Visage album "Beatboy") and began writing songs once more. This was augmented when ex Ultravox guitarist Robin Simon joined into the equation bringing not only a large slice of shared musical DNA (that "Visage sound") to the project but also his own distinctive style and ethereal musicianship. Lauren Duvall joined adding not only her sultry vocal ability but also a slice of the classic Visage glamour. Secondly the environment and interest in 80's fashion, style and music continues on unabated. The phone continues to ring for shows, television, news and exhibitions.
More info on www.visage.cc
…and here is the complete line up: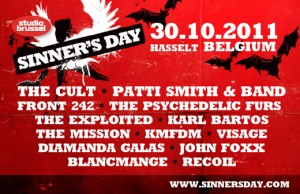 On Sunday 30 October 2011 Hasselt (BE) will host the best of new wave, EBM, electro, synthpop, post punk, darkwave and industrial. For this 3rd edition the festival will work with 2 stages in the main hall of the Ethias Arena so that visitors no longer need to choose between 2 different halls.

Here's a round-up of the bands playing:
FRONT 242 (BE) – Undeniable the biggest electronic band that Belgium ever was able to export before, during and after (and not thanks to) the New Beat era. Signed nowadays with the Belgian electro label Alfa Matrix they are set for a few more surprises in the next months. The influential Belgian band will celebrate its 30th birthday at Sinner's Day. Happy birthday guys!
THE CULT (UK) – The band became cult itself by melting Led Zeppelin's hard rock with The Doors' mystique and The Cure's dark new wave. If there's one The Cult song that you all know, it's the anthem and million seller "She Sells Sanctuary" which was recorded for the band's second album "Love" (1985). This will be a unique opportunity to see the band live.
THE PSYCHEDELIC FURS (UK) – The Psychedelic Furs were top of the bill in the Club during Sinner's Day 2010. It was their first concert in Belgium since 25 years. They are back now for the main stage bringing a mix between punk and pop.
THE EXPLOITED (UK) – Punk and New Wave, the pair has gone together for years. Since 1980 The Exploited has been the image 'par excellence' of the punk movement with "Punk's Not Dead" being their first legendary album. 11 guitar players, 10 bass players and 8 drummers, we'll see singer Wattie Buchan showing that the band has still enough guts after 31 odd years.
JOHN FOXX AND THE MATHS (UK) – John Foxx was the original singer of Ultravox and was the very first British artist to actually make a complete synthesizer album. Foxx was also the guy who penned "Underpass". Enough said? Well, he also was responsible of Gareth Jones joining up with Mute records.
RECOIL (UK) – Recoil is the project of Alan Wilder, the former musical director, sound sculptor, producer, magician (…) of Depeche Mode. Wilder was also one of the first musicians to work with samples. Live he creates a universe of sounds which you hoped you'd have heard before. Expect the necessary Depeche Mode hints during the live show. This is one of the last shows Recoil will probably bring for a very long time, so make sure to be there.
BLANCMANGE (UK) – Contemporaries of Depeche Mode, Soft Cell, The The and more (they were all featured on the Some Bizarre CD compilation with rare to find tracks or versions), Blancmange brings catchy synthpop presented by their first big worldhit "Living On The Ceiling". In the rest of Europe they scored massively with the brilliant track "Don't Tell Me".
DIAMANDA GALAS (USA) – We thought we had missed our last chance to see her live at work, but behold, there's always Sinner's Day to make us happy. The American diva with Greek roots has an amazing voice, period. Her 3,5 octaves cut through you like a knife. From vocal terror to endearing blues and back. We couldn't have described it better. For the connaisseurs, she also sang vocals on various Recoil tracks. A must see if you are more an eclectic music fan.
KMFDM (GER) – Teutonic sounds will come from KMFDM, better know as Kein Mehrheid Fuer Die Mitleid (or as 'Kill Mother Fucking Depeche Mode'). The band was founded by Sascha Konietzko in 1984. Konietzko literally lives and breathes industrial.
THE MISSION (UK) – Here's another Side-Line favorite (really Wayne!). The band singlehanded helped give gothic a face (Andrew Elderitch being too numb) and got massive MTV airtime with "Deliverance" or yet the beautiful "Butterfly on a wheel". On Sinner's Day they will celebrates their 25th anniversary. The gig will be the only concert in Belgium this year.
KARL BARTOS (GER) – Kraftwerk is half dead, long live Karl Bartos. Expect bleeps and beeps that lay in the line of what he used to do with Kraftwerk. We are very much looking forward to see this Einzelgaenger at work.
VISAGE (UK) – Visage is the brainchild of the remarkable Steve Strange, who not only graced the tabloids for the brilliant tunes he crafted but also for his very chaotic life style. His major hit "Fade To Grey" is still being played worldwide. Let's see what he can deliver us live in 2011.
PATTI SMITH (USA) – This American lady is labeled as 'the ultimate queen of new wave'. Debby Harry was better looking so is said – well tastes differ – but Smith surely was more vigorous. Her most famous songs are "Gloria", "Because The Night", "Dancing Barefoot" and "People Have The Power".
Doors open at 12AM, and the first show will start at 1PM. The last band will end at around 1AM, followed by after party. Tickets are only 58 euro in presale, so head for www.sinnersday.com to get hold of yours!
Midge Ure became famous with Ultravox ("Vienna", "Dancing With Tears In My Eyes") and as a solo singer ("If I Was"), but he has also worked as a producer and songwriter for artists such as Thin Lizzy, Visage and of course Band Aid. In this video, he talks about the reunion of Ultravox, their first album in 26 years, and the use of the Melodyne software in his work.