Karl Bartos Crosstalk
Great Kraftwerkish Sounds from 1996, Komputer with 'Komputer Krash',
Available on the album "Orchestral Manoeuvres In The Dark" (Dindisc / Virgin Records / 1980).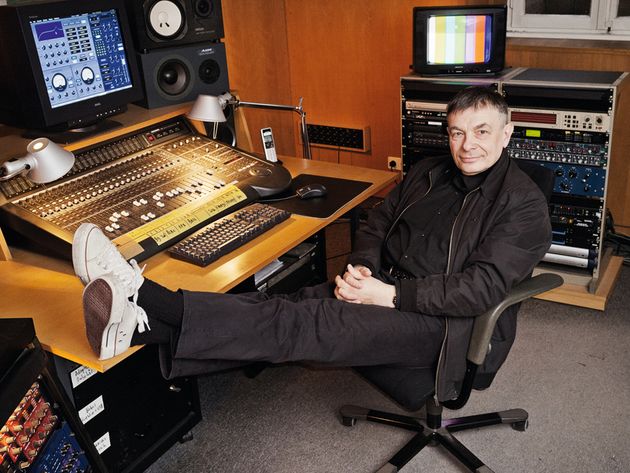 Here's a new interview with Karl Bartos where he discusses everything from vintage machines to his latest album:
Never meet your heroes, or so the old maxim goes, but FM is delighted to report that our recent encounter with bona fide Electronic music legend Karl Bartos put paid to the notion that meeting one's heroes is inevitably doomed to end in disappointment. In the flesh, Bartos is a charming, erudite man with a philosophical take on Electronic music that reflects itself in the pristine synthesized contours of the music contained on his latest LP, Off The Record.
From his time as a member of seminal German Electro Pop purveyors Kraftwerk, through his consequent Electrik Music project and collaborations with Bernard Sumner and Johnny Marr on their Electronic albums, Bartos has been a key figure in the synthesised music story. Off The Record, released in March, saw Bartos revisit his 'secret acoustic diary' of musical sketches and ideas built up during his Kraftwerk days and fashion them into an album that manages to simultaneously sound contemporary and timeless. With trademark vocoded vocals to the fore and his keen ear for a digital melody line still intact, we met with Bartos for a whistle-stop tour of the gear he employs to such stellar effect in his ergonomic Hamburg nerve centre.
How did you set about the Herculean task of trawling through your digital media archive to begin creating Off The Record?
"Well, I'm over it now but it was a hell of a job! There were tons of cassettes, 1/4″ tapes and various other stuff. I moved my archive when we went from Düsseldorf to Hamburg and there was boxes and boxes of it and various rooms full of it along with old synthesizers. I always avoided going through the archive to put things in order until Gunther from Bureau B [Bartos' German record label] said, 'Karl, do you have any old recordings?' I refused initially but finally gave in… I'd always wanted to do it, and knew I had to, but it took me several weeks and the sound quality was rotten with many tapes broken. Eventually, I managed to get most of it into the computer. I saw that everything was dated 1977, 1978, etc, and I thought, 'That's a diary. An acoustic diary.' So I made it a concept. You do that kind of thing but usually just inside your brain – you refer to the things you've done before. It's the way we organise our brains. I also had to write about the concept and where the songs came from."
Were you quite meticulous about correctly marking or naming ideas back in the days when you were building your archive?
"You do what you do. I'd come up with a name, 'Neon Piano' or whatever, and I'd sometimes write the date. Sometimes not. Most cassettes had a name or a date on them. I also found a lot of stuff on Zip and Jaz drives but even some of those were damaged or didn't work. Between all the different media I pretty much managed to retrieve everything eventually, though."
Were there a lot of nice surprises?
"It was all such a surprise and funny to hear a song I'd done without a trace of emotion sitting beside something like Computer World [Kraftwerk, 1981]. It made me feel a little sentimental at times. Once I had them in order, it was easy for me to collate and collage them."
Your first computer set-up was the IBM XT running Voyetra Plus sequencing software. That must have felt like going supersonic after using tape?
"It was a real revelation. We were recording Electric Café [Kraftwerk, 1986] at Kling Klang [the band's private studio originally located in Düsseldorf, Germany], then we took it over to Right Track Studio in New York where François Kevorkian and Fred Maher introduced me to the Voyetra Plus software he had running on a laptop.
The full interview from Music Radar can be found here >>
Hamburg, St. Pauli, Reeperbahn — one of these nights in late summer…
Along with the first neon lights and impressions of the city we're about to hear an enchanting melody, reminiscent of a German Volkslied. Somehow the melody seems to encapsulate time by bringing back memories and evoking expectations at once. Why is that so?
Cut. We see Karl Bartos walking down the Große Freiheit, a busy side street off the Reeperbahn. Coming from Indra, passing by Kaiserkeller and Star-Club. Those were the venues where it all began, where all the famous bands and artists from the early 60s had played, including the Beatles.
The melody fades away and Karl sings the first verse: "I'm on my way — got the world at my feet / But I wish I could remix my life to another beat"
Approaching the Reeperbahn Karl makes a left, heading past the Davidwache police station and further down the road to the Panopticum. Bang! Without warning he finds himself in front of a huge billboard on the wall with a well-known face looking back at him: Herr Karl, his legendary showroom dummy doppelgänger from his former life. And in a flashback he visualizes his countless roles and transformations:
— as a photographer, probably right from a shooting with a model — THE model
— the robot appears in a spin
— here's a scene from the TEE film — see the trenchcoat?
— next is the Tour de France outfit — for safety reasons he's wearing a bicycle helmet, of course
Cut. In a rush Karl writes down the arpeggio melody and before too long the doppelgänger is raising his voice: "Every single day I am here to let you know / Whatever happens to you I won't let go, I won't let go"
Cut. Press conference. All cameras capture Herr Karl, his alter ego. The tension is rising and we see the flashlights reflecting in the golden records on the wall, just like crossfire. Standing at the microphones he has nothing to say, not a single word. But throughout the scene he acts without a trace of emotion and looks incredibly cool.
As the music evolves Karl replies to the doppelgänger: "I'm so glad to know that you care about your family / Don't you call me eccentric but you kill me, you kill me"
Suddenly he turns around and walks to the wings. During his walk off — coming from nowhere — someone counts down 4 — 3 — 2 — 1 and here's another flashback sequence of the famous showroom dummy:
— a vocal session
— his Tour de France outfit still looks great
— "You're so close but far away" — The Telephone Call comes to mind
— reading "Melody Maker"
— a vinyl record recalls some wicked electro sounds
— he discovers himself in the looking glass
— dress code: red shirt, black tie
— enjoying an abstract film by Oskar Fischinger
— the super 8-camera is gonna be his best friend
— finally, with a glass of champagne, you can almost hear him say: "Get on with your life"
Cut. Back on the Reeperbahn Karl gets on the bus, in the distance we see the big wheel of the fairground, shining so bright. And on his way home, he thinks to himself: I knew it all along, the perception of music always includes the past, the present and the future.
THE END
Written, performed and produced by Karl Bartos
Recorded, mixed and mastered by Mathias Black
Published by Electric Music
www.karlbartos.com
(P)+(C) 2013 Bureau B under licence from Karl Bartos
LC 13875. BB080
www.bureau-b.com
"Without A Trace Of Emotion" is taken from the new Karl Bartos album "Off The Record" — out now! Further details: www.karlbartos.com
Karl Bartos, former member of electronic pioneers Kraftwerk and Elektric Music, was on BBC 6 Music yesterday speaking to Mark Radcliffe and Stuart Maconie about his recent album, Off The Record.
Comprising material from his Kraftwerk days right up to the present, the album takes in a range of influences and emotions in an attempt, says Bartos, to cover the whole "European landscape". Amongst discussing British weather and northern soul, when asked about his Kraftwerk roots and the influence it has on his solo work, Bartos said: "I'm not trying to get away [from being that guy], but I am ambivalent."
It is FINALLY here the new song and video from synth maestro Karl Bartos (ex-Kraftwerk)

SUBSCRIBE to Pitchfork.tv: http://bit.ly/MgXoZp
MORE Music Videos: http://bit.ly/J27abt
The former member of Kraftwerk makes a future-world theme song for the Brussels building.
——
SUBSCRIBE to Pitchfork.tv: http://bit.ly/yK2Fbp
——
Follow Pitchfork.tv on Twitter: http://bit.ly/KJ2PhP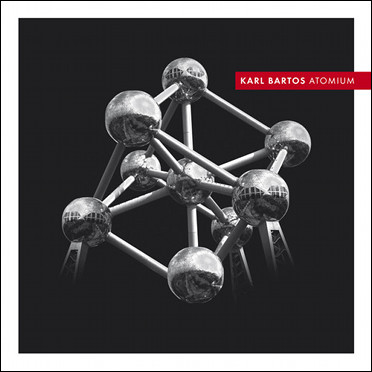 Out on February 1st is the new Karl Bartos single "Atomium". The single will be released as a limited 7″ on the Bureau B imprint. The single is the first to be taken from the new Bartos album "Off the Record" which will be out on March 15th.
For those that don't recognize the building on the cover artwork, it's the Atomium, a gigantic model of an iron crystal, erected for the 1958 World's Fair in Brussels. The 7″ will hold the title track in English on the A-side and in German on the B-side. Karl Bartos' next studio album "Off the Record" holds 12 tracks that were recorded over the course of two years. The first run of the CD version will have an extensive 44 pages booklet.
Next to a CD version there will also be a vinyl edition in 180 gr. first quality heavy vinyl (including the CD in a cardboard sleeve). A deluxe edition of this set will be out as well strictly limited to 1000 copies. It will be coming with an over-sized, 20 pages booklet in a deluxe gatefold-cover.
You may also want to read the exclusive interview we made with Karl in the spring of 2012 >>
Released by: Bureau B
Release/catalogue number: BB079
Release date: Mar 15, 2013
You may also read the interview we did with Karl during the spring of 2012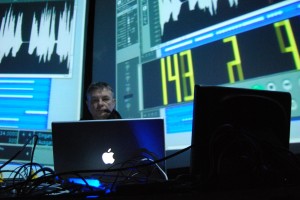 Some of weeks ago Karl Bartos toured a couple of cities in Sweden and Steelberry Clones, got an exclusive interview with the synth pop pioneer. Karl, being one of the four members of the classic Kraftwerk line-up and with several legendary compositions on his track record, i.e. Computer World, The Man Machine, Electric Café. To recap some of the more important activities it is worth mentioning that Karl founded the group Elektric Music in 1992, releasing the album Esperanto, and he have collaborations along the way with Bernad Sumner, Johnny Marr and Andy McCluskey. And since Steelberry Clones are in fact based out of Sweden it is worth mentioning his guest appearance with Swedish synthpop act Mobile Homes. After leaving Kraftwerk, some 25 years ago, the music that he and the rest of the band created is still a great inspirational source across numerous musical genres.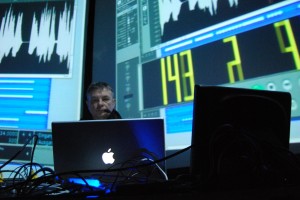 Karl has ventured into many different fields since the Kraftwerk days and has delivered highly acclaimed albums along the way, such as Communication – featuring such songs as "I'm the Message," "The Camera," and "Ultraviolet.
In awaiting his new album, due early next year, we wanted to dig a little deeper into the mind of Karl, by asking him about the music creation side of things.
The new album in the works
Karl is now producing a new album, but working in the studio is being like a scientist, tweaking and tuning – composing is the pleasure part! The production process involves starting with beta versions and then continues to work with the songs, improving them and making new versions – even though all twelve songs where set at demo stage. Here Karl adds a remark that stems from his German and Kraftwerk roots – "I go into the studio 8 hours every day". Producing your own work requires making final decision, fighting yourself.
Being a director and the use of computers
Composing is being like a director of drama – there are roles and dialogue. Making electronic music is like making and acoustic film. For Karl melody and harmony are key ingredients. And while composing the sound is and integral part of the composition. Working with synthesizers for more than thirty years Karl has built up a pallet of sounds in his head which he uses as basis while composing. Whilst there are infinite sound possibilities using electronic instruments – "there are so many sounds, I can't listen to all of them", only adding new sounds occasionally. Regarding electronic instruments Karl hasn't sold any of the his synthesizers and still prefers the old analogs. But just like computers – they are only tools. Like a craftsman that needs different screwdrivers but then he doesn't love them – "computers are just eating my time". Many musicians today turn to analog gear as they miss the tactile experience while creating but for Karl the important composing process is done in his head – not turning knobs or clicking on computers. That said the computers are used heavily during production of audio and video, sampling sounds.
Regarding computers, Computer World, the eights studio album to come out of the Kling Klang studio, in these Twitter days we can assume that all these sound bytes like "It's more fun to compute" would make efficient and highly acclaimed Twitter posts today :-). However, what is more interesting to know is that at the time of the making of the Computer World album Karl and the others had never actually owned or used a computer themselves. "During the making of Computer World we had a closer look at those incredibly smart machines at the IBM affiliate in Düsseldorf". Remember that the PC was just launched and home computers was if not science fiction very exotic at the time.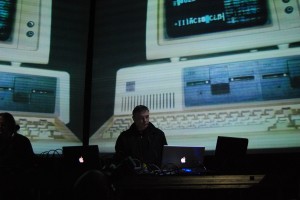 I robovox
The robot voices are a trademark of Bartos music and appears on all his albums where he uses both vocoders and synthetic made voices. They are used for the dramaturgic effect – as "the voice of technology it self, or like the voice God". The robot voices are then not him self singing and can be used just like the narrator in a film. The voice technology has advanced tremenously the last years with products like Antares Auto Tune, Melodyne, Vocaloid etc and they are used in numerous pop hits, but few has put them as permanent tool on their artistic palette.
Audio information : Kraftwerk's World Tour 1981
Live at Nagoya Shi Koukai Do, Nagoya, Japan, 13/09/1981
Read the full interview here >>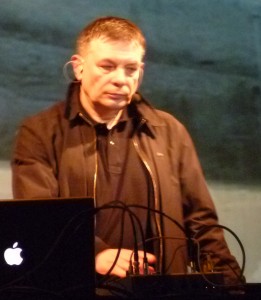 If you happen to be in Malmö tonight you have the opportunity to see Karl Bartos multimedia "Live Cinema" show. I attended this show in Stockholm the other night and had a great time. A lot of remixed Kraftwerk classics together with Karl Bartos solo work in a good mix. Mathias Black joins Karl on stage performing robot voices which adds to the live performance. Mr Bartos continues to develop his art combining music and visuals into a very powerful package making the message and experience strong as any commercial advertisement. Conceptual art in pop format!
Radioactivity (KRAFTWERK)
by RUBYORLA PLAYS TENORI-ON