November 17, 2013 · Posted in
Uncategorized
·
Comments Off

on Sunday morning electro tunes for your listening pleasure
Karl Bartos Crosstalk
Great Kraftwerkish Sounds from 1996, Komputer with 'Komputer Krash',
Available on the album "Orchestral Manoeuvres In The Dark" (Dindisc / Virgin Records / 1980).
September 6, 2012 · Posted in
Uncategorized
·
Comments Off

on Listen to the new album from Metroland right here (PS. for Kraftwerk lovers)

Out tomorrow is the debut album by the Kraftwerkian project Metroland. Based in Belgium the duo, Passenger A and Passenger S, the band will see their debut album "Mind the gap" released in 2 different versions, a normal CD format and a double CD box set featuring 11 remixes executed by the likes of Komputer, Celluloide, Franck Kartell, Keen K, Növö, Sophie Watkins, etc.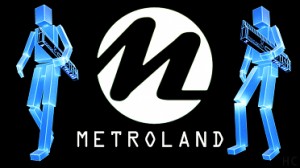 June 23, 2011 · Posted in
Uncategorized
·
Comments Off

on Experimental best of compilations from Mute
Mute are about to release the first 2 installments in the "An Introduction To…" compilation series. The series will launch with "This Is The Balanescu Quartet" and "Konnecting… I Start Counting, Fortran 5, Komputer" (showcasing the pure pop side of the duo Simon Leonard and David Baker through their three incarnations). The series aims at providing an introduction into the world of some of Mute's artists 'whose broad body of work would benefit from an easy entry point' as the label says.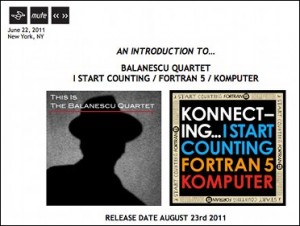 Forthcoming releases in 2012 include Crime And The City Solution, Anita Lane, Fad Gadget, Cabaret Voltaire and Add N To (X) with more to follow.
Here's the tracklisting for "This Is The Balanescu Quartet":
Aria (Maria T)
Autobahn (Possessed)
Coppice (Angels and Insects)
East (Luminitza)
Wine's So Good (Maria T)
Model (Possessed)
Revolution (Luminitza)
Waltz (Angels and Insects)
The Young Conscript And The Moon (Maria T)
Still with me (Luminitza)
Love Scene (Angels and Insects)
Pocket Calculator (Possessed)
Here's the tracklisting for "Konnecting… I Start Counting, Fortran 5, Komputer":
Letters To A Friend (I Start Counting)
Million Headed Monster (I Start Counting)
Heart On The Line (Fortran 5)
Time To Dream (Fortran 5)
Valentina (Komputer)
Looking Down On London (Komputer)
Love Baby (Fortran 5)
Lose Him (I Start Counting)
Headphones And Ringtones (Komputer)
Still Smiling (I Start Counting)
Like A Bird (Komputer)
Empty Room (I Start Counting)
Look To The Future (Fortran 5)
Persian Blues (Fortran 5)
Layla (Derek Sings Derek) (Fortran 5 with vocals by Derek Nimmo)