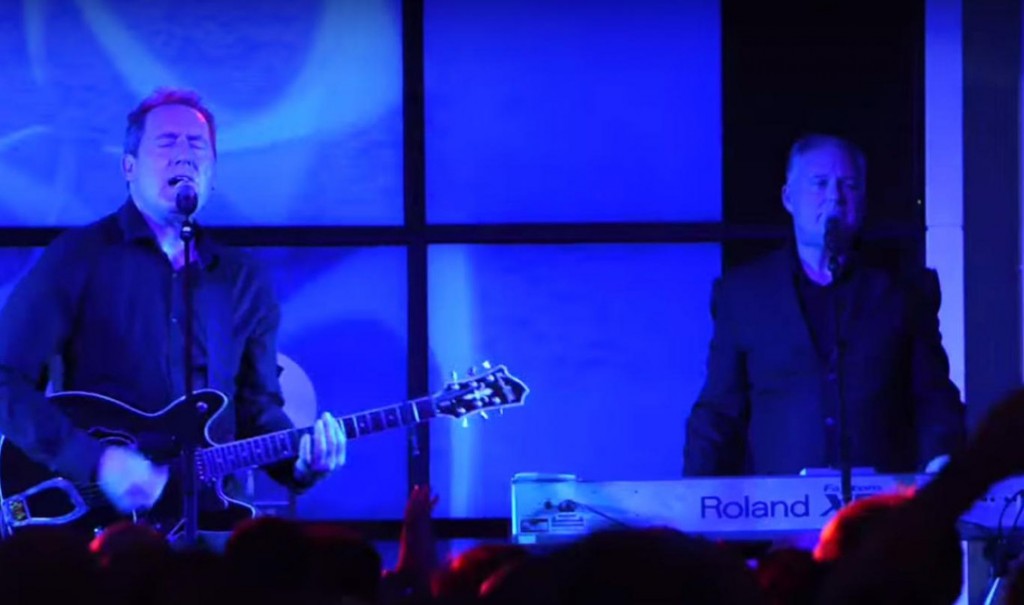 OMD have announced that they will be playing the classic albums "Dazzle Ships" (1983) and "Architecture & Morality" (1981) in full at the Royal Albert Hall in London on May 9th 2016. General sale tickets will be on sale from Friday 4th December at 9am.
Also available will be VIP packages (costing up to 250 UK£) including seats in the very front rows, soundcheck access, meet & greet with the band and exclusive merchandise. These VIP packages will be on sale from Wednesday 2nd December at 9am.
"Architecture & Morality" is the 3rd album by the British synthpop band Orchestral Manoeuvres in the Dark, released in 1981. It became a commercial and critical success, selling over millions of copies. Its associated singles ("Souvenir", "Joan of Arc", and "Maid of Orleans (The Waltz Joan of Arc)") were international hits, selling more than 8 million copies combined.
"Dazzle Ships" is the 4th album by Orchestral Manoeuvres in the Dark (OMD) and was released in 1983. The album is noted for its highly experimental content, particularly musique concrète sound collages, utilising shortwave radio recordings to explore Cold War and Eastern Bloc themes.
OMD are set to release a live version of one of their most notorious records, 1983's "Dazzle Ships" which was recorded live at the Museum of Liverpool. When first released "Dazzle Ships was a critical and commercial flop. Record Mirrorconsidered it to be "difficult and fractured" while Time Out spoke about "redundant avant-garde trickery". The CD/DVD will be out in 3 weeks from now. Manufactured in a limited edition of 2,000 copies only, it is exclusively available through PledgeMusic. A picture disc capturing the live recordings of the "Dazzle Ships" tracks is also available on 750 copies.
Orchestral Manoeuvres in the Dark are the latest band to turn to the crowd finding platform Pledge Music to release new material to fans. Over at http://www.pledgemusic.com/projects/omd-live-dvd you can get hold of the DVD of their November shows at the Liverpool Museum, where they played the entire 'Dazzle Ships' album to a small audience.
"On the weekend of Nov 1st and 2nd last year OMD took over of the Museum of Liverpool at the famous Pier Head waterfront and presented a unique multi media event. Two concerts, audio installation, items from the band's history, and a film festival, all with a theme derived from their iconic fourth album Dazzle Ships.
"Now, OMD Live at the Museum of Liverpool is available through Pledge Music in multiple formats. By ordering your copy of the DVD you will gain access to updates, bonus content, behind the scenes video clips, the original installation music, and much, much more."
Orchestral Manoeuvres in the Dark ~ Souvenir…
A British new wave group formed in 1978, whose founding members, Andy McCluskey (vocals, bass guitar) and Paul Humphrey's (keyboards, vocals), are originally from Wirral, England.
While steadily eschewing pop star status, the band cultivated a fan base in the United Kingdom from 1978–1980. They gained popularity throughout Europe with the hugely successful 1980 single "Enola Gay", and achieved broader recognition via seminal album Architecture & Morality (1981)[a] and its singles. OMD also garnered acclaim for their experimental recordings, consistently producing music of greater intellectual depth than that of their peers.
Although retrospectively lauded, the sonically challenging Dazzle Ships (1983) eroded European consumer interest during the mid 1980's; Junk Culture (1984) marked a shift toward more pop-oriented song-writing. Concurrently, OMD reached their peak in the United States and had a major hit with 1986's "If You Leave", written for the film Pretty in Pink. Humphrey's departed in 1989 with Martin Cooper (various instruments) and Malcolm Holmes (drums) to form The Listening Pool, leaving McCluskey to lead the outfit;
Sugar Tax (1991) and its initial singles were sizeable hits in Europe. By the mid 1990's, however, synthpop had become unfashionable amid the guitar oriented musical climate, and McCluskey dissolved the band in 1996, months after their last successful single, "Walking on the Milky Way". He founded pop group Atomic Kitten in 1998.
The band reformed in 2006 and began releasing new material in 2009. Their European fan base remained steadfast: History of Modern (2010) became the group's biggest hit on the German chart; English Electric (2013) their largest in the UK since Sugar Tax.
The group have sold over 40 million records. Despite limited mainstream support for their unconventional works, OMD have carved a unique legacy within popular music, being regarded by critics as the synthpop counterpart of The Beatles, and a pioneering and highly influential act.
The Quietus magazine editor John Doran once remarked: "Orchestral Manoeuvres in the Dark are not one of the best synth bands ever: they are one of the best bands ever.
Andy McCluskey from OMD Orchestral Manoeuvres in the Dark talks about Depeche Mode and the US tour at The Rose Bowl
An instrumental part of the Dazzle Weekend at the Museum of Liverpool was the four Dazzle Films shown in the Theatre across the weekend.
Maharishi's DPM:Bamdazzle pattern was inspired by the dazzle paint scheme used on Navy ships, primarily during WWI. It consisted of a complex pattern of geometricshapes in contrasting colours, interrupting and intersecting each other in order to confuse a german torpedo operator as to the direction that the ship was travelling, how far away it was and how fast it was moving – essential information for a direct hit.
Maharishi have created there own variant called DPM: Bamdazzle, a portmanteau referencing Dazzle and Bamboo. Our interpretation of dazzle is infused with bamboo to express a core DPM theme, that camouflage ultimately has it's roots in nature where it was discovered by natural historians, developed by artists and only later was co-opted by the military
Our animation film 'The Testing Theatre' is about Dazzle painting and the direct relationship between camouflage and the Visual Arts. Camouflage was used (and systematically applied on a large scale) during the First World War. In addition there was the exceptional resemblance of the Dazzle designs with the work of the Vorticists. The Vorticists were the British avant-garde variant of Cubists and Futurists in the years immediately before the First World War.
First shown at the Dazzle Weekend at the Museum of Liverpool, November 2014.
We were initially asked to create something visual to accompany Dazzle Ships (Parts I, IV, V & VI) just in case of inclement weather and for those who may struggle to access the ship's engine room.
Hambi created this powerful short film entirely from stills taken on the
Edmund Gardner.
The Human League – Black Hit Of Space (1980)
Music video by Orchestral Manoeuvres In The Dark performing Electricity. (P) 1980 The copyright in this audiovisual recording is owned by Virgin Records Ltd
The information comes from WIKIPEDIA
In March 1980, Vince Clarke, Martin Gore and Andy Fletcher formed a band called Composition of Sound, with Clarke on vocals/guitar, Gore on keyboards and Fletcher on bass.
Depeche Mode Shout! live in studio @ L'Écho Des Bananes, France, 1981 (2/3)
Official video for "Afraid" by The Mobile Homes.
This video has been authorized for upload by The Mobile Homes.
Scanned for themobilehomes.se
For more information, visit themobilehomes.se
Karl Bartos Crosstalk
Great Kraftwerkish Sounds from 1996, Komputer with 'Komputer Krash',
Available on the album "Orchestral Manoeuvres In The Dark" (Dindisc / Virgin Records / 1980).