"Boys and Girls" is a song by the British synthpop group The Human League. It was released as a single in the UK in February 1981 and peaked at number 48 in the UK Singles Charts. It was written by lead singer Philip Oakey and the band's visual director / keyboard player Philip Adrian Wright.
It was the first single released by the new Human League line up of Oakey, Wright together with new teenage dancers Susanne Sulley (now called Susan Ann Sulley) and Joanne Catherall. The new line up formed after the acrimonious departure of Martyn Ware and Ian Craig Marsh from the band four months earlier.
By late 1980 Oakey was deeply in debt to Virgin Records so both he and the label were keen that he release a single to start clearing that debt as early in 1981 as possible.
"Boys and Girls" was a song that had been used on the November 1980 European tour. On return from the tour it was recorded quickly and rushed out by Virgin Records in late February 1981.
At the time it was remarked on that Sulley and Catherall were missing from the song, after the mythology that had been started in the media about their recent recruitment to the band from the Crazy Daisy Nightclub four months earlier. This was because they had both returned to school full-time and "Boys and Girls" was originally written without any female vocals. Although both Sulley and Catherall do feature on the record sleeve artwork and publicity material.
Sometimes less is more. Here I bring you a classic tune reduced to it's bare minimum, lyrically that is. Enjoy!
The sci-fi soaked daddies of the Sheffield synth scene who, along with Kraftwerk and Gary Numan, were most instrumental in hooking me on electronic music in the late 70s. When I heard this existential curiosity, from the John Peel Radio 1 session recorded at Maida Vale on August 8 1978 and tx'ed on Aug 16, it blew my mind. It reworks their demo track Again, the Eye Again – and was redone once more as The Word Before Last for the Reproduction album – but this version knocks the others into a cocked hat, and remains my favourite among their work. A cover version is in the offing sometime.
'I spent a bad day yesterday / With a man and a picture of himself / The tape was running and the TV turned / How different these people were, I learned…'
I just eliminated the iPad from my STEM kit by integrating the M3000 Oscillotron code – or a tweaked, more optimized version of it – into PIANA, so it has oscilloscope functionality.
Pi Synth continues to explore the Raspberry Pi
Fresh from the triumphs of Popcorn – the first Moog I ever heard as a 12 year old kiddie in 1972 – comes this, the first cool band in my lifetime to come from my home town, and still one of my all time synth classic tracks. So classic in fact that my sign-off test for this PIANA synth being done and dusted as a multi-part synthesizer was "it shall be capable of a halfway decent rendition of Being Boiled". This is approaching a halfway decent version.
5 synths in total, which are –
Rattly snare thing – 2 note polyphony, it's Fat Phil Collins with less echo, and it's as close in spirit to the original Ian Marsh rhythm track as I could manage.
Kick – Fat Phil needed more bottom as he is bandpass filtered, so his bum gets removed. So he's augmented by this monophonic resonant filter bass enhancer thing – sort of an 808 kick, it is just a resonant filter playing low notes.
GlamClap – S-L-A-D-E again!!!! THIS SONG IS WHAT THAT HANDLCAP WAS DESIGNED FOR ALL THOSE MONTHS AGO!!!!! W-H-O-O H-O-O!!!!!
Rezzy bass – a rezzy bass, with an actual 4th order filter on it
Reedy thing – a reedy thing, as seen yesterday on Popcorn
So, I still have 2 more synths of headroom on the Pi and already this is sounding pretty great. Amazing to know that the old Human League could gig for about a £50 equipment investment nowadays.
Yes, it's not finished. Who cares. Just sit back and listen to the voice of Buddha, played on only 2 pitched synths and a bunch of percussive noises.
Martyn Ware, founding member of the Human League and Heaven 17, as well as the British Electric Foundation and Illustrious, demonstrates the Roland System 100 and the Korg 700S. These are the original instruments that he and Ian Craig Marsh wrote and performed the original version of Being Boiled on.
This was the climax to a 45 minute talk given by Martyn, accompanied by the great Peter Howell of the BBC Radiophonic Workshop, at the Queen Elizabeth Hall, Southbank Centre, London, on the night of November 30th 2013. It preceded a performance by the BBC Concert Orchestra in the main hall, as part of their "The Rest is Noise" season. They performed works by Andrew Poppy, Michael Nyman and commissions by Anne Dudley, which saw the orchestra take on reinterpretations, or "remixes" of Art of Noise's "Into Battle" as well as a new work, Rhythm of a Decade, a mash up of themes from the decade, accompanied by a narration from Paul Morley.
All the other original members of the Art of Noise were present in the audience (Trevor Horn, JJ Jeczalik, Gary Langan), billed by them as a one off 30th anniversary reunion 😉
The Human League – Black Hit Of Space (1980)
Music video by Orchestral Manoeuvres In The Dark performing Electricity. (P) 1980 The copyright in this audiovisual recording is owned by Virgin Records Ltd
The information comes from WIKIPEDIA
In March 1980, Vince Clarke, Martin Gore and Andy Fletcher formed a band called Composition of Sound, with Clarke on vocals/guitar, Gore on keyboards and Fletcher on bass.
Depeche Mode Shout! live in studio @ L'Écho Des Bananes, France, 1981 (2/3)
Official video for "Afraid" by The Mobile Homes.
This video has been authorized for upload by The Mobile Homes.
Scanned for themobilehomes.se
For more information, visit themobilehomes.se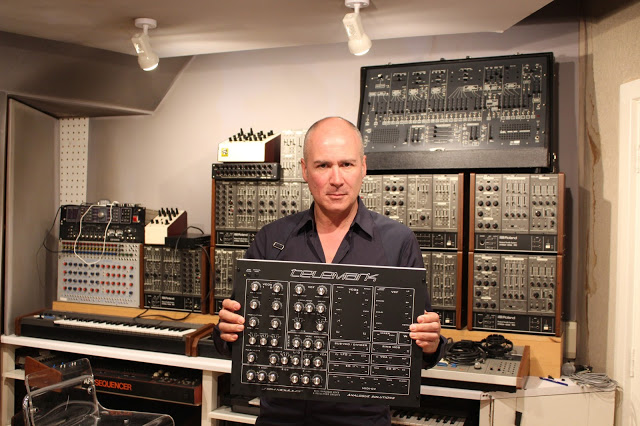 British 'boutique' analogue synthesiser and accessory designer/manufacturer Analogue Solutions is proud to announce that bona fide synthpop pioneer Phil Oakey has added a Telemark V2 semi- modular analogue monosynth to the stunning synthesiser collection currently residing at The Human League's legendary HL Studios in Sheffield…
Human League main man Phil Oakey needs little in the way of introduction. Having co-penned some of pop's finest musical moments with memorable hits spanning several decades — notably 1981's chart-topping perennial favourite 'Don't You Want Me' (which sold well over a million copies in the UK alone, making it the 25th biggest-selling single of all time there, then shifted another million copies to secure the coveted US number one spot during the following year), he helped forge a popular music landscape-changing template for pre- programmed, synth-driven song structures that are still reverberating around the world today.
Back in the day, The Human League 'Mk I' co-founder Ian Craig Marsh wasn't adverse to rhythmically riding a mid-Seventies-vintage Roland System 100 semi-modular analogue synthesiser's resonance and filter faders to create a track's Model 104 Sequencer-driven bass and snare drum on the fly! No need to do that today, of course, for HL Studios is packed floor to ceiling with old and new synths to die for. Indeed, it's fair to say that what Phil Oakey doesn't know about synths simply isn't worth knowing!

Now something of a connoisseur, Oakey owns a considerable collection of synths, sequencers, and drum machines at HL Studios, many of which are analogue. Which is exactly why he has taken delivery of an Analogue Solutions Telemark V2, a dual-VCO, rack-mountable, semi-modular analogue monosynth with multimode VCF featuring lowpass, highpass, bandpass, and notch filter types, which will be perfectly at home there since the healthy socket selection dominating the right-hand side of its spacious control panel means it can comfortably be patched to work with other modular systems and analogue sequencers for added flexibility. Features like those, combined with a generous helping of modulation routing options, provide the Telemark V2 with an extraordinarily diverse range of sound possibilities, including leads, basses, effects, and percussion, as well as being able to be used as an effects processor thanks to its audio inputs (feeding audio signals directly into its mixer).
Another distinguishing feature of the Telemark V2 is its 100% analogue voice and modulation circuitry formed from discrete components. Nothing travels through digital circuitry here, so turning a knob directly affects the associated analogue circuitry to produce a characteristic sound straight from the Seventies/early-Eighties — albeit reliant on today's reliable technology!
Improvements to Telemark V2 over and above the original version of the instrument include adding an octave divider (SUB-VCO/DIVIDER) — for creating a fuller, fatter sound or for use as a clock divider designed to be a source of lower frequencies (particularly suited to rhythmical usage) — and a ring modulator (RING MOD), typically used for fashioning metallic-type sounds (although it has other uses).
Little wonder, then, that the original Telemark and now its V2 successor are so sought after by those in the know. Chances are the characteristic sounds of Phil Oakey's new and improved Telemark V2 — in limited-edition black, no less! — could well be being heard on some more memorable musical moments from The Human League in the not too distant future. We wish them well.
Telemark V2 is available to order online directly from Analogue Solutions (http://www.analoguesolutions.org.uk/concussor/telemark.htm) for £749.00 GBP (excluding VAT and delivery) or through one of their dealers. Alternatively, the keyboard- equipped Telemark-k V2 is available for £1,099.00 GBP (excluding VAT and delivery).
Filmed earlier this week at Bristol O2 Academy, Sonic talked to Martyn Ware from Human League BEF and Heaven 17, as well as a general chat about the tour, the band and synthesizers.
Tales From The Bridge is a 3D soundscape collaboration covering the length of the Millennium Bridge in London. The piece was commissioned by the Mayor of London to launch at the start of the London 2012 Olympics, and will run until the end of September.
"We've been working for quite a few months now on creating the most amazing installation, which is going to be on the Millenium Bridge during the Olympics," explains Ware.  "It's called Tales From The Bridge, which is a combination of ambient sound and an electronic soundscape which we composed together with a fantastic poetic kind of magic realist overlay of spoken word in three dimensions, which is going to be drifting across the bridge."
The video features an interview with Ware about the piece and a behind the scenes look at its creation:
Ware: We did a piece called Timepiece for the Mexico City installation that we did, Sound Oasis. This was composed of very slowly-drifting chords that changed almost imperceptibly in related keys, over an hour-long loop.
I thought it would be quite nice to use a similar structure, but change the sounds and make it more adapted to the kind of environment here. So that's the basic musical element, plus some additional, inspirational kind of almost like Blade Runner-ish synth, virtual synths. So we used a lot of Omnisphere.
We used a lot of virtual synths including Arturia's Moog Modular synth, Korg MS-20, and some Roland System 100 as well.
That's the basic template of what we did, and it's slowly drifting, additional kind of Vangelis-type melody lines that weave in space and time around the piece as well. Then we overlaid the fantastic script that Mario Petrucci has written, and performed by a couple of actors with beautiful voices,  Mia Austen and Steven Alexander.
The idea was to relate the lyrical content at this end of the bridge to the City and the Church and government, and on the other side to the theatre and the playground of the rich, even though it was a poor area historically, and the arts, and recreation. And the central section of the bridge, compositionally, is about the history of the Thames itself.
More info here>> Kitmonsters.com.