Filmed earlier this week at Bristol O2 Academy, Sonic talked to Martyn Ware from Human League BEF and Heaven 17, as well as a general chat about the tour, the band and synthesizers.
Tales From The Bridge is a 3D soundscape collaboration covering the length of the Millennium Bridge in London. The piece was commissioned by the Mayor of London to launch at the start of the London 2012 Olympics, and will run until the end of September.
"We've been working for quite a few months now on creating the most amazing installation, which is going to be on the Millenium Bridge during the Olympics," explains Ware.  "It's called Tales From The Bridge, which is a combination of ambient sound and an electronic soundscape which we composed together with a fantastic poetic kind of magic realist overlay of spoken word in three dimensions, which is going to be drifting across the bridge."
The video features an interview with Ware about the piece and a behind the scenes look at its creation:
Ware: We did a piece called Timepiece for the Mexico City installation that we did, Sound Oasis. This was composed of very slowly-drifting chords that changed almost imperceptibly in related keys, over an hour-long loop.
I thought it would be quite nice to use a similar structure, but change the sounds and make it more adapted to the kind of environment here. So that's the basic musical element, plus some additional, inspirational kind of almost like Blade Runner-ish synth, virtual synths. So we used a lot of Omnisphere.
We used a lot of virtual synths including Arturia's Moog Modular synth, Korg MS-20, and some Roland System 100 as well.
That's the basic template of what we did, and it's slowly drifting, additional kind of Vangelis-type melody lines that weave in space and time around the piece as well. Then we overlaid the fantastic script that Mario Petrucci has written, and performed by a couple of actors with beautiful voices,  Mia Austen and Steven Alexander.
The idea was to relate the lyrical content at this end of the bridge to the City and the Church and government, and on the other side to the theatre and the playground of the rich, even though it was a poor area historically, and the arts, and recreation. And the central section of the bridge, compositionally, is about the history of the Thames itself.
More info here>> Kitmonsters.com.
Human League – Path of Least Resistance (live BBCtv 1979)
Top clip of the original line-up performing a song from the first album on some programme called "Mainstream". Repeated as part of the "Sounds of the Seventies" series, hence the daft bookending with Paul Darrow and Patrick Troughton.
The Human League have announced their North American Tour plans for their upcoming release to be distributed this fall on EMI, titled "Credo". This is the first tour in over 15 years that includes Canadian dates Vancouver and Toronto. They will be supported by special guests Canadian New Wave legends Men without Hats.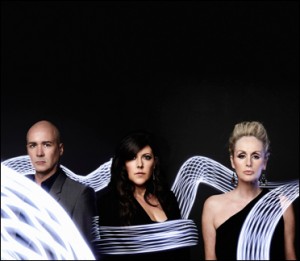 Here are the dates taking place in August:
Thu 1st Alpine, CA – The DC @ Viejas
Fri 2nd Hollywood, CA – The Hollywood Bowl
Sat 3rd Sausalito, CA – Sausalito Arts Festival
Sun 4th Las Vegas, NV – Mandalay Bay
Wed 7th Sacramento, CA – Thunder Valley Casino
Thu 8th Saratoga, CA – Mountain Winery
Fri 9th Jacksonville, OR – Britt Festival
Sat 10th Woodinville, WA – Chateau Ste. Michelle
Sun 11th Vancouver, Canada – Rickshaw Theatre
Thu 15th Denver, CO – Summitt Music Hall
Fri 16th Kansas City, KA – Uptown Theater
Sat 17th Chicago, IL – Oysterfest
Sun 18th Toronto, Canada – Guvernment
Tue 20th Buffalo, NY – Riviera Theater
Wed 21st Philadelphia, PA – Keswick Theatre
Thu 22nd Boston, MA – House of Blues
Fri 23rd New York, NY – Best Buy Theatre
Out on Secret Records on 12th July 2011 is the "Live at the Dome" CD/DVD by The Human League. The set comes as a CD and DVD jewel cased double pack and includes their 2003 show at The Dome in Brighton. Featured are such tracks as "Love Action", "Mirror Man", Don't You Want Me", "Fascination" and "Together in Electric Dreams".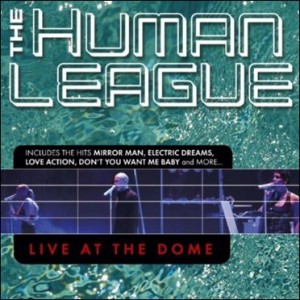 The band's most recent studio output is 2010′s "Credo", their ninth studio album which was their first studio album since "Secrets" in 2001. It has been produced by fellow Sheffield act I Monster and was released on Wall of Sound. A first single from the album, "Night People", was released on 22 November 2010. Follow up single "Never Let Me Go" was released on 1 March 2011.
"Egomaniac" is the second single in Germany, Austria and Switzerland because The Human League secured a slot on a major German TV show for a performance of "Egomaniac". The TV programme aired on Friday 4 March and the single was released the same day.
In those three territories the album itself was released on Friday 11 March in order to narrow the gap between the TV airing and the album being available. In the rest of the EU the album was released on Monday 21 March in order to narrow the gap between the release in Germany, Austria and Switzerland and the rest of the continent.
"Credo" is not available domestically in the US or on iTunes until the band have secured a domestic label for the record in that territory.
Human League 1978, very much of a Kraftwerk influence going on. Just a little darker.
Never Let Me Go is the official video for The Human League's new single out now.
Never Let Me Go is available to download now on iTunes http://bit.ly/dL6Gq3 taken from the forthcoming album 'Credo' out March 21st.
Pre-order 'Credo' now from
HMV: http://tinyurl.com/65m9xka
Amazon: http://tinyurl.com/6xoxvv8
Play.com: http://tinyurl.com/6ezg6jl
Itunes: http://tinyurl.com/6az6dno
Connect with The Human League on:
http://www.facebook.com/thehumanleagie
http://www.twitter.com/humanleaguehq
Never Let Me Go (DJ Pierre Afro Acid Remix)
The Human League's new single Never Let Me Go is released March 21st.
From the new album 'Credo' also released March 21st.
Pre-order 'Credo' now from
HMV: http://tinyurl.com/65m9xka
Amazon: http://tinyurl.com/6xoxvv8
Play.com: http://tinyurl.com/6ezg6jl
Itunes: http://tinyurl.com/6az6dno
Fancy the League then here´s something new to enjoy
'Sky' is a new song from The Human League and is to be included on their ninth studio album 'CREDO' released in March 2011 on the Wall Of Sound record label.
'CREDO' also includes The Human League's club single 'Night People' available on 12″ CD promo and digital format.
________________________________________
­____________________
The Human League – Night People
01. Night People (Single Version)
02. Night People (Radio Edit)
03. Night People (Album Version)
04. Night People (Cerrone Club Remix)
05. Night People (Mylo Remix)
06. Night People (Emperor Machine Extended Vocal)
07. Night People (Villa Remix)
Lots of nice synth spotting in this video
Working in adjoining Studios in Sheffield in 1994 ,808 State go for a brew with Phil Oakey and compare the size of their Synths. Its a Red Rose /White Rose situation.On home turf The League wins this time.