Human League 1978, very much of a Kraftwerk influence going on. Just a little darker.
Never Let Me Go is the official video for The Human League's new single out now.
Never Let Me Go is available to download now on iTunes http://bit.ly/dL6Gq3 taken from the forthcoming album 'Credo' out March 21st.
Pre-order 'Credo' now from
HMV: http://tinyurl.com/65m9xka
Amazon: http://tinyurl.com/6xoxvv8
Play.com: http://tinyurl.com/6ezg6jl
Itunes: http://tinyurl.com/6az6dno
Connect with The Human League on:
http://www.facebook.com/thehumanleagie
http://www.twitter.com/humanleaguehq
Never Let Me Go (DJ Pierre Afro Acid Remix)
The Human League's new single Never Let Me Go is released March 21st.
From the new album 'Credo' also released March 21st.
Pre-order 'Credo' now from
HMV: http://tinyurl.com/65m9xka
Amazon: http://tinyurl.com/6xoxvv8
Play.com: http://tinyurl.com/6ezg6jl
Itunes: http://tinyurl.com/6az6dno
Fancy the League then here´s something new to enjoy
'Sky' is a new song from The Human League and is to be included on their ninth studio album 'CREDO' released in March 2011 on the Wall Of Sound record label.
'CREDO' also includes The Human League's club single 'Night People' available on 12″ CD promo and digital format.
________________________________________
­____________________
The Human League – Night People
01. Night People (Single Version)
02. Night People (Radio Edit)
03. Night People (Album Version)
04. Night People (Cerrone Club Remix)
05. Night People (Mylo Remix)
06. Night People (Emperor Machine Extended Vocal)
07. Night People (Villa Remix)
Lots of nice synth spotting in this video
Working in adjoining Studios in Sheffield in 1994 ,808 State go for a brew with Phil Oakey and compare the size of their Synths. Its a Red Rose /White Rose situation.On home turf The League wins this time.
The new single from Human League
Happy Sunday everyone

The Human League will return with a new single, "Night People", on Wall of Sound in one week. Their 10th studio album "Credo" is scheduled for March 10. A new tour starts in late November.
Back in the days:
German electronic band NUDE have released a radical new recording of Heaven 17's classic 1982 hit single "Let Me Go" . Inspired by Heaven 17's 1982 original, NUDE's version is steeped in big beats and melodic hooks. The song, along with a re-recording of Human League's "Being Boiled,", will appear on their forthcoming second album, "Basic Guerrilla Moves", to be released in October 2010. Four different mixes of NUDE's "Let Me Go" are available throughout Europe via iTunes.

Good news from The Human League's camp. The band's first album in over nine years is almost ready. It is now being mastered at The Exchange in London by Mike Marsh (Depeche Mode, The Chemical Brothers, The Human League's 2001 album "Secrets", …). Electricity-club.co.uk also announced the working titles of the album's songs. Here are the titles known so far: "Never Let Me Go", "Night People", "Sky", "Got To Do", "Egomaniac", "Single Minded", "Electric Shock", "Get Together", "Privilige", "Breaking The Chains" and "Stars Start To Shine". Still according to the website, "Night People" will be most possibly the first single.
So far the band's label Wall Of Sound Records did not communicate any release date. The band's website is under construction so you won't find any information there.
Page is currently celebrating 30 years as performing artsist on the Swedish synthpop stage and are currently planning summer gigs after the release of their first new album in 10 years. Stereoklang got an one on one interview with the synth pioneer Eddie Bengtsson, who's electronic music really kick started the Swedish synth-pop scene in the 80's, active in Page, Sista Mannen På Jorden (Last man on earth) and This Fish Needs a Bike. Page really became the Swedish answer to Yazoo/Erasure, OMD, and Depeche Mode, and made ground for popular acts like Elegant Machinery, S.P.O.C.K and many others. In this interview we have invaded Eddie's home studio to take a closer look at the synthesizers and music production gear he uses and what it really takes to make a great synth-pop song.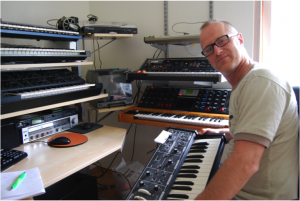 Neatly mounted in a corner of a 10sq/m room, sharing the space with Star Trek memorabilia and a huge vinyl record collection, several of the classic hardware synthesizers are hooked up and ready to bleep. Although Eddie tells me he have had to sell of several synthesizers from a logistical point of view I enjoy finding vintage gear like the Moog Rouge, a Korg DW 6000 and the personal favorite of Eddie's the Yamaha CS15 (used on every album), coupled with recently acquired gems like the Moog Little Phatty, the Moog Voyager and then some modern virtual analogs like microKORG and Yamaha CX1x.
What is used use for what
The CX1 is used as the mother keyboard and the DW 6000 mainly for strings. "Sound 11 is a personal favorite" Eddie says☺. You can for example find it also on all S.P.O.C.K songs. If Eddie on the other hand only were to take one synthesizer with him to a deserted island it would be the CS15. In fact Eddie tells me that due to the flexible routing and filters; he's able clone the bass sounds of all other synthesizers with it, if you treat it nicely. Perhaps the only drawback is the useless noise generator, which is too weak, although a weakness that many synthesizers has as he puts it.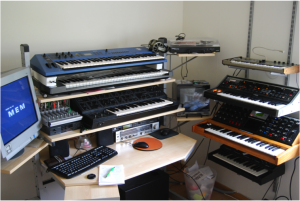 Neatly tucked under racks of synthesizers a well hidden Roland S760 sampler can be found. Curious about the fact that this particular device hasn't been replaced by software versions already, Eddie admits that years of collecting disketts has made him somewhat lazy, somewhere among all those hundreds of disketts there is always that one with the right sound. But I wouldn't be surprised if that device will be left out from future productions in favor of software alternatives.
The lazy side of Eddie shines through on several occasions during the interview and for the last two records other people have contributed in replacing sounds with updated versions. However, the new Page album actually came as a turning point for him and a lot of hard work has gotten into it, resulting in more focus on sound search and music production then before.
Moving on to the next rack of synthesizers Eddie tells me that the microKORG is actually a very capable machine used primarily for strings and pads. The Rouge on the other hand is the real stage machine and a trade mark for Page in live sets. It's compact and easy to bring, cool looking and splendid for single oscillator sounds. (Indecently the Rouge uses the same circuitry as the Taurus II Bass Pedals). (Listen to this song, all sounds by the Rouge by Hannes Rasmus. http://www.vintagesynth.com/audio/moogtheroguedemo.mp3 ) Other old gems like the Roland SH02 and Moog Prodigy have been replaced with new bass and sequencer gear; the Moog Little Phatty, as you can easily spot on the new Page album.
Why all the Moogs?
Easy answer would be that everyone is talking about them, prestigious and expensive stuff that is. And although proud to have them, some drawbacks can be found also here; the sound is a bit chilly and there is no noise generator to be found at all, as with the Prophet 8, it takes forever to heat up and sometimes the oscillators are not really in sync. The Voyager is really a beast and lit up it looks really impressive. Currently it's mainly used to discover cool sounds in the studio it might end up on the stage some day. "But why on earth did they implement this totally useless performance pad on it, when turning the knobs is the way to do it and it is not even multi-touch, which might have given it some extra advantages". I asked what's next and Eddie kind of suggests that a DSI Mopho might end up on the rack within short.
Where do you start making a song?
"Never, or very seldom, I have an idea or the song in my head. When I feel like making new songs I always start off with a bass, then adding drums, melody and finally the vocals. I really need to get the beat going first." >>>>>
Read the rest of the article here >>