HUMAN LEAGUE – DARKNESS (Live At The Dome)
Out on Secret Records on 12th July 2011 is the "Live at the Dome" CD/DVD by The Human League. The set comes as a CD and DVD jewel cased double pack and includes their 2003 show at The Dome in Brighton. Featured are such tracks as "Love Action", "Mirror Man", Don't You Want Me", "Fascination" and "Together in Electric Dreams".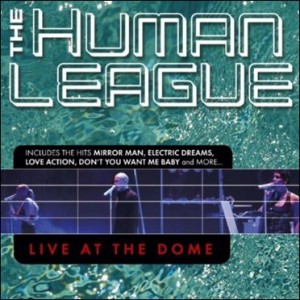 The band's most recent studio output is 2010's "Credo", their ninth studio album which was their first studio album since "Secrets" in 2001. It has been produced by fellow Sheffield act I Monster and was released on Wall of Sound. A first single from the album, "Night People", was released on 22 November 2010. Follow up single "Never Let Me Go" was released on 1 March 2011.
"Egomaniac" is the second single in Germany, Austria and Switzerland because The Human League secured a slot on a major German TV show for a performance of "Egomaniac". The TV programme aired on Friday 4 March and the single was released the same day.
In those three territories the album itself was released on Friday 11 March in order to narrow the gap between the TV airing and the album being available. In the rest of the EU the album was released on Monday 21 March in order to narrow the gap between the release in Germany, Austria and Switzerland and the rest of the continent.
"Credo" is not available domestically in the US or on iTunes until the band have secured a domestic label for the record in that territory.
Comments