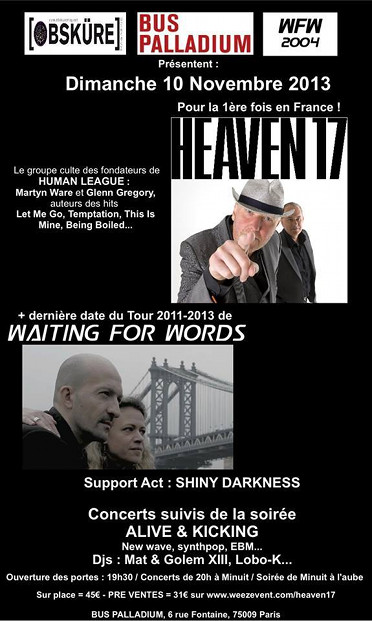 Heaven 17 are to perform for the very first time ever in Paris. Heaven 17, the band of former Human League's Martyn Ware and Glenn Gregory, has actually never performed in France. The french band Waiting For Words will be supporting the band's gig on November 10 at the Bus Palladium in Paris. This date is a unique event for the group and goes with the release of live CD/DVD recorded at Metropolis Studios, London.
Waiting For Words from their side are prepping the release of the double DVD "Live in Paris".
Tickets for this unique event can be purchased right here.
Filmed earlier this week at Bristol O2 Academy, Sonic talked to Martyn Ware from Human League BEF and Heaven 17, as well as a general chat about the tour, the band and synthesizers.

British synthpop act Heaven 17 have announced their 30th anniversary tour in commemoration of their album Penthouse and Pavement. The band will tour the United Kingdom for eight days beginning November 22, performing the album live in its entirety. Visit the links for further details.
German electronic band NUDE have released a radical new recording of Heaven 17's classic 1982 hit single "Let Me Go" . Inspired by Heaven 17's 1982 original, NUDE's version is steeped in big beats and melodic hooks. The song, along with a re-recording of Human League's "Being Boiled,", will appear on their forthcoming second album, "Basic Guerrilla Moves", to be released in October 2010. Four different mixes of NUDE's "Let Me Go" are available throughout Europe via iTunes.