Alkohol und Zigaretten
Instrumental from Georgio – Chase, featured in the 1978 film Midnight Express
Martyn Ware, founding member of the Human League and Heaven 17, as well as the British Electric Foundation and Illustrious, demonstrates the Roland System 100 and the Korg 700S. These are the original instruments that he and Ian Craig Marsh wrote and performed the original version of Being Boiled on.
This was the climax to a 45 minute talk given by Martyn, accompanied by the great Peter Howell of the BBC Radiophonic Workshop, at the Queen Elizabeth Hall, Southbank Centre, London, on the night of November 30th 2013. It preceded a performance by the BBC Concert Orchestra in the main hall, as part of their "The Rest is Noise" season. They performed works by Andrew Poppy, Michael Nyman and commissions by Anne Dudley, which saw the orchestra take on reinterpretations, or "remixes" of Art of Noise's "Into Battle" as well as a new work, Rhythm of a Decade, a mash up of themes from the decade, accompanied by a narration from Paul Morley.
All the other original members of the Art of Noise were present in the audience (Trevor Horn, JJ Jeczalik, Gary Langan), billed by them as a one off 30th anniversary reunion 😉
Art of Noise's "Who's afraid of the Art of Noise?" is being re-released in a deluxe edition 2-disc set holding a CD and DVD via the Salvo/ZTT label. This re-release includes a number of tracks from 2 BBC Radio Sessions and a full-length bonus-DVD. The 1984 released "Who's afraid of the Art of Noise?" was the the first album of Art of Noise, the legendary project founded by Trevor Horn, Paul Morley and the session musicians Anne Dudley, J.J. Jeczalik and Gary Langan.
You can buy this deluxe set at Amazon UK, Amazon USA and Amazon GER.
Considered to be a pioneer in electronic music and sampling, the Art of Noise used technology to rework the same recordings many times over, a novel approach at the time. Although only a relatively small amount of original material was commercially released during the project's active periods (1983, 1989 and 1998, 2000), the Art of Noise's legacy includes scores of reissues, remixes, and compilations of previously released and unreleased material.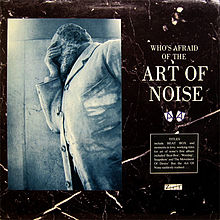 Here's the track list for the bonus DVD:
So what happens now?
Beat Box
Close (to the Edit) version one
Closer (to the Edit) cinema version
Moments in Love
An Art of Noise live at The Value of Entertainment, June 1985
Moments in Love (live around the world, Summer 1999)
Beat Box and Close (to the Edit) live at Coexistence, June 2000
When Art of Noise met Kenneth Williams (and Other Commercial Breaks) parts one to nine
Close (to the Edit) version three
Moments in Love version two
Close (to the Edit) version two
Beat Box edit
So what happened Next?

Excellent resource for Spacesynth
Spacesynth, synthdance, spacedance, spacedisco or whatever you want to call it is instrumental upbeat synth music that focuses on melodies instead of rhythm. Driving basslines, catchy synth riffs, sci-fi influences and futuristic track titles and album covers have always been a major part of spacesynth.
Spacesynth originated in the mid 80's. At that time synthesizers and electronic sounds had become an essential part of popular music and were widely used by such artists as Vangelis, Jean-Michel Jarre, Kraftwerk and Art of Noise. Synthpop hits like Magnetic Fields 2, Pulstar and Magic Fly are well known tracks even today.
Protonic Storm is a synthdance project by Krzysztof Radomski. The creator of Protonic Storm lives in Kowary, Poland. He's the first synthdance artist from Poland who has released music abroad! Krzysztof has been making music since 1997, mainly synthdance, but sometimes also psychedelic trance and ambient. At first he put some of his tracks to traxinspace.com, then to sites like Spacesynth.de (formerly known as Laserdance.de) and finally MP3.com.
Resources
Epsilon Pages, www.epsilonpages.net