Back on the shelfs – Who's afraid of the Art of Noise
Art of Noise's "Who's afraid of the Art of Noise?" is being re-released in a deluxe edition 2-disc set holding a CD and DVD via the Salvo/ZTT label. This re-release includes a number of tracks from 2 BBC Radio Sessions and a full-length bonus-DVD. The 1984 released "Who's afraid of the Art of Noise?" was the the first album of Art of Noise, the legendary project founded by Trevor Horn, Paul Morley and the session musicians Anne Dudley, J.J. Jeczalik and Gary Langan.
You can buy this deluxe set at Amazon UK, Amazon USA and Amazon GER.
Considered to be a pioneer in electronic music and sampling, the Art of Noise used technology to rework the same recordings many times over, a novel approach at the time. Although only a relatively small amount of original material was commercially released during the project's active periods (1983, 1989 and 1998, 2000), the Art of Noise's legacy includes scores of reissues, remixes, and compilations of previously released and unreleased material.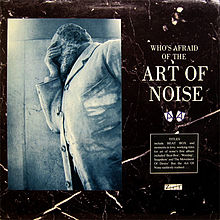 Here's the track list for the bonus DVD:
So what happens now?
Beat Box
Close (to the Edit) version one
Closer (to the Edit) cinema version
Moments in Love
An Art of Noise live at The Value of Entertainment, June 1985
Moments in Love (live around the world, Summer 1999)
Beat Box and Close (to the Edit) live at Coexistence, June 2000
When Art of Noise met Kenneth Williams (and Other Commercial Breaks) parts one to nine
Close (to the Edit) version three
Moments in Love version two
Close (to the Edit) version two
Beat Box edit
So what happened Next?

Comments