Audio link: http://snd.sc/182Zwdh
Directed by Julien Kollert.
Shot by Julien Kollert and François Delamarre.
Kings Love Jacks is:
Nicolas Picard (drums and programming)
G-Rom Le Madec (bass)
Ben Watts (ableton live and production)
Fred Traverso (live synths,programming and production)
Recorded live at the Bunker Steak Palace.
Arranged and produced by Kings Love Jacks
Mix and mastering by Fred Traverso
Thank you Giorgio Moroder !!!
http://www.facebook.com/ilovekings
http://soundcloud.com/kingslovejacks
http://www.kingslovejacks.com
Kebu's all-analog synth cover of Giorgio Moroder's The Chase, performed live at the Sthlm Italo Disco Party 2015 at Nalen, Stockholm, 16.5.2015.
https://www.facebook.com/kebunator
http://kebu.fi
Thanks to Jean-Paul Meulendijks, Alexander Guskov, Heidi Väisänen, Tuulikki Väisänen, and Renaud Guérin for operating the cameras!
This cover version is a mixture of the both the original version and JAIA's Express Remix – with a few of my own additions thrown in.
The song was performed using only analog synthesizers, either played live or sequenced. The performance was recorded directly from the mixer to a stereo track and later mixed together with the ambience from the room. A few mistakes have been cut out and replaced with the audio from a rehearsal take.
Equipment used in this song: Logan String Melody II; MXR EVH117; Roland TR-808, Juno 60, Alpha Juno 1&2; Korg Polysix, Poly 61, Mono/Poly, Micro-preset M500; Moog Source; DSI Tetra; Jomox AirBase99; Touched-by-sound DRM1; Oberheim Matrix 1000; Marion Prosynth; Akai MPC2500 (only for MIDI sequencing), M-Audio Trigger Finger; Yamaha 01v96; Lexicon MPX500 & MPX550, as well as a midi patchbay and additional preamps for my mixer.
http://kebu.fi
https://www.facebook.com/kebunator
My debut album, "To Jupiter and Back", and latest single "Deep Blue" can be bought here:http://www.kebu.fi/
iTunes: https://itunes.apple.com/us/artist/ke…
Spotify: http://open.spotify.com/album/2OPOjHa…
Soundcloud: https://soundcloud.com/kebu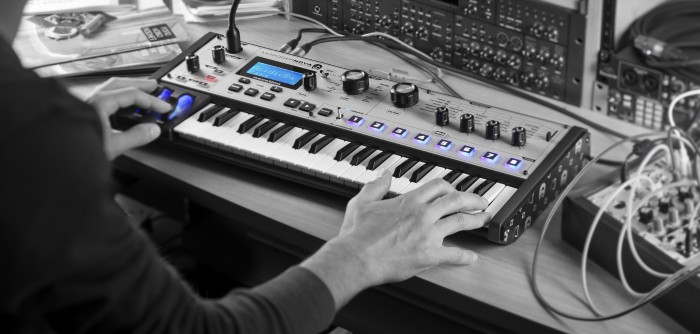 Novation has introduced the MoroderNova, a signature edition version of the MiniNova synthesizer in collaboration with Giorgio Moroder.
Over an incredible five-decade career, Giorgio Moroder has been nothing less than a beacon of influence in electronic music. Thanks to his pioneering work in the mid-70s with Donna Summer, among others, disco simply wouldn't sound the same. In the '80s, his blisteringly modern approach to producing the unforgettable soundtracks to movies including Scarface, Top Gun and Flashdance — using the synthesizer as his main instrument — captivated an entire generation of movie fans. More recently, Moroder has shot back into the popular consciousness, thanks to a universally acclaimed collaboration with Daft Punk in 2013, and his 2015 album Deja Vu, which features Britney Spears, Kylie Minogue and Sia as guest artists.

It's his fascination with electronic sounds that is at the heart of his collaboration with Novation. Giorgio Moroder is nothing less than a god in the synth world, he's been responsible with creating some of the most recognisable sounds across numerous genres, and we're honored to create an instrument bearing his name. The collaboration came about after Giorgio began to use the Novation Mininova, taking it on tour all over the world. With MoroderNova, Novation and Giorgio Moroder have made a piece of synth history. Not only is it Novation's first signature model, it's the first and only synth with Giorgio's name on it, a fact that we're really proud of. What's more, there are only 500 of them, each numbered and supplied with a certificate of authenticity.
MoroderNova features
Instantly-rare, signature version of the MiniNova which pays homage to Giorgio Moroder.
Branded with Giorgio's 'moustache and shades' insignia, and with a distinctive silver/black colourway, the unit is a stand-out piece of synth heritage.
The signature sounds identify some of Giorgio's most seminal moments in music. From the timbres of his disco classics with bands such as Sparks and Donna Summer, to the incredible sounds of the Top Gun and Scarface soundtracks, and his recent work with Daft Punk, Novation's sound designers have matched each and every one to the original. With access to these you'll be able to draw inspiration from the works of one of the most influential producers alive today.
Limited edition, numbered one of 500 units with certificate of authenticity.
Sign up at the MoroderNova website to stay informed.
Alkohol und Zigaretten
Instrumental from Georgio – Chase, featured in the 1978 film Midnight Express
Buy 74 is the New 24 on iTunes: http://smarturl.it/74ItN24iT
Listen to 74 Is the New 24 on Spotify: http://smarturl.it/74ItN24Sp
Buy 74 is the New 24 on Amazon: http://smarturl.it/74ItN24Am
Music video by Giorgio Moroder, Andromeda Software Development, and Jai Friedman-Lewis 74 Is the New 24. (C) 2014 Giorgio Moroder Music LCC under exclusive license to Sony Music Entertainment Sweden AB
After a memorable collaboration with Daft Punk on 2013's Random Access Memories, electronic music legend Giorgio Moroder is back, releasing his first album of solo material in over 30 years. Announced today, the album is set to drop in spring 2015 on Sony/RCA and features a new batch of notable collaborators including Britney Spears, Sia, Kylie Minogue, Charli XCX, and more. Alongside the album announcement comes a new video for the track "74 is the New 24," premiering exclusively on The Creators Project.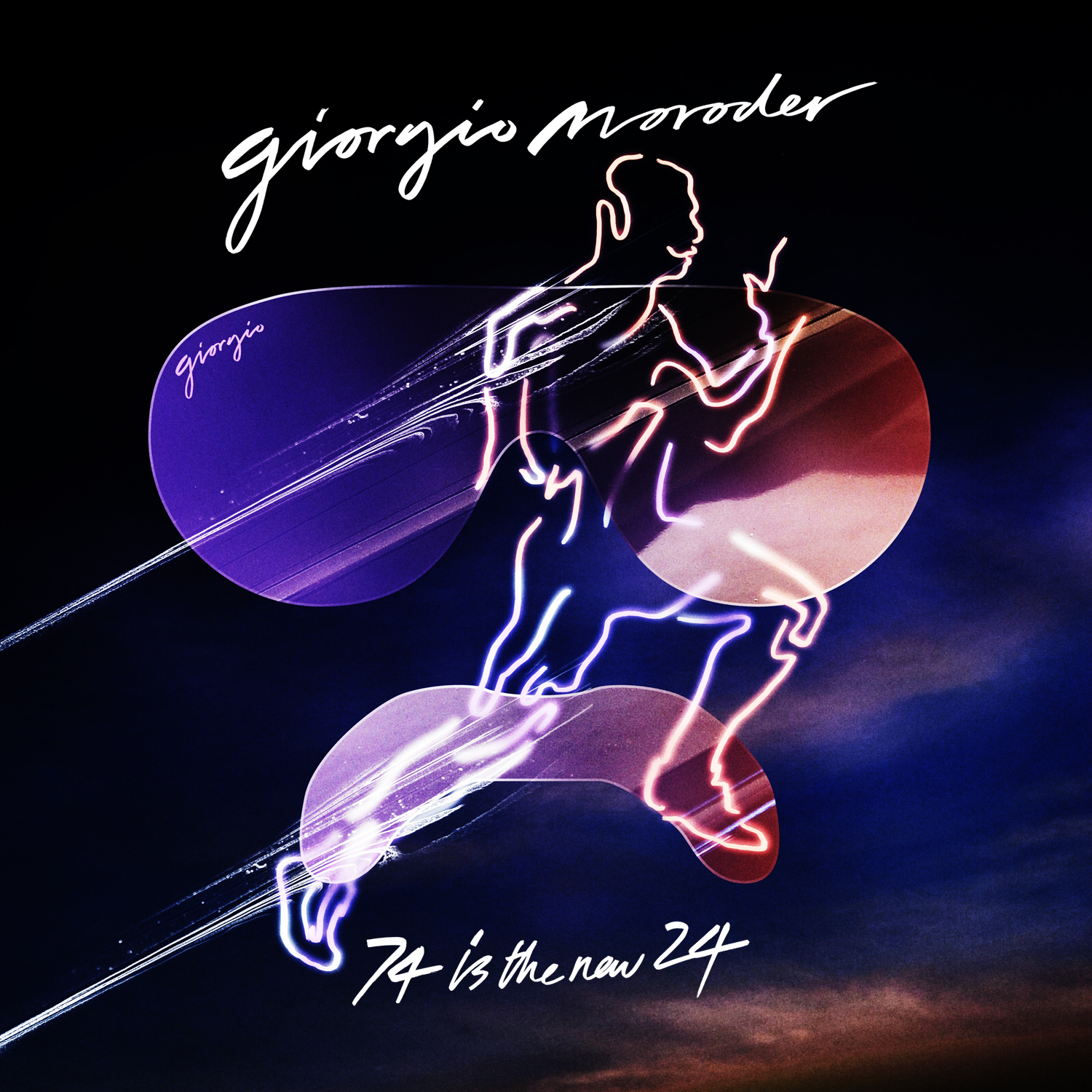 The video, directed by Jai Lewis with help from Andromeda Software Development, is a striking digital landscape of beautiful, strange images that demand rewatching. "We wanted to achieve that Giorgio Moroder 'retro-future' feel," explains Lewis, who is also collaborating with Moroder on a 2015 DJ tour. Lewis continues: "His attention to detail is especially sharp and the sheer amount of time dedicated to this production will surely reflect this. I don't know how this man has the energy to tour, work on an new album, be a family man, and last of all, musical pioneer." The Creators Project spoke to the man himself, Giorgio Moroder, about his career, creative process, and influence on modern music.
DJ VINJAY vs DAFT PUNK Feat. GIORGIO MORODER – "GIORGIO BY MORODER" (Live on Synthesizers) with hardware instruments.
FREE DOWNLOAD (Soundcloud) : https://soundcloud.com/djvinjay/lives…
STUDIO SETUP
– 1 Microkorg Vocoder XL
– 1 Electribe Korg MX
– 1 Electribe Korg SX
– 1 Electribe Korg Em 1
– 1 Electribe Korg Ea 1
– 1 Electribe Korg Er 1
– 1 Midi-Usb Keyboard M-Audio Oxygen 8V2
– 1 Mixer Peavey 8
– 2 Cdj Cmx 3000 Pioneer
– 1 Behringer Tweakalizer Dfx 69
– 1 Pioneer Efx 500
– 2 Monitor Studio HS 80M Yamaha
– 1 Headphone AKG 240 MKII
– 1 External Sound Card ASIO Presonus Firebox
– All the Drum-Machines, Samplers, Keyboards and Synthesizers used in this video are programmed and played by DJ VINJAY.
– Music performed and recorded by
DJ VINJAY @ VinGas Studio (Spain).
– Original theme of the video "Giorgio By Mororder" by Daft Punk feat. Giorgio Moroder.
Giorgio Moroder  has released a new track, Giorgio's Theme.
The track is being released as a free download as part of Adult Swim's 2014 summer singles program, which will be releasing one free digital single per week through September 22.
It will be available as a free download via the Adult Swim site starting on June 9th.
Live from Moogfest 2014 http://moogfest.com