Moogfest 2014 Circuit Bending Challenge went off in full blast at the Moog Store
read the article here http://wp.me/p2DmTM-1Vm
Here's my Circuit Bent Hing Hon EK-001 squarewave keyboard, built into an upright style synth, which runs on four AA batteries (6V). Three months of semi-constant work for the Moog circuit bending challenge of 2014. I hope you enjoy. In this demo I try to run over some of the more pertinent mod combinations while keeping the demo time to a minimum. All sounds in this video are raw.

NOTE: At 19:20 Youtube may have removed the audio (a song by Squarepusher) – to see the [external audio input to video output] you can go here: https://www.youtube.com/watch?v=du6Ve… for another demonstration which youtube hasn't forced me to remove…

Highlights:

0:35 – Distortion modulation on rhythm
2:00 – Engage drum glitch switches
2:57 – First use of pitch LFO
4:30 – All LFOs in use with keys
6:00 – Rhythm skip & key sustain
6:20 – Short demo of hex keyboard (and optic theremin)
8:30 – Rhythm skip/LED based optic theremin mod, then LFOs added
12:41 – Optic theremin for dist. modulation controlled by hand movements
13:30 – Vibrato touch contact
14:05 – Crude CV input (TR-626 playing rhythm, x0xb0x as CV source)
17:13 – Black and white visualization output demo (keyboard sounds)
18:20 – Audio input distorted (x0xb0x as audio source)
19:18 – B&W visualization output (from external audio input)
20:25 – Video input distortion
22:23 – Triforce get! (hex keyboard)

Detailed photo album of progress, build instructions, and schematics located here: http://imgur.com/a/qOT5Y

A full Bill of Materials spreadsheet is available here for download:http://www.bit.ly/1bXsns8

If you have any feedback or questions that aren't answered by the schematics and other info in the photo album, just comment or send me a message here on youtube, or email me at george.gleixner@gmail.com – always happy to help!
Live from Moogfest 2014 http://moogfest.com
Engineer Steve Dunnington introduces us to the Moog Werkstatt special VIP monosynth created especially for VIP Engineer guests to Moogfest. Will we ever be able to buy one?

Moogfest 2014, a five-day festival 'dedicated to the synthesis of technology, art, science and music', kicks off this Wed, April 23rd, in Asheville, NC. The electronic music festival will feature a full schedule of daytime programs, evening concerts and more. Featured performers and panelists are a who's who of electronic music, including: Kraftwerk, Giorgio Moroder, Keith Emerson, Nile Rodgers, Mark Farina, Sasha, Janelle Monae, Dorit Chrysler, Forest M. Mims, David Borden, Tom Oberheim, Joseph Paradiso, Daedulus, Roger Linn, Dave Smith, Don Buchla and many more.
Nightime concerts – Moogfest will offer five evenings of musical performances by electronic music artists of all types, including: electronic music pioneers Kraftwerk's 3D show; Pet Shop Boys; M.I.A.; super producer Nile Rodgers with his band CHIC; Giorgio Moroder; Keith Emerson; a rare performance by UK's Darkstar; Moderat; Mad Decent's Dillon Francis and Riff Raff; Zed's Dead; El-P; and Factory Floor; and over 70 more artists spanning the 5 day festival.
Daytime events – Daytime at Moogfest will offer a five-day conference with thought leaders and pioneers of music and technology, including Simpsons and Futurama's David X. Cohen; Janelle Monae; improvised performances by Yeah Yeah Yeah's Nick Zinner, Bradford Cox, and Dan Deacon; and Google's brightest minds exploring the future of audio; plus conversations with interdisciplinary research laboratory MIT Media Labs; MAKE Magazine's Mark Fraunfelder; OMNI Reboot, a magazine at the intersection of science, technology, art, culture, design, and metaphysics; videogame arts and culture publication Kill Screen; and more presenting one of a kind programming exclusive to Moogfest.
The Modular Marketplace will showcase the latest and greatest from a lineup of innovative instrument makers, including boutique electronics, experimental effects and modern modular synthesizers. The Modular Marketplace will host daily demonstrations, workshops and sound experiments, as well as a free week-long clinic on electronic music production. Programming includes presentations by The Pioneers of Electronic Music Instruments: Roger Linn, Tom Oberheim, Don Buchla, David Borden, and Dave Smith.
Details and ticket information are available at the Moogfest site.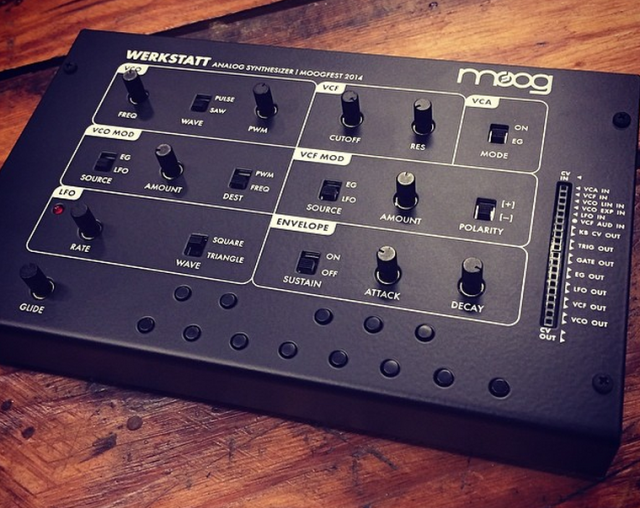 Moogfest has released this sneak preview image of the new Moog Werkstatt Analog Synthesizer, with a couple of interesting features:
Along the right-hand side, there is a break-out patch-bay, allowing modular patching of the Werkstatt; and
Along the bottom, there's a button-style keyboard.
"Werkstatt" means "workshop" in German, so the DIY function is probable. The architecture is a single-oscillator monosynth, switchable between saw waves and PWM. Both the filter and oscillator mod can be set to either an independent LFO or the envelope. Attack / Decay / sustain switch controls the envelope. The most interesting feature is the analog patch bay along the right-hand side of the unit, implemented as a simple header strip. This should suggest semi-modular capabilities by patching with jumper wires. A prototype shot shows those jumpers in action and a 1/4″ jack plug for audio coming out the back.
I Dream Of Wires' premiere screening is at Moogfest on April 26, with a 2nd Moogfest screening April 27!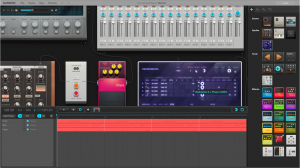 Moogfest has announced the Moogfest Audiotool competition, offering participants a chance to play at Moogfest and get released on a compilation.
Starting today, Moogfest is inviting anyone to produce a track – using the free cloud-based audio workstation Audiotool – and submit it to the Moogfest Competition. The winner gets to play a set at Moogfest in Asheville, North Carolina, taking place from the 23rd to the 27th of April 2014. The winner will also, along with 7 runners up, have their tracks included on a limited edition release which will go out to the artists, VIPs and press who will be attending Moogfest.

Participants will have until the 25th of March to submit a track to the competition. A select panel including some of the Moogfest artists will then judge the tracks, with the the winner being announced on 1 April 2014.

Moogfest is the annual festival that celebrates the innovative spirit of founder Dr. Robert Moog, an American pioneer of electronic music and inventor of the Moog synthesizer. Emmy Parker, Brand Director at Moog Music Inc commented: "Moogfest represents the synthesis of technology, music and art. Audiotool's innovative platform empowers emerging artists to create on their own terms. We are excited to offer Audiotool's rich community of musicmakers an opportunity to be a part of Moogfest 2014."

Since the 50s Moog Music has pioneered and developed devices that offer artists endless possibilities when it comes to creating sound. Audiotool, which started in 2008, brings together a range of retro and new school synthesizer emulations running in the browser, allowing collaboration and free access for anyone. The browser-based audio workstation is all about democratising the process of music creation and collaboration in the cloud. This partnership offers a unique opportunity to combine forces and to capitalize on the natural strengths and alignment of the two brands.

Audiotool inventor André Michelle said: "this partnership is huge for us and our users will be super excited about the chance of winning a set at Moogfest, for one just because of the incredible line-up. It's also a unique opportunity for Audiotool users to have their music critiqued by some of the Moogfest artists."
The contest submission phase ends March 25th, 2014. The winners will be announced April 1st, 2014.
The grand prize is playing live set at Moogfest (flight, hotel and artist pass included), and 1st – 8th place winners will get their tracks on the Moogfest 2014 compilation.
Go here to record your song >>

Moogfest 2014 organizers have announced their lineup of daytime presenters, which includes a kick-ass lineup of futurists, musicians, scientists, authors, filmmakers and pioneers of electronic music instrument design.
The lineup includes multimedia artist Laurie Anderson, disco pioneer Giorgio Moroder, film composer Cliff Martinez, futurist thinkers Jerome Glenn, Nick Bostrom, and George Dvorsky plus MIT Media Lab's Joseph Paradiso, Sonification Professor Bruce Walker, and more from Make Magazine, OMNI, and SETI (Search of Extraterrestrial Intelligence).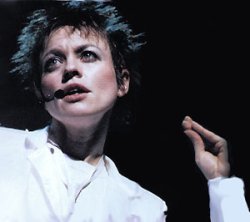 And then there's the Electronic Music Instrument Pioneers: Herbert Deutsch, Roger Linn, Don Buchla, Tom Oberheim, Dave Smith, Malcolm Cecil, Keith Emerson and more.
Moogfest takes place April 23-27th, 2014 in downtown Asheville, NC.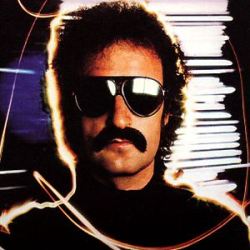 Here are the details:
Moogfest 2014 Daytime Presenters
Moogfest is a five-day festival dedicated to the synthesis of technology, art and music.
The daytime conference is guided by pioneers of music and technology with a participatory program of intervention and collaboration:
5 days of talks, presentations, and film screenings with futurist thinkers, inventors, entrepreneurs, designers, engineers, artists, and musicians
5 days of New Media art installations and interactive technology experiences/exhibitions
Synth building workshops and other interactive education
Here is the list of confirmed presenters:
Laurie Anderson – Musician, composer, pioneer in electronic music and one of the great experimental performance artists.
Giorgio Moroder – Record producer, songwriter, film score composer and pioneer of disco and electronic music.
Cliff Martinez – Composer best known for his epic and haunting film scores, which include Drive, Solaris and Traffic.
Jerome C. Glenn – Co-founder and Director of The Millennium Project, a renowned expert on Future Studies.
Dr. Nick Bostrom – Futurist and philosopher at the University of Oxford. Director of the Future of Humanity Institute and the Program(me) on the Impacts of Future Technology.
George Dvorsky – Futurist concerned with the ethical and sociological impacts of emerging technologies.
Dr. Joseph Paradiso – Associate Professor at MIT Media Lab's Media Arts and Sciences program and Co-Director of the Things That Think Consortium, which examines the extreme future of embedded computation and sensing.
Bruce Walker – Associate Professor at the Schools of Psychology and Interactive Computing at the Georgia Institute of Technology.
Mark Frauenfelder – Founding Editor-In-Chief of MAKE magazine, founder and Co-Editor of the weblog/print zine Boing Boing and Editor-In-Chief of Cool-Tools.org.
Claire Evans – Musician, artist and science writer. Editor-In-Chief at the science fiction magazine OMNI, investigating the intersection of art and science.
Forrest M. Mims III – Author, researcher, lecturer and columnist. Written more than 60 books about science, lasers, computers and electronics.
Charles Lindsay – Photographer and artist, is the first of its kind, Artist in Residence at the SETI (Search of Extraterrestrial Intelligence) Institute.
Hans Fjellestad – Director, producer, writer and editor of the 2004 documentary Moog and producer and writer of 2009′s The Heart Is A Drum Machine.
Herbert Deutsch – Composer, educator and inventor. Professor Emeritus of Electronic Music and Composition at Hofstra University. Collaborated with Bob Moog in the development of the Moog Synthesizer in 1964.
Roger Linn – Industrial designer of electronic drum machines and guitar effects pedals. His products are used on countless famous recordings.
Don Buchla – Synthesizer pioneer and founder of electronic music equipment company Buchla and Associates.
Tom Oberheim – Audio engineer and maker of analogue synthesizers, effects processors, sequencers and drum machines.
Malcolm Cecil – Creator of TONTO, the world's first multi-timbral, polyphonic analog audio synthesizer.
Dave Smith – Engineer and musician. Known as the "Father of MIDI" for his role in the development of MIDI.
Keith Emerson – English keyboardist and composer. Founder of Emerson, Lake and Palmer. Acknowledged as one of the most technically accomplished keyboardist in rock history.
Jason Amm – Filmmaker, music producer, remixer.  Performs as Solvent, co-owner of record label Suction.  Amm is also the producer of the independent documentary "I Dream Of Wires" which explores the history, demise and resurgence of the modular synthesizer.
In addition to the daytime lineup, Moogfest by night will offer five evenings of musical performances by new trailblazers, early pioneers of electronic music and major headliners in over ten venues across the city, including arena concerts and new music showcases.
Additional daytime programming, and nighttime performing artists will be announced shortly.
Ticket Info:
General Admission and VIP tickets for Moogfest are available now at Moogfest.com. Phase 1 tickets start at $199 for 5-Day General Admission, plus a limited number of $499 5-Day VIP Admission (while supplies last) through December 19 when Phase 2 GA tickets go up to $299. All ticket prices are exclusive of applicable fees.
Moogfest also hosts free events throughout the festival which are open to the public:
4 day street festival, including new media art installations and live music
2 day North Carolina Tech Expo & Interactive Job Fair
5 day new electronic instrument pop-up shop