Keyboardist Zac Baird demonstrates how he uses the Moog Werkstatt analog synthesizer within Ableton Live DAW software. After the video, click the link above for even more info on the Moog Werkstatt and Ableton Live.
no processing at all
In this tutorial we will be adding a button controlled vibrato effect using a photoresistor, LED, and Arduino microcontroller. By using an external circuit for vibrato we are able to free up our LFO for other forms of modulation.
Find complete fritzing models, Arduino code, more mods and tutorials here: http://bit.ly/WerkstattWorkshop
In this project we will use a 555 timer to create a second square wave LFO. By adding a second LFO we can create much richer textures and more complex sounds.
In this project we will be integrating an accelerometer to measure movement in three dimensions with our Werkstatt using an Arduino microcontroller. An accelerometer is a device that measures acceleration in three dimensions and outputs a corresponding voltage.
A musical demonstration of using a external gate in jack with the Moog Werkstatt-01 hackable analog synth.
1st modification of my werkstatt: adding an ext gate IN jack. All info on it is here:http://laurentidesynthworks.blogspot….
effects used: moogerfooger MF-104M Delay & Electro Harmonix Cathedral Reverb
At Moogfest 2014, Moog Music introduced the Werkstatt as a special DIY project that attendees could build in a two-day course at the Moog Factory.
In this video, Moog Music's Steve Dunnington and Trent Thompson give a behind-the-scenes look at the Werkstatt and what it can do.
Background video description:
I'm only a day back from this years Moogfest in Asheville and already have my new Moog Werkstatt synth talking to my TB-303 with CV and Gate.
This is just after i got it working for the first time…
www.leecoombs.net
Acid baby! I made this in 5 minutes
So excited about the possibilities this little Werkstatt synth has…
Engineer Steve Dunnington introduces us to the Moog Werkstatt special VIP monosynth created especially for VIP Engineer guests to Moogfest. Will we ever be able to buy one?
The new Moog Werkstatt in action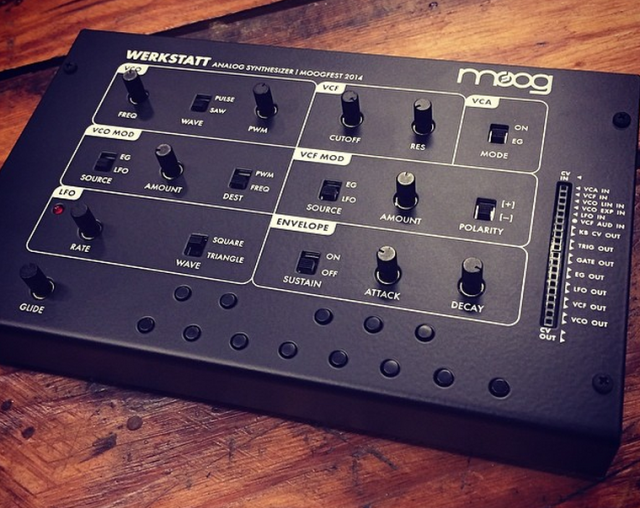 Moogfest has released this sneak preview image of the new Moog Werkstatt Analog Synthesizer, with a couple of interesting features:
Along the right-hand side, there is a break-out patch-bay, allowing modular patching of the Werkstatt; and
Along the bottom, there's a button-style keyboard.
"Werkstatt" means "workshop" in German, so the DIY function is probable. The architecture is a single-oscillator monosynth, switchable between saw waves and PWM. Both the filter and oscillator mod can be set to either an independent LFO or the envelope. Attack / Decay / sustain switch controls the envelope. The most interesting feature is the analog patch bay along the right-hand side of the unit, implemented as a simple header strip. This should suggest semi-modular capabilities by patching with jumper wires. A prototype shot shows those jumpers in action and a 1/4″ jack plug for audio coming out the back.