This talk was held on Nov 16th as part of RBMA Paris 2015.
In the immediate aftermath of the devastating attacks in Paris, the Red Bull Music Academy and two of its lecture guests, Jean-Michel Jarre and Laurie Anderson, decided to sit down on the couch to discuss music and its role in uncertain times. Having been friends and collaborators for decades, Jarre and Anderson's understanding of each others' work and ideas weaves this lecture together: with realism, wisdom and humor.
Although they sit on the couch casually, and as equals, Jarre and Anderson have had globally acclaimed careers that have spanned music, art and performance since the 1970s. When you look at the current landscape of live electronic music performance, everyone from EDM superstars to underground techno DJs owe a huge debt to how Jarre visualized and performed classic albums such as Oxygène and Équinoxe to millions of people. Today, Jarre continues to innovate new ways of composing and performing electronic music with rapidly developing visual technologies: a subject he delves into in this lecture.
Anderson has always had a lot of fun playing with people's perceptions of what a music piece could be. Originally a sculptor before she started crafting her unique soundscapes, her calm, syncopated delivery conjures all manner of tripped-out dream imagery – evocative and vague enough to qualify as fully-blown artistic statements. Widely influential for her use of early samplers and invented electronic instruments, Anderson has collaborated with Brian Eno, Andy Kaufman and late husband Lou Reed – dancing her own path through art and music with a sense of wonder for life and nature.
"O Superman (For Massenet)" is a 1981 song by experimental performance artist and musician Laurie Anderson. Part of the larger work United States, "O Superman," a half-sung, half-spoken, almost minimalist piece unexpectedly rose to #2 on the UK Singles Charts in 1981[2]. Prior to the success of this song, Anderson was little known outside the art world."
Apple promo video for the Macintosh's midi capabilities featuring Chick Corea, Herbie Hancock, Laurie Anderson, and some of the funkiest digital basslines you've ever heard!
Home Of The Brave, 1986.

Moogfest 2014 organizers have announced their lineup of daytime presenters, which includes a kick-ass lineup of futurists, musicians, scientists, authors, filmmakers and pioneers of electronic music instrument design.
The lineup includes multimedia artist Laurie Anderson, disco pioneer Giorgio Moroder, film composer Cliff Martinez, futurist thinkers Jerome Glenn, Nick Bostrom, and George Dvorsky plus MIT Media Lab's Joseph Paradiso, Sonification Professor Bruce Walker, and more from Make Magazine, OMNI, and SETI (Search of Extraterrestrial Intelligence).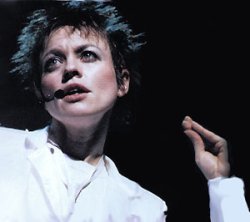 And then there's the Electronic Music Instrument Pioneers: Herbert Deutsch, Roger Linn, Don Buchla, Tom Oberheim, Dave Smith, Malcolm Cecil, Keith Emerson and more.
Moogfest takes place April 23-27th, 2014 in downtown Asheville, NC.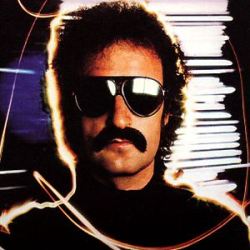 Here are the details:
Moogfest 2014 Daytime Presenters
Moogfest is a five-day festival dedicated to the synthesis of technology, art and music.
The daytime conference is guided by pioneers of music and technology with a participatory program of intervention and collaboration:
5 days of talks, presentations, and film screenings with futurist thinkers, inventors, entrepreneurs, designers, engineers, artists, and musicians
5 days of New Media art installations and interactive technology experiences/exhibitions
Synth building workshops and other interactive education
Here is the list of confirmed presenters:
Laurie Anderson – Musician, composer, pioneer in electronic music and one of the great experimental performance artists.
Giorgio Moroder – Record producer, songwriter, film score composer and pioneer of disco and electronic music.
Cliff Martinez – Composer best known for his epic and haunting film scores, which include Drive, Solaris and Traffic.
Jerome C. Glenn – Co-founder and Director of The Millennium Project, a renowned expert on Future Studies.
Dr. Nick Bostrom – Futurist and philosopher at the University of Oxford. Director of the Future of Humanity Institute and the Program(me) on the Impacts of Future Technology.
George Dvorsky – Futurist concerned with the ethical and sociological impacts of emerging technologies.
Dr. Joseph Paradiso – Associate Professor at MIT Media Lab's Media Arts and Sciences program and Co-Director of the Things That Think Consortium, which examines the extreme future of embedded computation and sensing.
Bruce Walker – Associate Professor at the Schools of Psychology and Interactive Computing at the Georgia Institute of Technology.
Mark Frauenfelder – Founding Editor-In-Chief of MAKE magazine, founder and Co-Editor of the weblog/print zine Boing Boing and Editor-In-Chief of Cool-Tools.org.
Claire Evans – Musician, artist and science writer. Editor-In-Chief at the science fiction magazine OMNI, investigating the intersection of art and science.
Forrest M. Mims III – Author, researcher, lecturer and columnist. Written more than 60 books about science, lasers, computers and electronics.
Charles Lindsay – Photographer and artist, is the first of its kind, Artist in Residence at the SETI (Search of Extraterrestrial Intelligence) Institute.
Hans Fjellestad – Director, producer, writer and editor of the 2004 documentary Moog and producer and writer of 2009′s The Heart Is A Drum Machine.
Herbert Deutsch – Composer, educator and inventor. Professor Emeritus of Electronic Music and Composition at Hofstra University. Collaborated with Bob Moog in the development of the Moog Synthesizer in 1964.
Roger Linn – Industrial designer of electronic drum machines and guitar effects pedals. His products are used on countless famous recordings.
Don Buchla – Synthesizer pioneer and founder of electronic music equipment company Buchla and Associates.
Tom Oberheim – Audio engineer and maker of analogue synthesizers, effects processors, sequencers and drum machines.
Malcolm Cecil – Creator of TONTO, the world's first multi-timbral, polyphonic analog audio synthesizer.
Dave Smith – Engineer and musician. Known as the "Father of MIDI" for his role in the development of MIDI.
Keith Emerson – English keyboardist and composer. Founder of Emerson, Lake and Palmer. Acknowledged as one of the most technically accomplished keyboardist in rock history.
Jason Amm – Filmmaker, music producer, remixer.  Performs as Solvent, co-owner of record label Suction.  Amm is also the producer of the independent documentary "I Dream Of Wires" which explores the history, demise and resurgence of the modular synthesizer.
In addition to the daytime lineup, Moogfest by night will offer five evenings of musical performances by new trailblazers, early pioneers of electronic music and major headliners in over ten venues across the city, including arena concerts and new music showcases.
Additional daytime programming, and nighttime performing artists will be announced shortly.
Ticket Info:
General Admission and VIP tickets for Moogfest are available now at Moogfest.com. Phase 1 tickets start at $199 for 5-Day General Admission, plus a limited number of $499 5-Day VIP Admission (while supplies last) through December 19 when Phase 2 GA tickets go up to $299. All ticket prices are exclusive of applicable fees.
Moogfest also hosts free events throughout the festival which are open to the public:
4 day street festival, including new media art installations and live music
2 day North Carolina Tech Expo & Interactive Job Fair
5 day new electronic instrument pop-up shop
The School of Visual Arts 2012 Commencement Exercises were held on May 10, 2012 at Radio City Music Hall. Eileen Hedy Schultz, member of the board of directors at SVA, introduces artist Laurie Anderson's address. It's 30+ minutes long, but her speeches are often fascinating and provocative, like when she re-contextualizes Karl Rove's words as a manifesto for artists, when offers her take on the Maker movement, or when she looks at the role of beauty in science.
Laurie Anderson – Bright Red