October 23, 2014 · Posted in
Uncategorized
·
Comments Off

on NASA publishes Solar System & Beyond Sounds
June 7, 2013 · Posted in
Uncategorized
·
Comments Off

on Space performance: Buzz Aldrin and Thomas Dolby Perform "She Blinded Me With Science"
Some of the brightest minds in the world gathered at Smithsonian's "The Future is Here" conference to discuss the great triumphs and future innovations in science and technology
http://www.smithsonianmag.com/ideas-i…
February 20, 2013 · Posted in
Uncategorized
·
Comments Off

on SOTU – new virtual instrument from Hollow Sun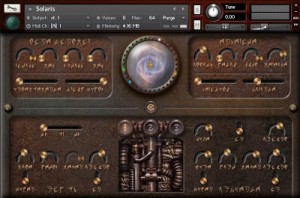 A new instrument from Hollow Sun
"If you have even the vaguest interest in anything cosmological, you will no doubt be aware that NASA and other international space agencies have been sending probes out into the deepest recesses of our solar system and, with the aid of telescopes as well, have been recording the radio waves emitted by our universe and converting them to audio. The music of the spheres as was once referred to in the middle ages … or the Sounds Of The Universe … or SOTU.
It's intriguing and beguiling stuff – long evolving soundscapes that rumble and warble and bleep and phase and swirl, the kind of thing you might expect from an exquisite album of abstract electronica or 'chill out' music. I did contact NASA to license these recordings but they weren't keen. Well… bollocks to them because…
It's all a con, a cunning ruse – there's a race of impish aliens out there who have a machine that generates these sounds which they broadcast around the cosmos to confuse us earthlings …
And we have laid our hands on it and recreated it for Kontakt 4…"
December 7, 2012 · Posted in
Uncategorized
·
Comments Off

on Space Invaders: RetroCade Synth LCD Demo
A quick look at the LCD in action with the 1.0 release of the RetroCade Synth software.
For more information visit:
http://retrocade.gadgetfactory.net
The R-R-R-R-RetroCade Synth from Gadget Factory. This exciting new hardware synthesizer is built on Gadget Factory's own Papilio platform, and is designed with both hardware hackers and musicians in mind. Musicians will love the ease of use and extreme retro glitchiness that the Retrocade has to offer. Hackers will love that it is open-source, and is designed to be HACKED. Either way, you're in luck. You will find no better, more flexible synthesizer at this price point anywhere else!
The RetroCade Synth boasts the capability to play the built-in Commodore 64 SID chip, the Yamaha YM-2149 chip, and .mod files – all at the same time! The RetroCade Synth can be played via any external MIDI control interface or via your favorite audio/ sequencing software. We have built a custom VST software dashboard which gives you visual control over all the various parameters the synth has to offer!
June 1, 2012 · Posted in
Uncategorized
·
Comments Off

on Science off the Sphere: Space Soundwaves II- Electric Didgeridoo
In his off-duty time, NASA Astronaut Don Pettit likes to explore scientific curiosities of his own design. Sometimes that means cutting his shirt up and playing the space station vacuum cleaner like a didgeridoo. Answer the challenge question at www.physicscentral.com/sots for a chance to have your name read from space!
June 1, 2012 · Posted in
Uncategorized
·
Comments Off

on Sneak preview of the new Sugar Bytes CYCLOP synth
Cyclop is the new bass synthesizer from Sugar Bytes.
Check it out!
It's a monophonic monster, armed to the teeth with jaw dropping effects and wobblier than a jelly on a space hopper. CYCLOP is the scratch-looping, sample-mashing, sub-generating, harmonic-splicing mothership of the twisted bass alliance and it's landing on your desktop soon. With masses of new sounds for you audio-junkies, from screaming analog syncs through brutal FM sounds to scintillating spectral shimmers. The integrated sampler also works as wavetable synth and pitch transformer for creating unbelievable and disturbing monster voices. CYCLOP is more than massively loaded with features: 10 incredible filters, unique wobble generator, feedback processor, 3 overdrives and an effects sequencer. CYCLOP is expected to be released in spring 2012.
April 25, 2012 · Posted in
Uncategorized
·
Comments Off

on HyperSpace 3D Synth for iPhone
Synthesize music with sculpted waves; grok mesmerizing visuals.The Strange Agency has introduced a new software synth for iOS, HyperSpace.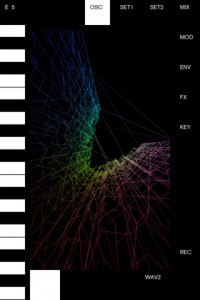 HyperSpace, a 'waveform-sculpting 3-D oscilloscope synth' is the latest edition of TSA's Space series. HyperSpace uses a unique algorithm to generate images from sound. It works similarly to a harmonograph, but uses its 3 voice oscillators instead of pendulums to create images. Each oscillator is mapped to a dimension in 3-D space. Playing a single note creates a wave, like on an ordinary oscilloscope. Playing two notes at once creates a plane as with the harmonograph, and playing a three note chord creates a volume. There are two oscillators to crossfade between. These can be set to standard shapes as with older synths, but HyperSpace also lets you sculpt the waves with touch. Changing the wave shapes of course alters the sound, but it also alters the generated imagery.
More at:
http://thestrangeagency.com/products/hyperspace/
March 28, 2012 · Posted in
Uncategorized
·
Comments Off

on Robot Band EOL covers Maroon 5 "Moves Like Jagger"
Background information:
In my previous videos I have received alot of comments requesting the vocal styles of Stephen Hawking so your wish is my command. This is song is based on the group Maroon 5's "Moves Like Jagger" Please support the band and buy this song.
Vocals Digital DECtalk Express play both the male and female vocals (the same unit as Stephen Hawking used back in the 80's) and it is controlled by a Genesi linux box
Robot Snare, Robot Bass Drum and Tambourine
Robot Keyboard and my trusty old HP Scanner
March 16, 2012 · Posted in
Uncategorized
·
Comments Off

on SpaceLab – new iOS synth app
SpaceLab is a monophonic synthesizer. It has four ways to play: keyboard, graph, guitar, and wind controller. Underneath those interfaces is a fully programmable subtractive synth with oscillators, filters, envelopes, effects, FM, presets, an arpeggiator, full MIDI control, and much more!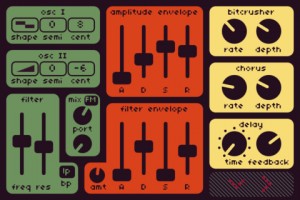 June 18, 2011 · Posted in
Uncategorized
·
Comments Off

on Making cool sounds with the Roland Space Echo
The Roland Space Echo is a vintage Tape-Echo machine for creating true analog echo effects. The RE-201 is a simple system in which a small loop of tape records an incoming signal and immediately plays the recorded sound back over a couple playback heads before being erased over by new incoming audio. A real analog system with warm, gritty and almost noiseless operation, the Space Echo can provide warm, unpredictable and highly tweakable echo effects.

There are twelve settings to adjust various tape loop speeds, number of repeats, levels, intensity, etc… It can even generate some of its own feedback loops for instant sci-fi effects. It features a built in spring reverb for even more classic analog effects. The RE-201 not only has Vintage appeal but is still widely used to get those dubby, slightly unpredictable, musically analog echo effects.
In this video:
Discovered a killer patch while hanging out in the studio. Serge Creature & Sequencer-A modules sent through a Roland Space Echo RE-150 & the clean channel from the Space Echo sent to a Boss DD7 Delay.