Beautiful space sounds coming out this little gadget!
Here were are trying out a couple presets on the incredible sounding Eventide Space reverb pedal. The first preset is "Size Matters" and the second is "Gigaroos". Our source is the amazing Critter and Guitari Pocket Piano. Instantaneously you can create some super-groovy arpeggios and sequences. Depending of the setting one of the knobs will let you control the filter cutoff or the decay time. Sweet.
Specifications:
Space features 12 of Eventide's signature reverb combination effects culled from the H8000FW and Eclipse V4 along with some startling new magic. Space includes 100 presets, including presets crafted by Flood and Alan Moulder (The Killers, Nine Inch Nails, Smashing Pumpkins, My Bloody Valentine, 30 Seconds to Mars, PJ Harvey and Them Crooked Vultures), Justin Meldal-Johnsen (Beck, Nine Inch Nails), Richard Devine (sound designer, synthesist, performer, remixer), Vernon Reid (Living Colour), Amedeo Pace (Blonde Redhead), Alex Somers and Jonsi Birgisson (Jonsi and Alex, Sigur Ros), Amadeo Pace (Blonde Redhead) and John Agnello (Patti Smith, Sonic Youth, Dinosaur Jr., and Kurt Vile). These unique effects, previously available only in Eventide rack processors, are now available in a compact, roadworthy package. Never before has there been a more dazzling collection of reverb algorithms combined with delays, pitch shifting, tremolo, modulation, and spatial effects in such a compact and affordable package. Eventide stompboxes are available at your favorite authorized Eventide dealer.
Features
12 of Eventide's Signature Reverb Combo Algorithms

Room
Plate
Spring
Hall
Reverse
Shimmer
ModEchoVerb
DualVerb
Blackhole™
MangledVerb™
TremoloVerb
DynaVerb

Wide variety of spatial effects including basic reverbs, delays and unique combination effects
Studio quality sound
Compatible with any source material – solo instruments, drums, vocals, or complete mixes
Software upgradeable via USB 2.0
MIDI control via USB or MIDI in, out/thru
Instant program change
Real-time control with 10 knobs, MIDI, or Expression Pedal
Tap tempo and MIDI clock sync
100 factory presets, unlimited through MIDI
True analog bypass
Rugged cast metal construction
Reliable metal footswitches for instant preset access
Mono or stereo operation
Guitar or line level inputs and outputs
Programmable HotSwitch
For all you space fans out there

I truly enjoy outer space. It's absolutely amazing that we now have the ability to send instruments out into the void of the universe to observe all sorts of interesting things. Asteroids! Moons! Planets! Dark matter! This is the perfect opportunity for a Carl Sagan quote:
"Somewhere, something incredible is waiting to be known."
The footage in this little film was captured by the hardworking men and women at NASA with the Cassini Imaging Science System. If you're interested in learning more about Cassini and the on-going Cassini Solstice Mission, check it out at NASA's website:
saturn.jpl.nasa.gov/​science/​index.cfm
Nice spacy sounds in this one:
It gets loud at moments, so watch your speaker volume : A demo of the new free standalone synth "The Swarm". Rather unique compared to most other free synths available (Mac too!). I really enjoy the deep tone. Inspired by Leon Dewan's "The Swarmatron". A good alternative for people who don't have several thousand dollars readily available. Obviously, this is no substitute for the real analog version but it does give the user a taste of the massive power of 8 Saws layered and detuned a bit from a central tone. Leon makes some of the most unique analog pieces around. Kontrolled by a Korg "NanoKontrol"
An impressive piece of code.
Check out : http://www.dewanatron.com/
Monolith is a very low latency, guitar driven VST plugin Synthesiser.
This is just a preview of the prototype.
Monolith is planned for release in the spring of 2011.
Space here we come:
This video demonstrates SynthTronica, the spectral synth by Leisuresonic for the iPad. This episode showcases SynthTronica's Dynamic Multitouch Filter, an expressive and innovative musical controller, for use in live performance, and for touch sound synthesis.
Synth Architecture
SynthTronica is a hybrid instrument; its synth engine combines characteristics of virtual analog synthesis and digital sampling. For most "traditional" synthesizers, sound evolution is controlled by parametric filters — combinations of VCFs and LFOs. Instead, SynthTronica uses time-varying filter data to provide spectral evolution; an instance of such data is called a "formant". Formants can be created in several ways, through the iPad's microphone, importing audio files, and capturing performances of SynthTronica's multitouch filter. While formants are currently played in strict loops, the maximum formant duration is fairly large — just over 60 seconds — providing potential for significant, albeit prerecorded, variation. The benefit of formants lies with their generality. A formant can be made from sources as disparate and varied as Nord percussion, cellos, choirs, braying donkeys, or the chorus of Katy Perry's latest single. The latter example is an interesting consideration: a formant can reflect much of the rhythmic and sometimes vocal characteristics of its source sound, while effectively obliterating its pitch. Pitch is instead provided by SynthTronica's synthesizer front-end. When readily-discernible formant sources are used, SynthTronica provides a unique musical space that lies between the boundaries of pure sound synthesis and referential sampling. Formant synthesis is not explicit like sampling; you play through the Katy Perry groove as if it was your avatar. With SynthTronica, a performer needs to make pitch choices for any sound to be heard.
A-ha member presents 'The Apparatjik Light Space Modulator'
Apart from A-ha, Magne 'Mags' Furuholmen has also been involved with the music, art and film project known as Apparatjik since 2008. The project has since released an album and two singles, and performed three concerts in 2010. Now they are preparing for their first large-scale project, to take place in Germany in March including an installation and performances at the Neue Nationalgalerie Berlin. (Tickets for the performances have gone on sale today, 1 February. Note that tickets will be limited to approximately 200 per show, and can be purchased from www.apparatjik.com . If you plan to go, contact us at info@side-line.com ). This project by Apparatjik is to be understood as homage to the legendary Meta-Musik-Festival that took place during the seventies at the Neue Nationalgalerie Berlin. Apparatjik are the musicians Guy Berryman (Coldplay, London), Jonas Bjerre (Mew, Copenhagen), Magne Furuholmen (A-ha, Oslo) and Martin Terefe (London).
The Apparatjik Light Space Modulator is presented as a twofold project: during two weeks the installation can be accessed in the glass hall of the Neue Nationalgalerie and three unique concerts will be performed at the same location (at 9 pm on March 12, March 26, and March 27, 2011). Those performances are inspired by the visual experiments of László Moholy-Nagy. Moholy-Nagy taught at the German Bauhaus, as did Mies van der Rohe who was the architect of the Neue Nationalgalerie Berlin. At the center of both the Apparatjik installation and concerts are moving images that project from a large scale cube into the open glass structure of the building into the city space — a reference to the kinetic Licht-Raum-Modulator created in 1930 by Bauhaus artist Moholy-Nagy.
Apparatjik's project will conclude on March 27 with a special interactive composition performed in collaboration with the Deutsches Kammerorchester. This concert is dedicated to Mies van der Rohe on the occasion of the 125th anniversary of his birth.
This is a nice space video for Korgator's  "Time Run" Electronic Impressionen Part III, a track in the Berlin School synth music tradition of artists like Tangerine Dream and Klaus Schulze.
1.Korg Triton Le61: Pad
2.Quasimidi Polymorph: Mellotron
3.Roland JP 8080:Sequence
4.Korg Mono Poly: Lead
Effects from Boss SX 700
Mixer Behringer Xenyx X2442USB
Recorder Zoom H4N
Nice video by SpacEKrafT called SIMULATION______✈
Everything is nicely filmed in a white futuristic kind a way
If you look closely you can see the Bliptronic and the Quasimidi Sirius in action
Studio Electronics created a synthesizer a while ago, very much inspired by the movie 2001: A space Odyssey, and Hal 9000′s ominous glow. This huge (38 pounds) synth is an anlogue monster, with a beautiful white and black case, and the warm, blue glow of it's lights makes it absolutely stunning.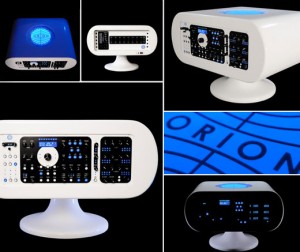 The Orion was was custom built for an Argentine gentleman named Antoine de Castellane. Internally, it was a CODE 8 fitted with an overdrive and both ARP 2600 and Yamaha CS80 filters. Antoine did the design of the "space case" on his end, and Tim Caswell did the rest. Antoine has both of the only two in existence.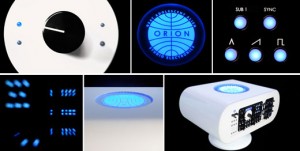 Here is Studio Electonics' page on the Orion. They are available to anyone, but very expensive. Still, there would definitely be one of these in my dream studio.
Speaking of dream studios, here are some pictures of Antoine's studio, just to get you salivating:
The control room: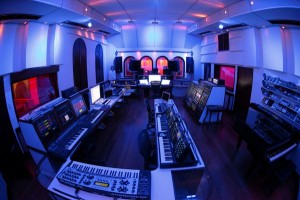 Via: SG
New song from Zoo Systems
[youtube=http://www.youtube.com/watch?v=xVKSETluhoo]
Check it out