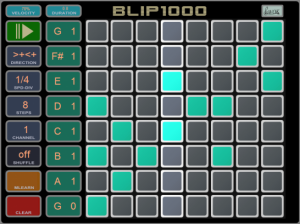 WOK has introduced Blip1000, a free matrix step sequencer instrument for Windows.
Blip1000 is inspired by matrix synths for the iPad and hardware like the Bliptronic 5000, which were derived from software like ToneMatrix, which was inspired by devices like the monome and the Tenori On and so forth
Here's what the developer has to say about Blip1000:
Got a windows touchscreen computer and miss these cool apps like on the iPad?

Now you can generate MIDI sequences with a touch of your finger. Also great for controllers like Novations launchpad (together with Automap).

Blip1000 is a MIDI sequencer VST plugin. It plays mono- or polyphonic sequences depending on the selected notes and the enabled trigger buttons. Host sync with different speeds, swing, several play direction modes and MIDI controller learn – try it for free and start making music now!
Features:
Clear and easy interface.
Number of steps selectable (up to 8).
Note per line selectable from 3 octaves with display.
Several play modes (forward-backward, random etc.).
Syncs to host – clock divider adjustable.
Sequence transpose by MIDI input
MIDI ouput channel selectable.
Automatable in the DAW.
Sequences can be saved as VST plugin presets.
Random play.
MIDI-ouput; any plugin or synthesizer can be used as sound source.
Low on CPU.
Note: Blip1000 is nagware.
Nice video by SpacEKrafT called SIMULATION______✈
Everything is nicely filmed in a white futuristic kind a way
If you look closely you can see the Bliptronic and the Quasimidi Sirius in action
This electronic invitation is a Nintendo Entertainment System / NES ROM image.
You can download it here and play it in an emulator if you'd like:

no-carrier.com/blip_tokyo_invite.nes

Code by NO CARRIER & Batsly Adams
no-carrier.com batslyadams.com/
Music by chibi-tech
chibitech.nanjamonja.com/
Graphics by enso
enso.tumblr.com

Blip Festival Tokyo 2010 takes place on September 4th and 5th. For all information, head here:tokyo.blipfestival.org/
Little improvised thing with the 606 and the bliptronic. You can run the trigger outputs on the 606 to the "link" input port on the 5000 to trigger it.
http://www.youtube.com/watch?v=LJDZ31F2SF8&feature=player_embedded
Bliptronic Philosophy… in Regards to Music
In the world of the Bliptronic, creating a song revolves around an ever evolving 4-beat pattern. Each row of vertical buttons represents the notes in one octave. Push a button to turn on a note, push the button again to turn off a note. Push multiple buttons in one vertical row to make a chord. The Bliptronic plays whatever you have selected in sequence horizontally across the display. When it reaches the end of the pattern, it repeats. The genius comes as you modify the pattern by turning notes on and off while the pattern is still looping to create evolving electronic melodies.