This 80sObscurities was founded by DJ Rexx Arkana to showcase old, often unknown or forgotten acts and tracks from the decade when electronic music was truly the new wave. Rexx Arkana has been a club/radio DJ and promoter since the mid-80s and headlined festivals on several continents and currently holds a residency at DEFCON, NYC's current longest-running weekly scene party. He is also the founder and lyricist of Brudershaft and one half of harsh electro act FGFC820.
Heiko: "This song is the B-Side of Thomas Dolby's debut single, 'Europa And The Pirate Twins,' from 1981. In those days I used to spend a lot of time in record shops. I still can remember the moment I discovered the great cover; showing Thomas Dolby as a kind of scientist, standing in the middle of a stage, surrounded by globes and telescopes. Even without listening, 'Leipzig Is Calling' caught my attention. In the days of the "Cold War" it wasn't common that an international musician wrote songs about a city from East Germany. I bought the 12″ vinyl right away. The sounds and especially the harmonies blew me away. Since that day this song is one of my favorite compositions – in terms of songwriting and of sound. Thomas Dolby is one of the most gifted composers and synthesizer players I know. His work always inspired me. 'Well you'll soon feel yourself again – And everyplace is just the same, isn't it?'"
Rexx Arkana's 80sObscurities previous playlists are also available on Facebook and YouTube. (Via SL)
Electronic music pioneer, Thomas Dolby, sat down with Party Ben of Slacker Radio before his set at Moogfest 2012. Thomas Dolby (1958) is an English musician and producer. Best known for his 1982 hit "She Blinded Me with Science", and 1984 single "Hyperactive!" he has also worked extensively in production and as a session musician.
Music video by Thomas Dolby performing She Blinded Me With Science (2009 Digital Remaster).
For more music and interviews from the festival, visit www.slacker.com/moogfest.
• The song "Mulu the Rainforest" from Thomas Dolby's classic album "The Flat Earth".
• Shot and Directed by Chad Johnson in August 2012
• © Lost Toy People / Chad Johnson 2012
• Shot with a GoPro attached to the XP2 quadcopter: ‪‪http://xproheli.com/affiliate/25/quadcopter/xp2-rc-aerial-video-quadcopter‬‬
• This video was shot in the Rockefeller Forest in the Giant Redwoods of Northern California.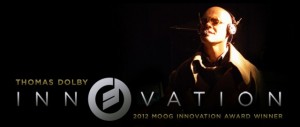 We are also happy to share that Thomas Dolby has won the Moog Innovation Award award this year. Past winners were DEVO in 2010 and Brian Eno in 2011.
Dolby is a self made man, synth pioneer, and mad scientist.  Like Bob Moog, Thomas Dolby's quest for knowledge and desire to sculpt the world around him led him to the world of electronics, where he designed his own synths, founded his own software company, and charged head long through the world of pop music and into America's consciousness.  To say he was blinded by science would be doing him a disservice, for science has been his guiding light, and technology his namesake.  For expanding the sonic boundaries of the new wave movement and for fearlessly embracing the future, Moog is proud to present Thomas Dolby with a custom Minimoog Voyager XL, in honor of being the 2012 Moog Innovation Award winner.
Thomas Dolby Explains Synthesizers on Kid's Show
When Farkas buys a robot to help him get rid of the musicians of Faffner Hall on Make a New Sound Day, the gang borrows some parts from the robot to construct a synthesizer so they can make all kinds of new sounds. Fughetta doesn't understand how a synthesizer works so the Wild Impressario turns to his best source, Thomas Dolby, to explain it to her.
A one hour interview focusing on the classic Fairlight CMI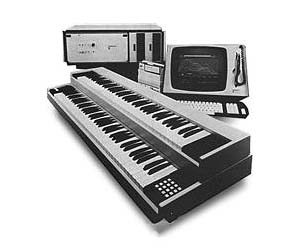 The Australian Fairlight Computer Music Instrument (CMI) is a vintage but state-of-the-art Synthesizer/Sampler workstation. An incredible sampler with 28 megabytes or more of memory! One or two full 73 note velocity sensitive keyboards! Complete synthesis and editing of digitally sampled sounds. Three different on-board SMPTE Sequencers and storage to various disk mediums. The processor itself is housed in a 24″ module. It was also the first digital sampler to hit the market back in 1979 and has endured throughout the eighties and nineties.
From 1979 to 1985 several versions of the Fairlight were produced, with the Series III being the last of them. Each new series added updates to the Fairlight as technology developed through the early eighties. The Fairlight 1 and 2 had only 16 kByte of Memory per voice, and only eight voices but expanded to several megabytes and double the polyphony by the Fairlight III. The IIx was the first Fairlight to offer MIDI. The Series III added aftertouch capability to the keyboard. They all had pitch/mod wheels, an 82-key alphanumeric keyboard, 15 function keys, a Graphics Tablet for drawing sounds and a Video Monitor for seeing what you're doing while editing.
The sampler is the heart of the Fairlight. It's a 16-bit resolution digital sampler with variable sample-rates up to 100kHz! Original Fairlight models used two standard 8 bit 6800 processors, updated to the more powerful 16 bit 68000 chips in later versions (the IIx had updated 6809 processors, which is what designated it a IIx over a II, and raised the sampling resolution to 32kHz, from the I & II's 24kHz). In the Fairlight III, sample memory (RAM) comes in 28MB chunks per 16 voices of polyphony – wow! That's plenty of room for creating stereo or mono samples. Edit them using various hi-tech functions and at a 'microscopic' level using the large Monitor screen. Samples can be looped, mixed and re-sampled with processing for sweetening. As for synthesis, create your own waveforms by sampling and applying Fast Fourier Transform and Waveform editing functions. Storing samples and synthesized waveforms can be done to Hard Disk or 8″ floppy disks.
As for sequencing, there are three sophisticated methods. There's CAPS (Composer, Arranger, Performer Sequencer), an 80-track polyphonic sequencer. The complicated MCL (Music Composition Language) is like a text-based step time sequencer. And finally the Rhythm Sequencer which functions like a classic drum-machine style sequencer. All sequencer's are SMPTE syncable.
The Fairlight is a horribly expensive Music Production Center and is rivalled only by the NED Synclavier. Although current samplers, sequencers and synths can blow away the Fairlight at a fraction of the cost – the Fairlight is an historical, prized piece of Vintage Digital Synthesizer and Sampler technology. It still holds up today, over twenty years later and is still a high quality and professional instrument. The facilities provided by it benefit hardcore synth programmers, wealthy musicians, sound designers, film composers and wealthy Vintage Synth collectors.
An old classic returns – Thomas Dolby is at it again
Thomas Dolby invites you to his Time Capsule Tour in New Orleans @ Tipitina's Uptown on March 17, 2012.
Links: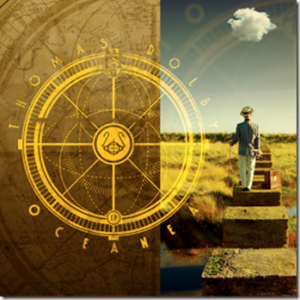 Thomas Dolby is releasing his new album in EP segments to members of his fan club the Flat Earth Society. Membership is free and you can join up here.
He's said on his blog that each segment will have different styles. The first EP was Amerkana which released in June and had a bluegrass vibe. In a recent newsletter Thomas discussed the styles of the first two segments:
I was flattered that so many people embraced it (Amerikana) without being too judgmental about the style I adopted. No 'oh god now Thomas has turned into a country singer–next he'll be doing Grand Ol' Opry wearing sheepskin chaps!' You knew it was just another musical idiom I adopted to help tell my stories, and I thank you for staying so open-minded. 'Oceanea' is a wild journey to a different time and place altogether.
Oceana is now available to members – Click here to visit the online store.
Via MT

Thomas Dolby has posted a couple of video items from his lifeboat studio – The Nutmeg of Consolation (note the Patrick O'Brien reference).
His latest album A Map Of The Floating City, contains a track called Toad Lickers. In these videos, Thomas takes us through the initial demo, through to the recorded band and songwriting process. The back story shows us how Dolby takes an literary idea and turns it into a finished song.
Be sure to check out the second in the series here: Episode 2
Via SSt
It has been some time since we last heard from Thomas Dolby then this nice piece turned up. For his first studio album release in decades, musical innovator Thomas Dolby has been composing music in the uniquely inspirational setting of a restored life-boat. Here he premieres a gorgeous, evocative song from that album — about one night with a legend. He's backed by members of the modern string quartet Ethel.
TEDTalks is a daily video podcast of the best talks and performances from the TED Conference, where the world's leading thinkers and doers give the talk of their lives in 18 minutes. Featured speakers have included Al Gore on climate change, Philippe Starck on design, Jill Bolte Taylor on observing her own stroke, Nicholas Negroponte on One Laptop per Child, Jane Goodall on chimpanzees, Bill Gates on malaria and mosquitoes, Pattie Maes on the "Sixth Sense" wearable tech, and "Lost" producer JJ Abrams on the allure of mystery. TED stands for Technology, Entertainment, Design, and TEDTalks cover these topics as well as science, business, development and the arts. Closed captions and translated subtitles in a variety of languages are now available on TED.com, at http://www.ted.com/translate. Watch a highlight reel of the Top 10 TEDTalks at http://www.ted.com/index.php/talks/top10
Excerpt from Drowned in Sound
Following the recent reissues of synthpop pioneer Thomas Dolby's classic debut The Golden Age Of Wireless and its mini album successor The Flat Earth, journalist Joseph Stannard – Wire, Terrorizer, Plan B – spoke to Dolby for DiS, and discusses his own relationship with these seminal recordings, which oft reside in the shadow of Dolby's 1982 hit 'She Blinded Me With Science'.
I blame my brother. Although he generally viewed his younger sibling with disdain, he occasionally passed down an invaluable fragment of the magic that he was experiencing in his private world, between slinking out of the house to avoid another fight and saving up for white leather trousers he would never wear. One such artifact was a C90 cassette, the inlay of which was hand drawn and featured baffling mathematical etchings. I realise now that these were my brother's ballpoint 'n' compass approximations of the inner sleeve artwork to The Flat Earth, Thomas Dolby's second album, which took up the second side of the tape. The first side comprised one version (there were many configurations) of Dolby's 1982 debut album, The Golden Age Of Wireless, and it was this side that triggered a fascination lasting over 25 years. Appropriately, …Wireless feels like family, an active part of my personal history. Much of my youth was spent travelling from Middlesex, where I lived, to Berkshire, where I would stay with my grandmother during school holidays. Hurtling down the M4, often through sheets of grey drizzle, I would stare out of the car window at the wind-ruffled fields and isolated homesteads which would eventually form an immovable layer of my own internal landscape. I'd listen to my brother's tape on those journeys, the washed out colours conferred by the brooding clouds matched by the shades of grey and green that emerged from Dolby's synthesizers. If that makes …Wireless sound depressing, it isn't. It's just incredibly honest and all-encompassing in its Britishness. This is even reflected in 'She Blinded Me With Science', the song that made Dolby a temporary pop star, an almost cartoonishly English take on electro featuring the interjections of the BBC's favourite Mad Scientist, the late Magnus Pyke. The thought of kids in the Bronx locking'n'popping to Pyke's eccentric splutter, which is entirely likely (Dolby would later produce Whodini's hip-hop classic, 'Magic's Wand'), fills my heart with joy. But that track, tacked on to later pressings in the wake of its success as a single, was an interloper on an album overwhelmingly concerned with loss, escape, heritage and war.