Thomas Dolby – Mulu the Rain Forest
• The song "Mulu the Rainforest" from Thomas Dolby's classic album "The Flat Earth".
• Shot and Directed by Chad Johnson in August 2012
• © Lost Toy People / Chad Johnson 2012
• Shot with a GoPro attached to the XP2 quadcopter: ‪‪http://xproheli.com/affiliate/25/quadcopter/xp2-rc-aerial-video-quadcopter‬‬
• This video was shot in the Rockefeller Forest in the Giant Redwoods of Northern California.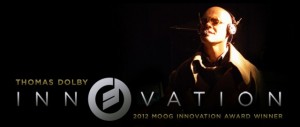 We are also happy to share that Thomas Dolby has won the Moog Innovation Award award this year. Past winners were DEVO in 2010 and Brian Eno in 2011.
Dolby is a self made man, synth pioneer, and mad scientist.  Like Bob Moog, Thomas Dolby's quest for knowledge and desire to sculpt the world around him led him to the world of electronics, where he designed his own synths, founded his own software company, and charged head long through the world of pop music and into America's consciousness.  To say he was blinded by science would be doing him a disservice, for science has been his guiding light, and technology his namesake.  For expanding the sonic boundaries of the new wave movement and for fearlessly embracing the future, Moog is proud to present Thomas Dolby with a custom Minimoog Voyager XL, in honor of being the 2012 Moog Innovation Award winner.
Comments