Moog interview with Thomas Dolby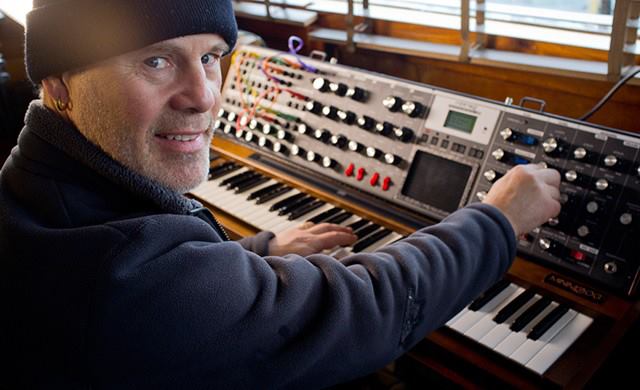 Moog had the pleasure to sit down with Thomas Dolby last week in England to deliver his custom Minimoog Voyager XL. Dolby talked with us about his experiences with Moog synthesizers, his musical process, and his history with many different musicians.
When were your first experiences with Moogs? When did you first get the opportunity to experiment and play with them?
There tended to be Minimoogs lying around professional studios round-about the end of the 70's – 76-77-ish when I first got into studios. And when the Micromoog came out I picked one up second hand out of the back of Melody Maker. And that was the first off-the-shelf synth I'd owned. Before that the only synth I'd owned was a Transcendent 2000.
Ah, that's the DIY one isn't it? 
Yeah. And I didn't have a keyboard for it. So I could sort of generate tones but that was about it. I remember hooking it up to the keyboard from an ARP.
That's very old school – in the sense of using it as an oscillator bank.
Yeah. So I was familiar with Minimoog but the Micro was the first one I could afford. And the next one was the Source. And for a while I had a three piece band, and I was basically playing the Micro and the bass player was using the Source.
And so I've used Mini's a lot over the years but never owned one. The first serious recording I did with one was on the Foreigner "4" album. I remember Mutt Lange had left for the night, and left me for the night like a kid locked up in a toy shop. And I had six tracks and had to make an intro for "Waiting for a Girl Like You".
Comments