October 2, 2011 · Posted in
Uncategorized
·
Comments Off

on Norway's number 1 electro alternative festival rocks again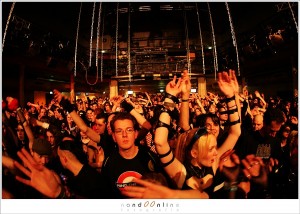 Next week Oslo will host the two-days festival ElektroStat. ElektroStat is Norway's largest festival dedicated to underground electronic music and this year's event will be held over two days, 7th and 8th October, at the Månefisken venue. It's a festival that you have to have visited as a Scandinavian, and considering the extremely cheap Ryanair tickets, it's one that everyone could easily check out anyhow.
Headlining on day 1 is Suicide Commando while day 2 will see Recoil playing some kind of hometown gig. Side-Line will be present and will bring you live highlights via Twitter using the #elektrostat hashtag.
Tickets for the ElektroStat festival can be purchased right here. Day tickets are NOK 390 / Tw-days ticket are NOK 590, roughly 39 and 59 EURO. Age limit is 18+. Be aware, ID will be checked at entrance.
ElektroStat utilises four rooms with many different live acts and DJs. Here's the line-up for this year's event:Klubbscenen 7. oktober
19:45 Unitary (S)
21:15 X-Ploding Head Syndrome (N)
23:00 Supermale (N)

Hovedscenen 7. oktober

19:00 Servoskudd (N)
20:30 Loveplanet (N)
22:15 Vision Talk (S)
23:45 Suicide Commando (BE)

Klubbscenen 8. oktober

19:45 Tomorrow We Move To Hawaii (N)
21:15 Agrezzior (S)
23:00 Nachtmar (AT)

Hovedscenen 8. oktober

19:00 Murder Mystery (N)
20:30 Hearts of Black Science (S)
22:15 Ultra Sheriff (N)
23:45 Recoil (UK)
More info at www.elektrostat.com .
October 2, 2011 · Posted in
Uncategorized
·
Comments Off

on Hocico, Tyske Ludder and Necro Facility joins this years version of ElectriXmas
So three out of five bands has been confirmed for Swedens best synth, electro, EBM, industrial and Dark alternative Xmas party, two more will be revealed before it kicks off.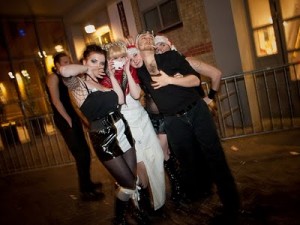 We've already got the first 3 bands booked and we think you're going to like them!
HOCICO (mx)
TYSKE LUDDER (de)
NECRO FACILITY (se)
Check out the Artists page for more info.
2 more bands are waiting to be booked to complete the lineup as well as DJ's to keep the dance floor moving. Check back here or register on our Facebook group to get the latest info as it happens!
Tickets are on sale now and as usual we're offering a special "early-bird" discount! This is limited to the first 50 tickets, so you're going to have to be quick!
Check out the Tickets page for more info and to buy your ticket!
The bands in action:
Hocico
Tyske Ludder
Necro Facility
February 1, 2011 · Posted in
Uncategorized
·
Comments Off

on 8 synth bands lined up for Arvikafestivalen
After a period of downturn, the Arvika alternative music festival has now been reborn and for the 2011 edition 8 bands has so far been lined up, it sure looks promising:
Hocico (Mexico)
Covenant (Sweden)
Kite (Sweden)
Day Din (Germany)
Lissi Dancefloor Disaster (Sweden)
The Girl & The Robot (Sweden)
Code 64 (Sweden)
Ell-Er (Sweden)
Some pics from previous years: