Norway's number 1 electro alternative festival rocks again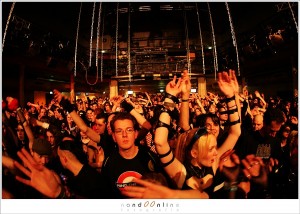 Next week Oslo will host the two-days festival ElektroStat. ElektroStat is Norway's largest festival dedicated to underground electronic music and this year's event will be held over two days, 7th and 8th October, at the Månefisken venue. It's a festival that you have to have visited as a Scandinavian, and considering the extremely cheap Ryanair tickets, it's one that everyone could easily check out anyhow.
Headlining on day 1 is Suicide Commando while day 2 will see Recoil playing some kind of hometown gig. Side-Line will be present and will bring you live highlights via Twitter using the #elektrostat hashtag.
Tickets for the ElektroStat festival can be purchased right here. Day tickets are NOK 390 / Tw-days ticket are NOK 590, roughly 39 and 59 EURO. Age limit is 18+. Be aware, ID will be checked at entrance.
ElektroStat utilises four rooms with many different live acts and DJs. Here's the line-up for this year's event:Klubbscenen 7. oktober
19:45 Unitary (S)
21:15 X-Ploding Head Syndrome (N)
23:00 Supermale (N)

Hovedscenen 7. oktober

19:00 Servoskudd (N)
20:30 Loveplanet (N)
22:15 Vision Talk (S)
23:45 Suicide Commando (BE)

Klubbscenen 8. oktober

19:45 Tomorrow We Move To Hawaii (N)
21:15 Agrezzior (S)
23:00 Nachtmar (AT)

Hovedscenen 8. oktober

19:00 Murder Mystery (N)
20:30 Hearts of Black Science (S)
22:15 Ultra Sheriff (N)
23:45 Recoil (UK)
More info at www.elektrostat.com .
Comments