Directed & Camera Operated by Moby
Taken from The Big Dream Remix EP out now
Get it at iTunes http://www.smarturl.it/TheBigDreamRem…
US http://www.smarturl.it/TheBigDreamRem…
Also includes remixes from Hot Since 82, Bastille, Bjorn Yttling, of Peter Bjorn and John, and Venetian Snares
The Big Dream Digital Deluxe Double Album and The Big Dream Super Deluxe Boxset are out now
Buy The Big Dream Super Deluxe
At Sunday Best http://www.smarturl.it/BigDreamSuperD…
Buy The Big Dream Digital Deluxe
At iTunes http://www.smarturl.it/DigitalDeluxe
Buy The Big Dream
At iTunes http://georiot.co/22qT
At Sunday Best http://www.smarturl.it/TheBigDream
At Sacred Bones (USA) http://www.smarturl.it/TheBigDreamUS
Damien Jurado joins Moby for 'Almost Home', taken from his new album 'Innocents', which comes out on 30 Sept and is available to pre-order now, below.
Damien will also be joining Moby when he plays 3 nights at the Fonda Theatre in Hollywood on October 2, 3, & 4. Tickets available here: http://www.moby.com/fonda
Pre-order 'Innocents':
Deluxe CD: http://smarturl.it/innocents2cd?IQid=…
iTunes LP: http://smarturl.it/innocentsitunes?IQ…
Double Gatefold LP + CD: http://smarturl.it/innocentslp?IQid=y…
"The Perfect Life" is the brand new single from Moby, featuring Wayne Coyne from The Flaming Lips. The video for the "The Perfect Life" was shot in L.A with Coyne and Moby dressed as Mariachis. The video will be premiered on September 3.
Moby comments on the collaboration with Coyne: "Wayne Coyne and I ended up doing a duet on 'The Perfect Life': we sing the choruses together, and then go back and forth on the verses. Wayne and I first met in 1995, when The Flaming Lips and I were both opening up for a Red Hot Chili Peppers' European tour. We became friends, shared a dressing room and the same bad craft services, and watched the Chili Peppers from the side of the stage. I thought of Wayne for this song because The Flaming Lips have evolved in this very open, celebratory band when they play live, and that was the perfect vibe for what I was imagining for 'The Perfect Life.' I texted Wayne and said, 'Hey, I have a song – want to sing on it?' Thirty seconds later, he texted me back: 'Yes, send it to me, it will be great."
The single is taken from Moby's new upcoming album "Innocents" which was produced by Mark 'Spike' Stent. Next to Wayne Coyne (The Flaming Lips) the album also features Mark Lanegan, Cold Specks, Skylar Grey, indie-folk singer Damien Jurado, and Inyang Bassey who was the vocalist on "The Right Thing" from Destroyed.
Moby's 'A Case For Shame' is the first track to be released from his new album 'Innocents', which comes out on 1 Oct and is available to pre-order now:
Deluxe CD: http://smarturl.it/innocents2cd?IQid=…
iTunes LP (inc. 'A Case For Shame' instant download): http://smarturl.it/innocentsitunes?IQ…
Double Gatefold LP + CD: http://smarturl.it/innocentslp?IQid=y…
While we still have to wait until October 1st to hear the new Moby album "Innocents", a new video has already surfaced on YouTube. "A Case For Shame" showcases Moby's collaboration with fellow Mute artist Cold Specks. The video is a directorial debut from Moby and was shot by Moby at his home in Los Angeles. It features the masked characters from the album cover, Cold Specks and Moby himself under water.
Says Moby: "'A Case For Shame' is the first video I've shot and directed for one of my songs, as in addition to directing I was also the camera person. The video narrative is as follows: I've drowned, and I've gone to an after-life inhabited by people who are concealing themselves because of shame. The masks are not meant to be conventionally frightening, the masks and sheets are being worn because the after-life people are hiding, because they're ashamed."
For the new record Moby worked for the very first time with an outside producer, namely Mark 'Spike' Stent. Other collaborators include Wayne Coyne (The Flaming Lips), Mark Lanegan, Cold Specks, Skylar Grey, indie-folk singer Damien Jurado, and Inyang Bassey who was the vocalist on "The Right Thing" from Destroyed.
Track-listing:
Everything That Rises
A Case For Shame (with Cold Specks)
Almost Home (with Damien Jurado)
Going Wrong
The Perfect Life (with Wayne Coyne)
The Last Day (with Skylar Grey)
Don't Love Me (with Inyang Bassey)
A Long Time
Saints
Tell Me (with Cold Specks)
The Lonely Night (with Mark Lanegan)
The Dogs
mobygratis.com is a resource for independent and non-profit filmmakers, film students, and anyone in need of free music for their independent, non-profit film, video, or short.
Moby has made a selection of over 150 tracks from his huge catalog of music available to licence for free, via a simple online application system. The catalog tracks from Destroyed, Wait For Me, Hotel, 18 and Play, along with a host of remixes and unreleased tracks.
To begin just create a new account, browse the catalog and fill in your application for the tracks you would like to use. You should receive a response to your application within 24 hours.
Browse the catalog here: http://mobygratis.com/catalog
Sign up here: http://mobygratis.com/user/register
Once you have finished your film, you can share it with the mobygratis community by uploading to YouTube or Vimeo.
Moby shared his remix of iamamiwhoami's y.
Here's what Moby has to say about it:
i first heard iamamiwhoami at a restaurant in london a few years ago. after hearing them i emailed my manager, eric, and asked 'have you heard of this band iamamiwhoami?' and he wrote back, 'yes, we manage them'.
when they asked me to do a remix for them i happily said 'yes', as i'm a fan of theirs. and when i heard the song they wanted me to remix i realized that i didn't want to deconstruct it and change it, but rather just add melodic and structural elements to it, to enhance what they'd already done.
Enjoy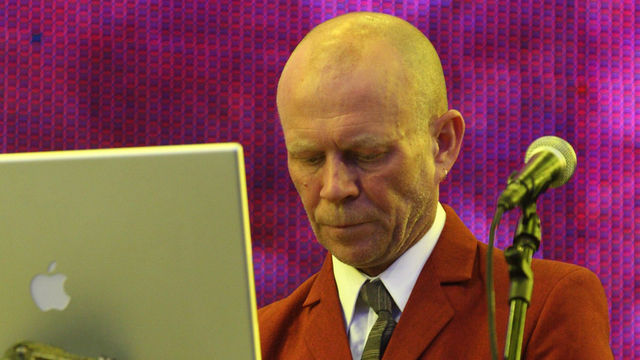 Historical interviews with the most famous electro musicians in the world have appeared in a new eBook.
The Electro Legend Interviews features interviews conducted over the past 20 years and taken from the archives of Computer Music and Future Music magazine.
Revealing their music-making techniques and inspirations are: Aphex Twin, Gary Numan, The Prodigy's Liam Howlett, Vince Clarke, Kraftwerk's Wolfgang Flür, Moby, Hot Chip, Alec Empire and Ultravox's Midge Ure.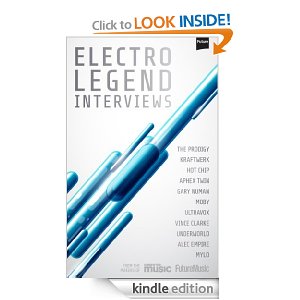 Available for just £2.99, the book sheds light on The Prodigy's place in the early rave scene, with Liam Howlett explaining in a 1993 interview that"When rave dies there are always going to be people who will still want to dance, so as long as we keep coming out with original songs we'll still be around…"
Meanwhile, Gary Numan discusses his classic Replicas album. Addressing the cover art, he says: "The character on the cover is called a Machman – he's looking out on the world, looking out at the park. Outside of the park, there's a man in a grey coat and a grey hat, which was a ghost I saw when I was much younger…"
Elsewhere reclusive genius Aphex Twin gives one of his only ever interviews. "If you plan to be good at anything, it has to happen using your own ideas. It's inevitable. It's exactly like natural selection," he muses.
Speaking exclusively about the early days of Kraftwerk, WolfgangFlür comments: "We were young, shy and childish! We loved to construct things and we never thought we would get famous from that."
The book also features Vince Clarke revealing his computer music-making secrets. "Once you've got the hang of the computer and the software," he says, "then you've still got to write the songs…"
And discussing the history of Ultravox, Midge Ure reveals that: "In those early days, a lot of musicians saw synths as electronic guitars. We just started going bang-bang-bang. Suddenly, you got this blast of unearthly noise and it changed the musical landscape."
"At Moogfest 2011, we sat down with iconic electronic musican, Moby, to talk about the power and importance of Bob Moog's legacy. Moby is part of our work. You can be too. Donate: http://bit.ly/donatebmf."
Bob Moog's legacy lives on in the rock stars and panelists at Moogfest 2011. Find out why Bob's extraordinary legacy deserves to be carried forward.
Featuring: Moby, Wayne Coyne, Diego Stocco, Eric Persing, Bryan Bell, Dick Hyman, Terry Riley, David Borden, Joel Cummins, Alan Vega and Torley.
Dr Benway has published this new video featuring Moby´s classic song on a Casio keyboard. The Casio SK-5 is a sampling keyboard introduced by Casio in 1987. Samples may be gathered from a built-in microphone or a line-level input from another source. The keyboard was rebranded as the Realistic Concertmate-650 for sale at Radio Shack stores.
EPISODE #1
Moby – Porcelain
2 samples are used: orchestral strings and drum beat.
The sequencer plays the samples in loop.