Dr Benway has published this new video featuring Moby´s classic song on a Casio keyboard. The Casio SK-5 is a sampling keyboard introduced by Casio in 1987. Samples may be gathered from a built-in microphone or a line-level input from another source. The keyboard was rebranded as the Realistic Concertmate-650 for sale at Radio Shack stores.
EPISODE #1
Moby – Porcelain
2 samples are used: orchestral strings and drum beat.
The sequencer plays the samples in loop.
Moby has released the music video for his latest single, "Lie Down in Darkness," featuring an old Russian cosmonaut looking back on his time in outer space, in an exclusive Wired premiere. The music video, directed by Luke Seomore and Joseph Bull (Institute for Eyes) was shot in London last month.
"We really liked the idea of an old astronaut in a modern city contrasted with the astronaut in his youth travelling to space," he added.

The team worked hard to research the video, drawing inspiration from Yuri Gagarin biography Starman. They were particularly interested in the partners of cosmonauts and astronauts. "They have an interesting dichotomy: On one hand they are really proud that their other half is going into space, but there is also this great fear," said Seomore. "This idea is explored within the music video. Similarly the astronauts have a great sense of pride but at the same time isolation, because so few people have had the same experience."

Seomore and Bull went to great pains to find an actor with a strong enough face. "There were loads of actors who looked like dads out of butter adverts," said Seomore. "Keith [Chanter] walked in and he felt like someone important. The funny thing is that he was actually very posh English. He'd be in the car talking in long monologues saying things like [in a plummy English voice], 'It's a funny old game, acting.'"

The team shot the video around London over two days in locations including South Bank and a swimming pool in Walthamstow that opened in 1968 and has all of the original fittings, giving it "a Soviet feel."

They managed to source a real space helmet, which had to be modified to ensure that it no longer formed a vacuum around the wearer's head. Without the air supply that would be used in space, it would otherwise have had a suffocating effect on the actor. They also sourced primitive '60s computers and shot using uncoated lenses to give it a retro feel.

The edit was simple, but the post-production was relatively complicated because the team was keen to replicate the effects of '60s space footage. "We wanted it to look like the footage from the original space flights where they had primitive video cameras that distorted the image to look like really grainy CCTV," said Seomore.

Moby took a hands-on role when it came to post-production, offering quite a bit of feedback to the directing duo. "We were pretty harmonious most of the time," said Seomore, "although he was keen to emphasize the contrast of how the 'old' footage was graded versus the 'modern' footage, whereas we wanted to keep it a bit ambiguous."
Via WM
British Journal of Photography's news and online editor Olivier Laurent speaks to Moby about his first photography book – Destroyed, which will be released with his new album.
For more information and a sneak peek at Destroyed, visit bjp-online.com/​2044924.
Interview filmed using the Canon EOS 5D Mark II, courtesy of Canon UK.
Official video for the first single to be taken from Moby's forthcoming album (and photo book) 'Destroyed'. The video features Heather Graham alongside Moby and was directed by Evan Bernard and eyeball.
More info on 'The Day' and 'Destroyed' here: http://moby.com
Buy 'The Day' on iTunes: http://itunes.com/moby
Video Director: Evan Bernard and eyeball: http://www.eyeballnyc.com
Video Producer: Kerri Kleiner
Production Company: Hello And Company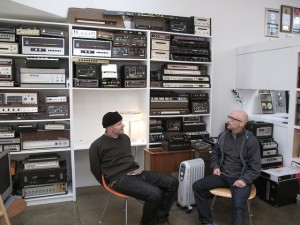 Excerpt:
Rick Moody: So when you say you obsessively collect drum machines, just how obsessively do you mean?
Moby: There are seven billion people on the planet, and I realize I will never ever be the best at anything. But I can potentially have the world's largest collection of drum machines. So when I say obsessively, it's obsession with a purpose. Ultimately, I want to have one of every drum machine made up until 1982. After 1982, they became more digital, and I sort of lose interest. But the old analog ones, I have always loved them.
Moody: What would the last one be, in 1982, the Roland 808?
Moby: The end point would be the very early digital drum machines, like the Linn Drum. So I collect the early digital ones like the DMX, which is an early hip-hop drum machine, and the 808 and the 909, but then, after that, the digital drum machines started to get a little too fancy, and a little too slick.
Moody: So when you collect all these things is it with the intention of actually using them in your own work or is this a collection just for the sake of a collection?
Moby: I love to use them in my own music. The great thing about a drum machine is that you just kind of turn it on, and it does quite a lot of the work for you. But the old drum machines were never that good. The drum machines post-1982, 1983, actually sort of tried to sound like drummers. But what I liked about the old drum machines is that they never sounded like a drummer, they sounded like a drum machine.
In the sixties and seventies, drum machines were just compared to other drum machines, they weren't compared to real drummers. And they were never supposed to replace a real drummer. And then, in the eighties, with digital technology they could actually have drum programs that in a crummy sort of way tried to sound like a real drummer. That's when I lost interest. I liked them when they sounded more synthetic and electronic. Also, nowadays, a lot of electronic music is produced exclusively on the computer, so there's no physical sound production. So no one makes drum machines anymore.
I'm almost a custodian of these old drum machines that have been in church basements and lounges at Marriott hotels, somewhere in New Jersey. And a lot of them have notes written on them, like this one, I don't know if it works or not, but someone at some point put masking tape on it, with a little note to himself. This one, down here, see, someone again, someone wrote their own little codes in pencil. Samba, here, they put a red X there, and wrote a note that says, "No." Clearly, whoever it was hated the samba?
Paul Kalkbrenner's 2-year old remix of Moby's "Wait for me" has been named 'best electronica track' at the 4th annual Beatport Music Awards which was held last night in Miami (USA). For those who have been living on Mars during the past few years, Beatport is an online music store specializing in electronic dance music and based in Denver, Colorado (USA).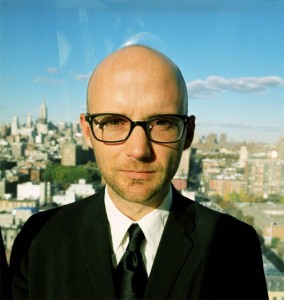 To get an idea what kind of electronic music the download portal offers, check out the other winners and their respective category:
* Top Track Of The Year: Tarantula – Pleasurekraft
* Top Breaks Track: M.A.D. (Elite Force Mix) – Stanton Warriors, JELO, Vandal & Hatiras
* Top Chill Out Track: You Wish – Nightmares on Wax
* Top Deep House Track: The Voice – Thyladomid
* Top Drum & Bass Track: Incoming… (Taku Remix) – Ajapai
* Top Dubstep Track: Scary Monsters and Nice Sprites – Skrillex
* Top Electro House Track: Animal Rights – Wolfgang Gartner & Deadmau5
* Top Electronica Track: Wait for Me (Paul Kalkbrenner Remix) – Moby
* Top Hard Dance Track: We No Speak Americano (Friday Night Posse Remix) – Yolanda Be Cool & DCUP
* Top Hardcore/Hard Techno Track: Magnet – Industrialyzer & The Advent
* Top House Track: We No Speak Americano – Yolanda Be Cool & DCUP
* Top Indie Dance/Nu Disco Track: Hello (Club Edit) – Martin Solveig feat. Dragonette
* Top Minimal Track: Under Control – Roberto Procaccini
* Top Progressive House Track: One – Swedish House Mafia (Sebastian Ingrosso, Axwell, Steve Angello)
* Top Psy Trance Track: Leave Me Alone – Neelix
* Top Tech House Track: Tarantula – Pleasurekraft
* Top Techno Track: The Secret – Joris Voorn
* Top Trance Track: Remember Love – DJ's United (Paul Oakenfold, Paul van Dyk, Armin Van Buuren)
Note that 'Artist of the Year' was Deadmau5.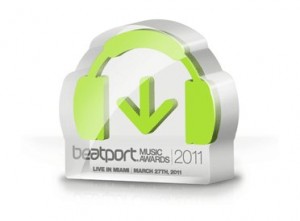 Moby has joined OMD (the duo Andy McCluskey and Paul Humphreys) on stage last Friday afternoon at the Spin's SXSW day party. "Our new bass player is going to take over for us," McCluskey said inviting Moby to the stage. Moby played bass on "Souvenir", not a surprise as he remixed the song back in 1998, and on "Enola Gay", a single from OMD's 1980 album "Organisation".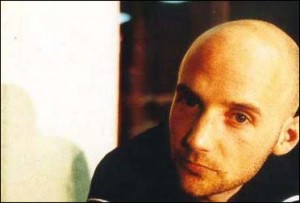 "This is the first time we've ever had more bass guitars on stage than synthesizers," said McCluskey, who usually plays the four-string in addition to singing lead.
…and by the looks of the cover we might expect some glitch and chip tunes in there, hehe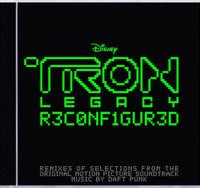 It's been announced that an album of remixes of Daft Punk's Tron: Legacy soundtrack is to be released on 4 April. Tron: Legacy R3CONFIGUR3D features contributions from the likes of Moby, Photek, Paul Oakenfold and The Glitch Mob.
The full tracklisting is as follows:
01. The Glitch Mob – Derezzed
02. M83 vs. Big Black Delta – Fall
03. The Crystal Method – The Grid/Game Has Changed
04. Teddybears – Adagio for Tron
05. Ki:Theory – The Son of Flynn
06. Paul Oakenfold – C.L.U.
07. Moby – The Son of Flynn
08. Boys Noize – End of Line (Boys Noize Remix)
09. Kaskade – Rinzler
10. Com Truise – Enron Part II
11. Photek – End of Line
12. The Japanese Popstars – Arena
13. Avicii – Derezzed
14. Pretty Lights – Solar Sailor
15 Sander Kleinenberg – Tron Legacy (End Titles)
here's a slightly long tiny movie about the manhattan bridge, with some new music. the manhattan bridge is my favorite nyc bridge.
thanks,
moby
Low.budget movie showing off Moby's huge collection of drum machines and what talks on what they really are
a tiny movie about old drum machines, with some new music i made playing in the background.
ok, thanks.
-moby