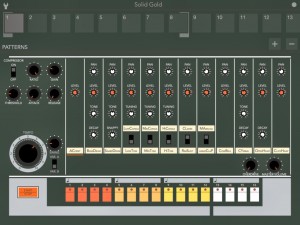 Boom 808 integrates one of the most popular drum machines of the 80's into the modern mobile producers workflow.
With Boom 808, getting the classic 808 drum sounds into your music has never been easier. Audiobus compatibility, background audio, and audio export options allow Boom 808 to fit into your music without slowing you down.
Personalize your beats with the sound of the 808!
Features:
Step sequencer
High fidelity audio
CoreMIDI
Audiobus and background audio modes
Record and export live performance to Soundcloud, Audio Copy, email and iTunes file sharing
Compressor
Swing
Overdrive
Boom 808 provides the superb audio quality found in our other Pulse Code apps. Along with the classic drum sounds, Boom 808 has a built in compressor that is tuned to add punch to your drum beats. Soft saturation overdrive rounds out the signal chain adding warm crunch to your beats.
Using Boom 808 with Audiobus allows you to add any number of Audiobus compatible effects as well as record your beats into the app of your choice. Writing beats is easy by using the internal step sequencer or trigger the drums with CoreMIDI. Control your groove with two swing variations.
QUALITY HEADPHONES / MONITORS RECOMMENDED
BOOM 808! is priced at $0.99.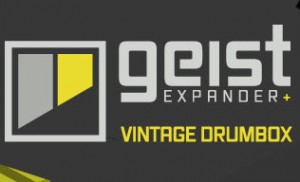 Geist Expander: Vintage DrumBox is a collection of synthesized analogue drum samples for FXpansion's Geist. Created by Mr Hoodie from The Groove Criminals, Vintage DrumBox is the result of obsessively sampling a set of strange, esoteric and crusty old machines. FXpansion says that the included sounds are warm, rounded and perfect as an antidote or accompaniment to more modern timbres. The pack also features a bonus selection of riffs and arps from some classic analogue synths.
Some highlights of Vintage DrumBox include early preset accompaniment and organ-top boxes like the Hammond AutoVari and Watford Rhythm Generator, Amdek and Electro Harmonix percussion tone generators and rare drum machines such as the Vermona DRM-1. Legendary analogue BBD delay, tape echoes and spring reverbs are judiciously used to add further textures and flavours.
Vintage DrumBox features loops, kits and presets for FXpansion's Geist software. Samples are supplied in 24-bit 44.1kHz WAV and RX2 formats and can be loaded into any software or hardware that supports them.
Content:
Geist Expander with analogue drum samples
Over 1200 WAV samples
Over 500 RX2 loops
Kit, Engine and full Presets
5 Pattern Banks
Pricing and Availability:
Pricing is USD $29.00, EUR €25.00, GBP £22.00 inc VAT for all registered Geist owners.
This time the Dancing Bear is sequencing the Tinysizer!
Tinysizer ANYWARE-INSTRUMENTS ANALOG MODULAR MINI SYNTHESIZER is a fantastic complete mini analog modular synthesizer system.
The MFB Tanzbär analogue drum-computer has a tight step-sequencer and 16 instruments.
Recorded in Ableton Live – no additional effects.
Studio1111 is an all-in-one workstation and composing environment offering a wide selection of tools and modes to effortlessly build awesome acid bass lines and drum patterns. This one goes up to 1111!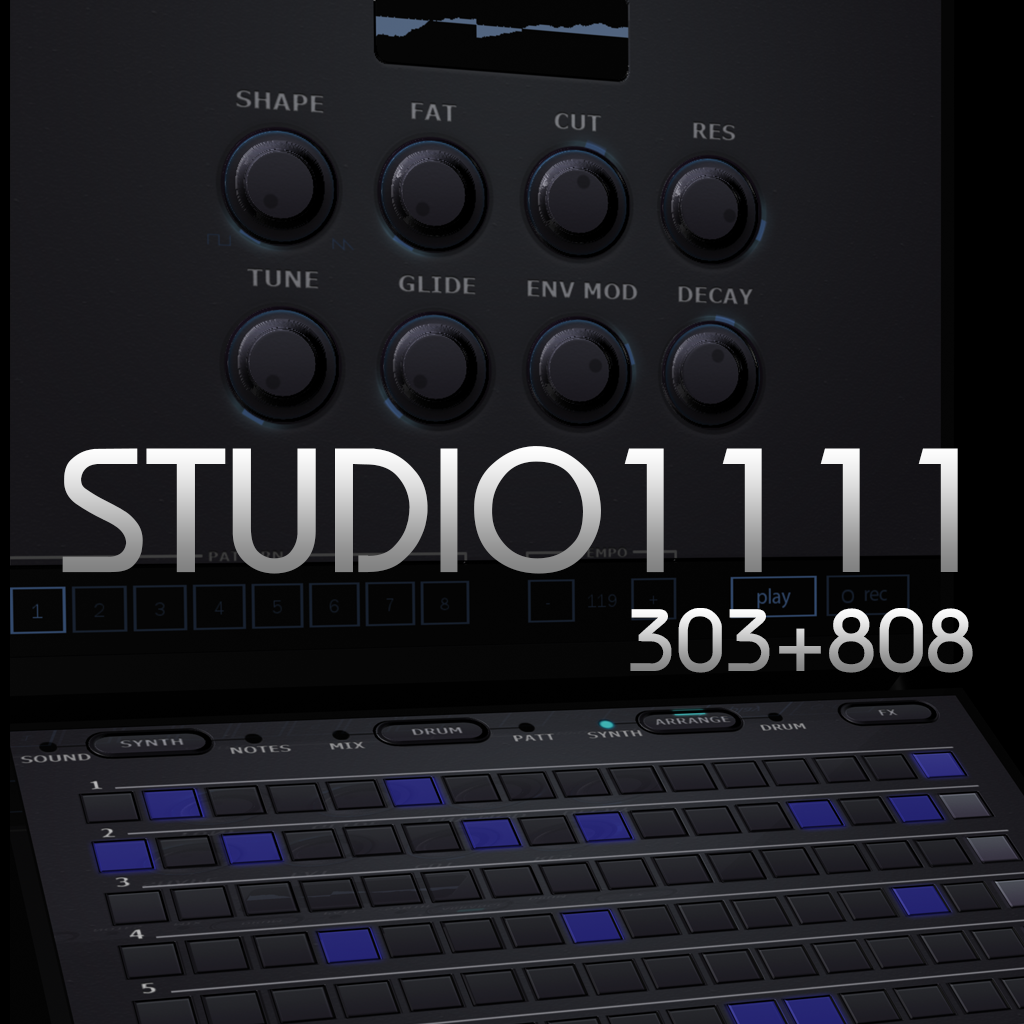 FEATURES:
303 BASS SYNTH:
-De-tuneable to 3 voices (FAT)
-Waveform mix between Square/Saw
-Resonant Acid Low Pass filter with envelope and decay that 303 fans will love.
-sequence up to 16 patterns per song
DRUM MACHINE:
up to 15 kits available including:
-808
-909
-8 BIT
-505
-KASIO
-DUBSTEP
-DISCO
-iHANG
-606
-BEATBOX
-MPC2000
-707
-ELECTRO
-HIPHOP
-SPEAKSPELL
You Have full control over the mix of the drum kit to get the balance perfect!
XY FX PAD:
The effects pad enables you to ad cool FX to both drum and synth channels. Effects include:
-Vowel formant filter
-Low Pass filter
-Hi Pass filter
-Bitcrushing distortion
LOAD/SAVE:
You also have the ability to load and save up to 8 songs n the fly
AUDIO EXPORT:
Record your performances to WAV, downloadable via the iTunes sharing page
MIDI IN/OUT
Trigger your drum kit and synth with an external keyboard or sequencer!
You can also you Studio1111 pattern sequencer to trigger external midi modules – both drums and synth sequencer have midi out!
For more information and download:
https://itunes.apple.com/us/app/studi…
twisted-electrons.com/studio1111
"Hey! Check it. We have 4 of our DS-8 Drum synth kits all racked up and being triggered by a MFB SEQ-01 Drum Sequencer. We are also using the synthrotek 16 step sequencer to add some CV into the drums, which work as great oscillators"
Originally designed by Coron in the 1980′s for drummers and percussionists to add synth capabilities to their sets, our clone stays true to the DS-8 Drum Synce circuit with a few modifications that expand its capabilities. You don't need to be banging out beats to play around with this awesome synth!
Features:
Amazing analog signal generation! – Wobbly lows, screeching sirens, dive bombs, squeals, and everything in-between. On-board pannable white noise generator puts out snare and hi-hat hits!
Three different ways to play: use a piezo cell to trigger it like a real drum, send a Trigger/Gate pulse (~+5V) from a sequencer/simple timer circuit, or activate the DS-8 Clone with the on-board Manual Trigger momentary switch!
Multiple controls to tailor your sound! Sensitivity sets your input threshold to adjust how hard you need to hit or the minimum voltage level to trigger the circuit. The length of the trigger pulse can be varied from staccato to a lengthy drop-off with the Decay control. Sweep adjusts the variation of the output frequency. The analog LFO (low frequency oscillator) circuitry is controlled by the Mode and Rate. VCO (voltage controlled oscillator) sets a base level frequency to limit your frequency range. Dirty up your signal with the Pan control, which varies the amount of white noise you'll need for snare hits or deep tom rumble. Level controls the volume of the final VCA (voltage controlled amplifier) portion of your circuit.
All potentiometers used for customizing your sound can be mounted on-board to minimize time-consuming wiring.
Tone Control switch allows you to toggle between the two standard noise sources.
CV Input makes the DS-8 Clone even better! Plug in an external LFO generator or use a sequencer to make some hands-free music!
Powering your DS-8 Clone is no problem! Use a 9V battery or save some cash and use a 9-15V >= 100mA AC Adapter. The 9V battery also can act as a backup power supply that is only engaged when nothing is plugged into the DC Jack.
PCB (printed circuit board) measures 6″ x 2.0625″ and is designed in-house by our very own electronics engineer!
More info: http://bit.ly/12pRSK6
In this video tutorial, DJ Kiva explores the creative possibilities of midi sync and audio routing between Dave Smith Instruments' Tempest drum instrument and Ableton Live.
The Dave Smith Instruments Tempest is an analog drum machine that was created by two of the top minds in the industry: Dave Smith and Roger Linn. Together they have developed an instrument that takes the traditional drum machine into new realms of sound and control. While exploring the instrument in our studios, Dubspot Ableton instructor DJ Kiva recorded this tutorial in which he syncs the Tempest with Ableton Live and records the Tempest's multiple outputs as individual audio tracks in Ableton. To finish off the session Kiva plays back the recorded parts and adds his own custom delays through send channels in Ableton Live.
We go over the features and demo the sounds of the Elektron Machinedrum SPS-1 MKII.
Key features: 4 MD Synths. 16 Track Sequencer. 128 Patterns. 64 Step Patterns. 64 Kits. 32 Songs. 16 LFOs. 5 Individual Track Effects. Master Effect System.
AERO is djgalactic's first track on Dave Smith Tempest: Experimental music with live jam on this analog drum machine of Dave Smith and Roger Linn.
"I will be working on new music with this new machine, especially for drum and poly synth sounds . So there will be more to come and still a lot to learn from this analog drum machine…."
The three new groove boxes from KORG – the Volca boxes -  featured at MusikMesse
Run through of the capabilities and features
Steelberry Clones at MusikMesse
Copyright Stereoklang Produktion
Korg Volca official details
Volca Keys
Analogue Loop Synth
The ideal introductory synthesizer, with a simple – yet powerful – polyphonic analog sound engine and loop sequencer
The polyphonic synthesizer you've been waiting for
Three note true analogue synthesis
Voicing function lets anyone create sounds easily
Delay effect for even more sonic possibilities
Simple loop sequencer
Loop sequencer lets you record phases just as you play them
Motion Sequencer records knob edits in real time
Active Step function and Flux function to add dynamic change to your sequences
Convenient functions for tremendous ease of use
Self-tuning function for constant, stable pitch
Sync In and Out allows clock sync of multiple instruments from the volca Series as well as Korg's Monotribe
Compact size, battery-powered operation, and built-in speaker for enjoyment anywhere
Volca Keys is a long-awaited synthesizer that adds a new chapter to the long and storied history of Korg's analog synthesizers. This 27-key analog lead synth delivers unbelievably powerful sound in a compact body. Starting with a filter section that uses the circuitry of the legendary miniKORG700S (1974), it delivers astonishing sound that takes full advantage of Korg's half-century of know-how in circuit design.
With a simple structure that includes delay effect and a sequencer, it's also an ideal choice for a first analog synth. It offers the richly expressive sounds that are distinctive of analog, providing the enjoyment of simple yet deep sound-creation. The possibilities are endless; you can use the three oscillators to play chords, use them in unison with detune to produce solid lead lines, or apply ring modulation to create far-out metallic sounds.
Volca Bass
Analogue Bass Machine
Powerful analog bass sound creation and an Electribe-inspired sequencer for the ultimate bass lines
Powerful analog bass sound
Three analogue oscillators for thick, huge bass line
Newly designed analog filter for crisp, bright response
Simple structure with single VCF, VCA, LFO, and EG
Loop sequencer distilled from the Electribe series
Electribe-style 16-step sequencer with eight memory patches
Slide function that's indispensable for acid and other types of electronic music
Active Step function generates new bass lines by removing or inserting steps
Convenient functions for ease of use
Self-tuning function for constant, stable pitch
Sync In and Out allows clock sync of multiple instruments from the volca Series as well as Korg's Monotribe
Go-anywhere analogue: play anywhere with the built-in speaker and optional battery power
Aggressive sounds that stand up to the drums; fat sounds that support the rhythm; funky sounds that generate a groove – the volca Bass is an analog groove box that has what you need for a wide range of bass lines.
Although simple in structure, the analog sound engine has an unmistakable presence with subtle nuances that cannot be reproduced by a digital simulation; it's a great choice for acid house and many other styles of music. The step sequencer distilled from the Electribe is not only visually intuitive; it's also a powerful way to generate "free form" bass loops that will stimulate your inspiration.
Volca Beats
Analogue Rhythm Machine
Peerless beats generated by solid analog drum sounds and an Electribe-style sequencer
Powerful analog drum sounds
Real analog sounds created with reference to classic rhythm machines
Six editable analogue parts with one knob per function for easy editing
Maximum effect from minimal parameters – a unique advantage of analog
PCM sound engine expands possibilities when used with analog sounds
Loop sequencer distilled from the Electribe series
Electribe-style 16-step sequencer with eight memory patches
Stutter function generates repeated triggers that dramatically change the sequence
Active Step function generates new bass lines by removing or inserting steps.
Step Jump function instantly plays only the step you're pressing
Convenient functions for incredible ease of use
MIDI In for note entry, plus external sync and control from your DAW
Go-anywhere analogue: play anywhere with the built-in speaker and optional battery power
Even today, more than thirty years after the age dominated by analog synthesizers, we just can't let go of the sound of analog rhythm machines. Those thick sounds have the power to stand up to guitar and acoustic drums, and are still indispensable for track-making or live performance. The volca Beats gives you those analog drums plus the easy-to-use step sequencer of the Electribe; it lets you turn your inspiration into reality and generate beats with the best high quality sounds.
Created in the wake of the Emulator sampler-synths, E-mu unleashed the Drumulator sample-based drum-machines. The Drumulator was E-mu's attempt at creating a rhythm machine like the Linn LM-1 that was better and cheaper. What they made wound up becoming a huge hit for E-mu. The Drumulator had eight drum sounds on a ROM microchip which were gritty, lo-fi 12-bit samples of basic drum sounds…but they were some classic sounds! The Drumulator II added sampling so you could bring in your own sounds. Samples could be truncated, looped, etc.
The Drumulator was primarily a drum machine, however, and offered sequencing that could be accomplished in real-time for a live feel. Or it could be meticulously programmed via step entry and edit modes. Up to 36 sequenced patterns can be stored, chained and mixed to create up to 8 songs. Your sequences and sample data can be stored to floppy diskettes. The Drumulator can be connected to an old computer (like an Apple II) for better visual sequencing and editing too. The Drumulator II went on to become the even better SP-12 drum machine.