Learn about using Patterning's standard loop mode to create sequences.
http://www.olympianoiseco.com/apps/pa…
Follow us:
@olympianoiseco
facebook.com/OlympiaNoiseCo
Pattern loading, interaction with CV inputs for fills and mutes of tracks, other wigglings (bass sequence and cutoff manual modulation by RC1radiostar synced to DC1drumcomputer)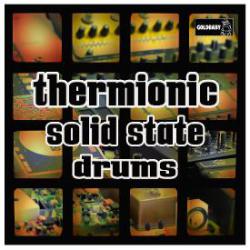 Goldbaby has introduced Thermionic Solid State Drums, drums and FX created using a collection of 11 old and new analog drum machines and 6 synths.
Samples were recorded through a 1073 pre, then a Fat Bustard II valve mixer and various other high end studio gear.
Lots of the sounds have multiple samples for velocity mapping. Most of the kicks and congas are tuned. Also included are a bunch of analog sourced layering tools which are incredibly useful for beefing up kicks, adding sizzle to snares or transient clicks to kicks…
Drum machines used: CR8000 (Modded), Tempest, Tanzbar, DRM1 mkIII, M.Brane, Volca Beats, Mrs Bass Drum, Andromeda Space Rockers, Clap Trap, Thunderclap, Space Drum, D1000 (Valve drum machine).
Synths used: Prophet 12, PERfourMER, Leipzig-S, Analog Four, MS20, SH101
Contents:
5070 x 24 bit wav samples
38 x Bonus Rex loops
With support for Maschine, Geist, Battery 3, EXS-24, Reason Refill
Instruments used to create Thermionic Solid State Drums.http://www.goldbaby.co.nz/tssd.html
Roland TR-909 Roland vs Korg Electribe "Spirits"; live electronic music jam with drum machines.
Demo of the Sonic Potions LXR Drum Synthesizer.
The Sonic Potions LXR Drum Synthesizer is a full fledged digital drum machine with integrated sequencer. Its sound engine provides 6 different instruments, each with over 30 parameters to tweak. It can produce a wide variety of sounds, ranging from classic analogue emulations to crunchy digital mayhem.
Specifications:
Cortex M4 based
6 voices (VA and FM)
7 sequencer tracks (extra open HH channel)
44kHz / 16 bit audio
4 mono outputs
4 different instrument engines
1/128 step pattern resolution (32ppq)
USB/Din Midi
different lengths for each track possible
8 chainable patterns per preset
Step probability
SD-Card
Cowbells!
39 buttons
6 LFOs routable to every voice parameter
complete kit. comes with all needed parts for assembly
No SMD soldering required
source code available
All! actions possible without stopping the sequencer playback
The LXR Drum Synth is sold as a DIY kit for 280 Euro. Acrylic enclosures sold separately for 70 Euro. The sourcecode and schematics are open source.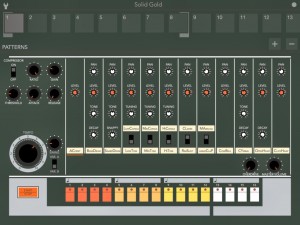 Boom 808 integrates one of the most popular drum machines of the 80's into the modern mobile producers workflow.
With Boom 808, getting the classic 808 drum sounds into your music has never been easier. Audiobus compatibility, background audio, and audio export options allow Boom 808 to fit into your music without slowing you down.
Personalize your beats with the sound of the 808!
Features:
Step sequencer
High fidelity audio
CoreMIDI
Audiobus and background audio modes
Record and export live performance to Soundcloud, Audio Copy, email and iTunes file sharing
Compressor
Swing
Overdrive
Boom 808 provides the superb audio quality found in our other Pulse Code apps. Along with the classic drum sounds, Boom 808 has a built in compressor that is tuned to add punch to your drum beats. Soft saturation overdrive rounds out the signal chain adding warm crunch to your beats.
Using Boom 808 with Audiobus allows you to add any number of Audiobus compatible effects as well as record your beats into the app of your choice. Writing beats is easy by using the internal step sequencer or trigger the drums with CoreMIDI. Control your groove with two swing variations.
QUALITY HEADPHONES / MONITORS RECOMMENDED
BOOM 808! is priced at $0.99.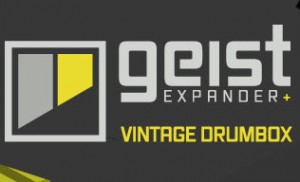 Geist Expander: Vintage DrumBox is a collection of synthesized analogue drum samples for FXpansion's Geist. Created by Mr Hoodie from The Groove Criminals, Vintage DrumBox is the result of obsessively sampling a set of strange, esoteric and crusty old machines. FXpansion says that the included sounds are warm, rounded and perfect as an antidote or accompaniment to more modern timbres. The pack also features a bonus selection of riffs and arps from some classic analogue synths.
Some highlights of Vintage DrumBox include early preset accompaniment and organ-top boxes like the Hammond AutoVari and Watford Rhythm Generator, Amdek and Electro Harmonix percussion tone generators and rare drum machines such as the Vermona DRM-1. Legendary analogue BBD delay, tape echoes and spring reverbs are judiciously used to add further textures and flavours.
Vintage DrumBox features loops, kits and presets for FXpansion's Geist software. Samples are supplied in 24-bit 44.1kHz WAV and RX2 formats and can be loaded into any software or hardware that supports them.
Content:
Geist Expander with analogue drum samples
Over 1200 WAV samples
Over 500 RX2 loops
Kit, Engine and full Presets
5 Pattern Banks
Pricing and Availability:
Pricing is USD $29.00, EUR €25.00, GBP £22.00 inc VAT for all registered Geist owners.
This time the Dancing Bear is sequencing the Tinysizer!
Tinysizer ANYWARE-INSTRUMENTS ANALOG MODULAR MINI SYNTHESIZER is a fantastic complete mini analog modular synthesizer system.
The MFB Tanzbär analogue drum-computer has a tight step-sequencer and 16 instruments.
Recorded in Ableton Live – no additional effects.
Studio1111 is an all-in-one workstation and composing environment offering a wide selection of tools and modes to effortlessly build awesome acid bass lines and drum patterns. This one goes up to 1111!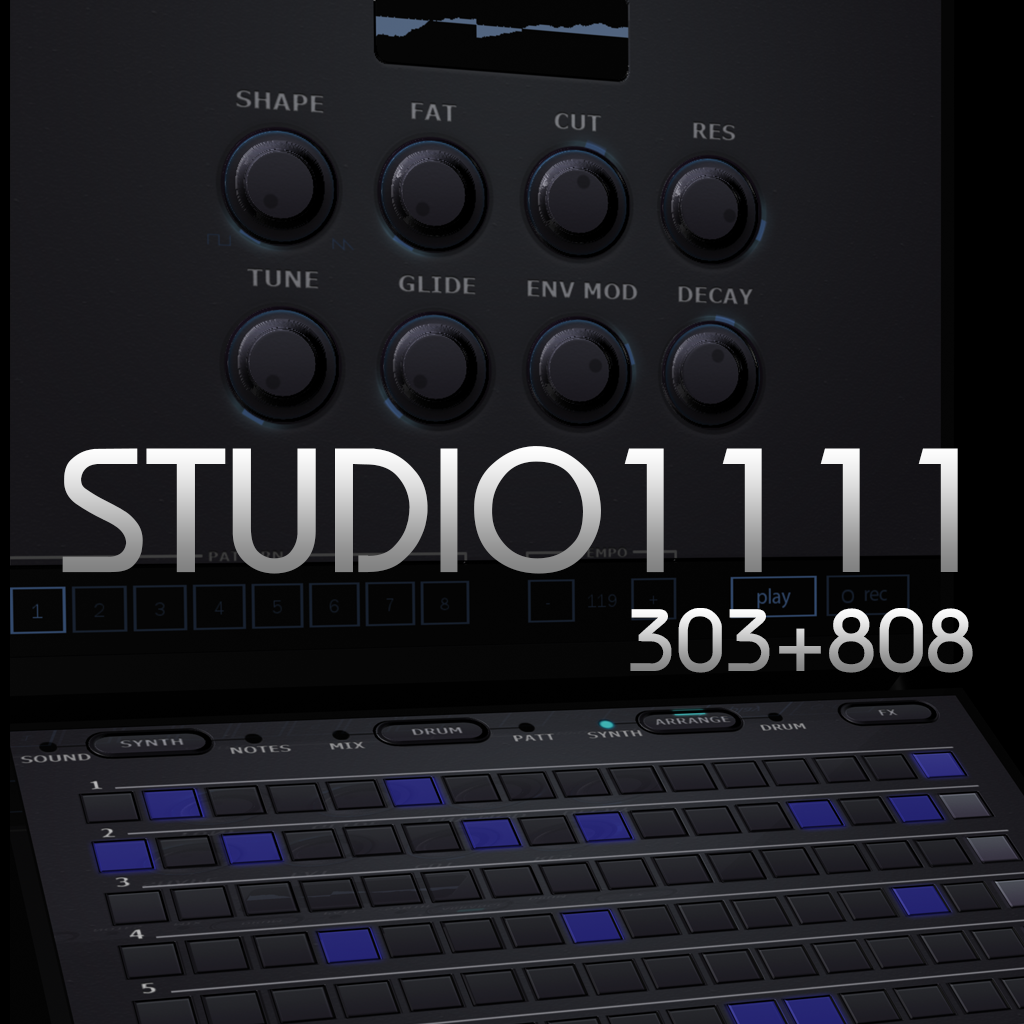 FEATURES:
303 BASS SYNTH:
-De-tuneable to 3 voices (FAT)
-Waveform mix between Square/Saw
-Resonant Acid Low Pass filter with envelope and decay that 303 fans will love.
-sequence up to 16 patterns per song
DRUM MACHINE:
up to 15 kits available including:
-808
-909
-8 BIT
-505
-KASIO
-DUBSTEP
-DISCO
-iHANG
-606
-BEATBOX
-MPC2000
-707
-ELECTRO
-HIPHOP
-SPEAKSPELL
You Have full control over the mix of the drum kit to get the balance perfect!
XY FX PAD:
The effects pad enables you to ad cool FX to both drum and synth channels. Effects include:
-Vowel formant filter
-Low Pass filter
-Hi Pass filter
-Bitcrushing distortion
LOAD/SAVE:
You also have the ability to load and save up to 8 songs n the fly
AUDIO EXPORT:
Record your performances to WAV, downloadable via the iTunes sharing page
MIDI IN/OUT
Trigger your drum kit and synth with an external keyboard or sequencer!
You can also you Studio1111 pattern sequencer to trigger external midi modules – both drums and synth sequencer have midi out!
For more information and download:
https://itunes.apple.com/us/app/studi…
twisted-electrons.com/studio1111