Vintage Drum Machines Sampled For Geist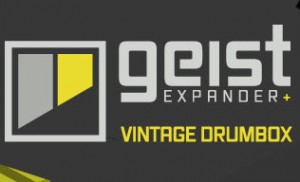 Geist Expander: Vintage DrumBox is a collection of synthesized analogue drum samples for FXpansion's Geist. Created by Mr Hoodie from The Groove Criminals, Vintage DrumBox is the result of obsessively sampling a set of strange, esoteric and crusty old machines. FXpansion says that the included sounds are warm, rounded and perfect as an antidote or accompaniment to more modern timbres. The pack also features a bonus selection of riffs and arps from some classic analogue synths.
Some highlights of Vintage DrumBox include early preset accompaniment and organ-top boxes like the Hammond AutoVari and Watford Rhythm Generator, Amdek and Electro Harmonix percussion tone generators and rare drum machines such as the Vermona DRM-1. Legendary analogue BBD delay, tape echoes and spring reverbs are judiciously used to add further textures and flavours.
Vintage DrumBox features loops, kits and presets for FXpansion's Geist software. Samples are supplied in 24-bit 44.1kHz WAV and RX2 formats and can be loaded into any software or hardware that supports them.
Content:
Geist Expander with analogue drum samples
Over 1200 WAV samples
Over 500 RX2 loops
Kit, Engine and full Presets
5 Pattern Banks
Pricing and Availability:
Pricing is USD $29.00, EUR €25.00, GBP £22.00 inc VAT for all registered Geist owners.
Comments