DE/VISION ON TOUR 2014/2015
10.08.2014 – Hildesheim (GER), Flugplatz (Mera Luna Festival)
29.11.2014 – Krefeld (GER), Kulturfabrik (Pluswelt Festival)
28.03.2015 – Oberhausen (GER), Turbinenhalle (E-Tropolis)
29.03.2015 – Dresden (GER), Eventwerk (E-Werk Ost Festival)
to be continued….
Anton Corbijn Inside Out film clip Depeche Mode
Released on region 2 DVD on 17 September 2012
DE/VISION – Brotherhood Of Man – Final Version
SCHRAMM "Musclecar" (Official Video)
Album: Schramm (2012) //
Label: Future Fame (http://www.futurefame.de/) //
mixed and mastered by Vladimir Popov //
music, lyrics and video by SCHRAMM //
http://www.schramm-klang.de/ //
The new DE/VISION vi­deo of "Brotherhood Of Man" – the first sin­gle from the al­bum "Rockets & Swords". Released on 24th August 2012 – available on Amazon & iTunes
Mesh and De/Vision are on tour in the States and Swedish electro webzine got two interviews with the bands in West Palm Beach.
First video:
Zero interview with Mesh on the The Legends of Synthpop tour in USA. Zero TV is the swedish magazine Zeros web-tv channel – www.zeromagazine.se
Second video:
Zero TV interview with Thomas from De/Vision on the The Legends of Synthpop tour in USA. Zero TV is the swedish magazine Zeros web-tv channel, www.zeromagazine.se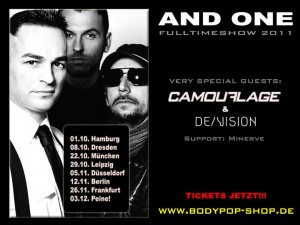 Side-Line Music Awards are now ready, each year Side-Line nominates the best songs, bands and acts in the electro, synth, EBM etc space and now the final results are here, as voted by the Side-Line readers. And it seems Recoil got a fair share of the prices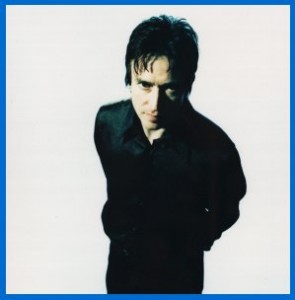 The results of the Side-Line Music Awards 2010 are in. Yes, it did take us a few days more than we had originally planned. But then again, we never imagined getting stuck in London and Brussels the past week due to the unexpected harsh winter conditions circling over Europe. We spent the last two days counting the votes and deleting the invalid ones. But before we give the results, we really want to thank all those readers who have cast their votes in the past two election rounds. You were among the 39,203 people (!!) to have cast a valid vote. That is an all-time record for Side-Line.
Best Band:
Combichrist (5,391)
Unter Null (4,985)
Front Line Assembly (3,818)
Front 242 (3,803)
Mesh (2,756)
Recoil (2,542)
Suicide Commando (2,459)
Hocico (2,327)
Depeche Mode (2,314)
Leaether Strip (2,201)
A-ha (2,227)
Kant Kino (1,837)
De/Vision (1,571)
Edge Of Dawn (589)
Diorama (383)
Best Album:
Recoil – "Selected" (10,442)
Front Line Assembly – "IED" (8,252)
Unter Null – "Moving On" (7,898)
OMD – "History Of Modern" (6,908)
Angelspit – "Larva Pupa Tank Coffin" (5,811)
Best Single:
Covenant – "Lightbringer" (10,330)
Combichrist – "Scarred" (8,983)
Rotersand – "Waiting To Be Born" (7,038)
In Strict Confidence – "Silver Bullets" (6,825)
I:Scintilla – "Prey On You" (6,027)
Best Label:
Mute (13,072)
Alfa Matrix (10,736)
Metropolis/Dependent (10,479)
Trisol (4,916)
Best Live Band:
Recoil (14,545)
Combichrist (9,107)
Depeche Mode (6,032)
Front Line Assembly (4,851)
Leaether Strip (4,668)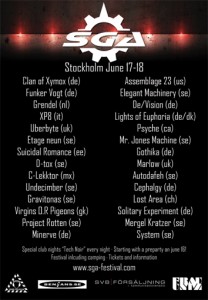 The new outdoor synthpop, EBM and goth festival Stockholm Goes Alternative (June 17-18) has hired all live acts (but one which will be picked from a contest in February). The line-up looks like this:
Lights of Euphoria, Psyche, De/Vision, Gravitonas, Grendel, Funker Vogt, Assemblage 23, Clan of Xymox, Solitary Experiments, XP8, Autodafeh, Elegant Machinery, Uberbyte, Etage Neun, C-Lekktor, Undecimber, Virgins or Pigeons, Project Rotten, Minerve, Mr Jones Machine, Gothika, Marlow, Cephalgy, Lost Area, Mergel Kratzer, Suicidal Romance, D-Tox, and System.
It's been some time since I listened to De/Vision, I still have some problems with their Depeche wanna-be style, but their latest album Noob has some qualities, at least as a background running a car home from a much fatter party….
[youtube=http://www.youtube.com/watch?v=N7440kGrPvk]
De/Vision have been among the leading representatives of the Electro / Synth-Pop genre for almost twenty years and their constant open-mindedness towards new influences and forms of expression is without doubt one of the fundamental factors for enduring success of this band. Last year's "Best Of" album contained a wide range of exceptionally gifted pop anthems, including the exclusive "Love Will Find A Way", recorded specifically for the compilation and Thomas and Steffen's first real compositional collaboration with their production team Schumann & Bach. This new collaboration worked so well that "Noob" was recorded entirely by this tried and tested gang of four.
The pleasing result of this new working method is an album that sparkles with lightly shimmering Electro-Pop gems. Songs such as "Death Of Me", "What You Deserve", "Living Fast Dying Young", the promo single "Flavour Of The Week' or the new version of "Love Will Find A Way" flow with invigorating lightness, De/Vision immersing
themselves in melancholy dream worlds with "See What I See", and above all this hovers a nostalgic retro feeling that brings to mind the band's musical roots. "Noob" finds De/Vision embarking ( to some extent ) on a journey back to the 80's, a time of busy experimentation in the resurrected Electro scene, meticulously merging pop, rock and ambient elements.