Assemblage 23 played a well visted concert in Sweden on August 30th and we took the opportunity to meet up with the band back stage a couple of hours before they were due on stage. And without us asking it is clear that A23 enjoys playing in Sweden – "One of our favorite places and the girls are nice"…
Assemblage 23, aka Tom Shear, has always walked his own way on the electronic music scene, avoiding falling into the monotone EBM trap that characterize many of the bands of the same era. Being experiemental is perhaps a too strong a word, but Tom is definately more into brining in alternative sounds into his music paired with a stronger focus on the melodies. This does not mean at all that A23 does not flirt heavily with the EBM scene, one strong evidence of this is A23's side project Surveillance, you can listen to the recently released remix album on Bandcamp.
According to Tom he always keep a hefty sized "ideas folder" on his computer, both containing material for upcoming A23 albums, but also a lot that does not fit. The ideas that had more of a Nitzer Ebb and Front 242 flavor actually ended up being the foundation for Surveillance Oceania album. An album and project that actually started out as a crowd funding project and did so nicely. We asked A23 on the interest of making more collaborations with other artists, but Tom made it clear to us that it would not be fun to collaborate with Tom: "I have very strong ideas and quite stubborn".
Read the full interview here >>
A teaser from the upcoming album:
"Taken from Assemblage 23's upcoming album "Bruise" available June 8th on Accession Records in Europe, and June 12th on Metropolis Records in the US.
I do not own the content of the video, it´s just for entertainment!
Content by Accession Records, Kontor New Media, Metropolis Records, INgrooves"
Assemblage 23 is an electronic act from the United States, currently based in Seattle. It was founded in 1988 by Tom Shear who writes the music and lyrics and does the recording himself.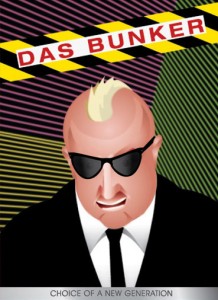 The reknown Los Angeles-based club Das Bunker will release a special compilation with bands from the Industrial scene covering 80′s songs.
The compilation, entitled "Choice Of A New Generation", includes Modcom, Leaether Strip, Combichrist, Assemblage 23 and System Syn to name a few. See full tracklist below.
Limited to 500 copies, the physical package will be delivered as a standard CD in a DVD box together with a Das Bunker USB dogtag. Release date is May 30th.
Tracklist:
01. Straftanz – Looking for Freedom
02. God Module – Round and Round
03. Northborne – No Sleep till Brooklyn
04. HexRx – Living on Video
05. FGFC820 – We Don't Need No World War III
06. Gentleman Junkie – When I Hear Music
07. Modcom feat. Leæther Strip – Native love
08. Sars feat. Amanda Jones – Two of Hearts
09. Combichrist – Gonna Make You Sweat (Everybody Dance Now)
10. Assemblage 23 – Don't Change
11. Continues – Perfume Garden
12. System Syn – A New England
13. SD6 – As The End Draws Near
14. iVardensphere – The Dogs of War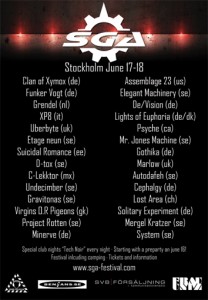 The new outdoor synthpop, EBM and goth festival Stockholm Goes Alternative (June 17-18) has hired all live acts (but one which will be picked from a contest in February). The line-up looks like this:
Lights of Euphoria, Psyche, De/Vision, Gravitonas, Grendel, Funker Vogt, Assemblage 23, Clan of Xymox, Solitary Experiments, XP8, Autodafeh, Elegant Machinery, Uberbyte, Etage Neun, C-Lekktor, Undecimber, Virgins or Pigeons, Project Rotten, Minerve, Mr Jones Machine, Gothika, Marlow, Cephalgy, Lost Area, Mergel Kratzer, Suicidal Romance, D-Tox, and System.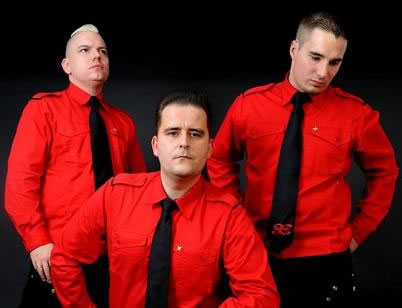 Solitary Experiments.
In June, I gave you the news about Stockholm Goes Alternative, an outdoor festival for EBM, industrial, goth and synthpop in Vallentuna close to Stockholm on June 17-18, 2011.
Now, the SGA organizers tell us the first 10 (out of 27) live acts are: Assemblage 23, Funker Vogt, Solitary Experiments, Elegant Machinery, Autodafeh, C-lekktor, Lost Area, Cephalgy, XP8 and Marlow. At this early stage we have not received confirmation from the artists or their agents.
SGA says tickets will be on sale for the reduced price SEK 575 plus administrive fees on September 3 (regular price 775).